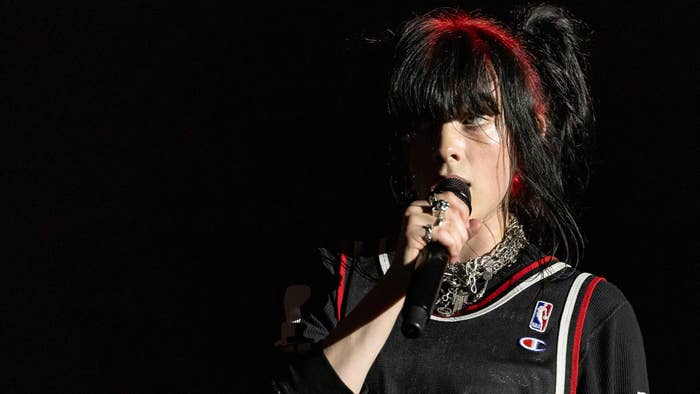 During her headlining set at Lollapalooza on Thursday, Aug. 3, Billie Eilish paid tribute to the late Angus Cloud.
Eilish performed her Labrinth collaboration "Never Felt So Alone," which appeared in Euphoria, and ended it with a dedication to the actor, who died on July 31. "RIP to Angus Cloud, everybody," she told the audience at the end of the song. She only provided backing vocals on the original version of the track, but took full duties for the tribute to the Euphoria actor.
The heartbreaking news of Cloud's passing was confirmed by his family earlier this week. A cause of death has not been revealed, but TMZ reported a source close to his family said he was struggling with his mental health after returning home from his father's funeral in Ireland.
"It is with the heaviest heart that we had to say goodbye to an incredible human today. As an artist, a friend, a brother and a son, Angus was special to all of us in so many ways. Last week he buried his father and intensely struggled with this loss," his family said in a statement. "The only comfort we have is knowing Angus is now reunited with his dad, who was his best friend. Angus was open about his battle with mental health and we hope that his passing can be a reminder to others that they are not alone and should not fight this on their own in silence."
Cloud has his breakthrough role as Fezco in Euphoria, in which he immediately became a fan favorite for his effortless onscreen presence.
There's been an outpouring of grief from friends and fans alike following his shocking death at age 25. His co-star Zendaya paid tribute to Cloud in a heartfelt post in which he expressed gratitude for getting "the chance to know him in this life." Fellow Euphoria star Maude Apatow, who portrayed Fezo's love interest Lexi Howard, said he was "the sweetest and made everyone around him so happy."