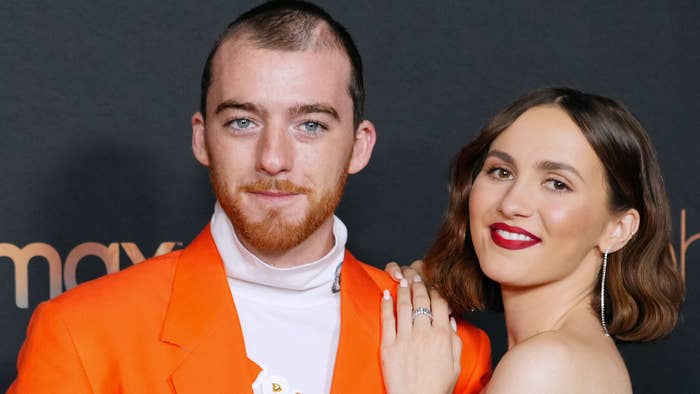 Following the heartbreaking news of Angus Cloud's death at age 25, his Euphoria co-star Maude Apatow has paid tribute to the late actor.
"Angus was the funniest person ever. I would get so excited to see on the schedule that we would be working together because I knew we'd have the best day, laughing so hard," wrote Apatow alongside a series of photos. "He was the sweetest and made everyone around him so happy. He was just the best. Words can't really capture how magical of a person he was. My heart is broken."
Apatow plays Lexi Howard in the acclaimed HBO series, who eventually becomes the love interest of Cloud's character Fezco. "Angus, getting to know and work with you was one of the greatest joys and blessings of my life," Apatow wrote. "I will love you forever."
The news of Cloud's death was announced by his family in a statement shared on Monday, July 31.
"It is with the heaviest heart that we had to say goodbye to an incredible human today," his family said. "Last week he buried his father and intensely struggled with this loss. The only comfort we have is knowing Angus is now reunited with his dad, who was his best friend. Angus was open about his battle with mental health and we hope that his passing can be a reminder to others that they are not alone and should not fight this on their own in silence. We hope the world remembers him for his humor, laughter and love for everyone. We ask for privacy at this time as we are still processing this devastating loss."
Fellow Euphoria co-star Zendaya also shared a heartfelt tribute to Cloud.
"Words are not enough to describe the infinite beauty that is Angus (Conor)," Zendaya wrote. "I'm so grateful I got the chance to know him in this life, to call him a brother, to see his warm kind eyes and bright smile, or hear his infectious cackle of a laugh (I'm smiling now just thinking of it) I know people use this expression often when talking about folks they love…'they could light up any room they entered' but boy let me tell you, he was the best at it. I'd like to remember him that way. For all of the boundless light, love and joy he always managed to give us. I'll cherish every moment."
Cloud made his breakthrough with Euphoria, which was also his first time acting in front of a camera. He went on to have roles in the movies North Hollywood and The Line. He also completed work on an untitled movie based on Universal's iconic movie monsters and the Pedro Pascal-led drama Freaky Tales prior to his death.
The star was well-loved as seen by the outpouring of tributes to him this week.