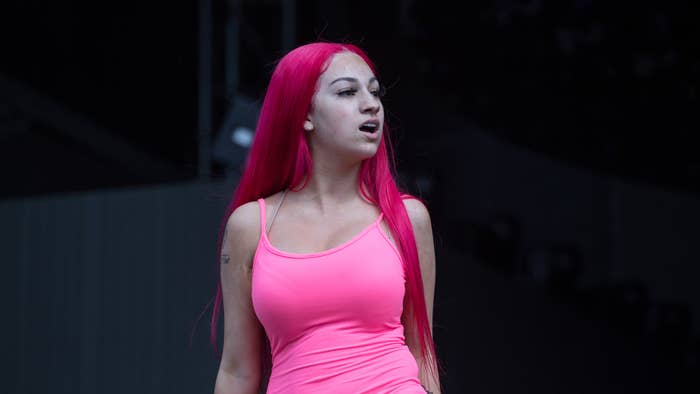 No stranger to controversy, Bhad Bhabie has responded to criticism on social media after she shared a video of her sporting a borderline unrecognizable new look.
In the clip that sparked the conversation, which follows Bhabie's "Miss Understood" video last month, she joined in on a TikTok trend equipped with a copious amount of Chanel bags.
"Golly gee, I sure do look like the disappointment of the family, but isn't it funny how I make the most fucking money?" she lip-synced in the clip. "Sit down, don't fucking look at me like that."
The video drew plenty of attention, with many highlighting how Danielle Bregoli looks like a completely different person than she did in the "Hi Bich" music video four years back.
"I see so much Cardi B here," wrote one Instagram user. "She went to 14 to 35 quick," wrote another in the comments of a Shade Room repost of the clip. "When did she change races?" asked another user.
While Bhad Bhabie's appearance has been a target for internet trolls for quite some time—sometimes centering on the topic of cultural appropriation—Bhabie made sure to get the last word in this time around, responding with a new video.
"Y'all failed the test," she said while either riding in or driving a car. "Y'all want me to tell you what the test was? We did a wig that had no type of natural curl to it, and we did makeup lighter than my skin. With barely any contour, just to see if y'all would still make the comments. And you did. So now I know, it's not about me actually…'She looks like this, she's trying to look like that.'"
Bhabie said people trashing her in the comments are seeking attention. "Y'all just want a famous person to respond to you, that's all it," she continued. "If y'all kept saying I had a banana on my head, and I said, 'No I don't have a banana on my head,' y'all would continuously say it, no matter if I did or didn't. Y'all will figure it out—I win, you lose."
Check out what Bhad Bhabie had to say above.