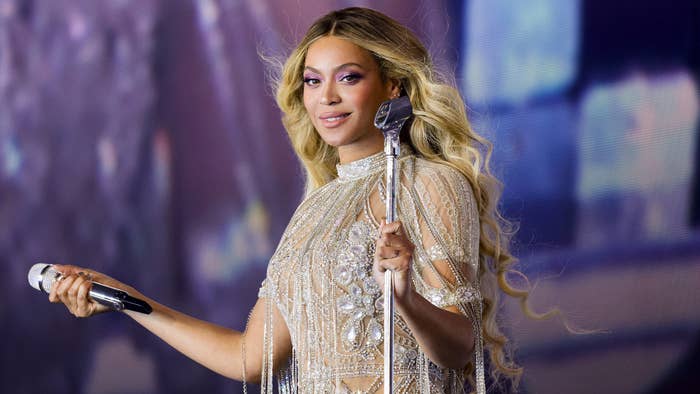 Beyoncé fans were facing the threat of being stranded after her show at Maryland's FedEx Field on Sunday, August 6 due to adverse weather conditions. Thankfully, Queen Bey herself paid $100,000 to keep the DC Metro system open for an hour later than usual so they could get home.
"Due to inclement weather that may delay the start of tonight's Renaissance World Tour at FedExField, Metro will extend the last train by an extra hour beyond the extended closing previously announced," the Washington Metropolitan Area Transit Authority (WMATA) said in a statement. "The additional hour will be funded by the Tour to cover the $100,000 cost to run more trains, keep all 98 stations open for customers to exit, and other operational expenses."
Beyoncé's gesture came after there was a shelter-in-place order issued at the venue prior to the concert as a result of the stormy weather conditions. "Due to lightning in the area, we are currently under a shelter in place order," FedEx Field informed fans on Twitter. "Fans outside of gates and in the parking lots are asked to return to their cars. All fans inside of the stadium are asked to shelter in place under covered concourse areas and ramps until further notice."
The weather conditions posed a threat to the show, but it went ahead as planned albeit a little later than expected. As detailed in the WMATA statement, the Metrorail system previously announced a 30-minute extension to allow concertgoers to get home. The late closing meant that it was ultimately extended 90 minutes past its usual schedule.
During another stop on the Renaissance tour, Bey notably omitted Lizzo's name in a performance of the "Break My Soul (Queens Remix)" following a lawsuit against Lizzo for alleged threats and weight-shaming against her dancers.
Bey recently paid tribute to O'Shae Sibley, who was fatally stabbed at a gas station in Brooklyn after dancing to her Renaissance album. "Rest in Power O'Shea Sibley," her official tour website read earlier this month.
The New York Police Department announced last week that a man has been arrested in connection with the fatal stabbing of Sibley. The suspect, who hasn't been identified because they're a teenager, was charged with second-degree murder. "They murdered him because he's gay, because he stood up for his friends," Sibley's friend Otis Pena said.