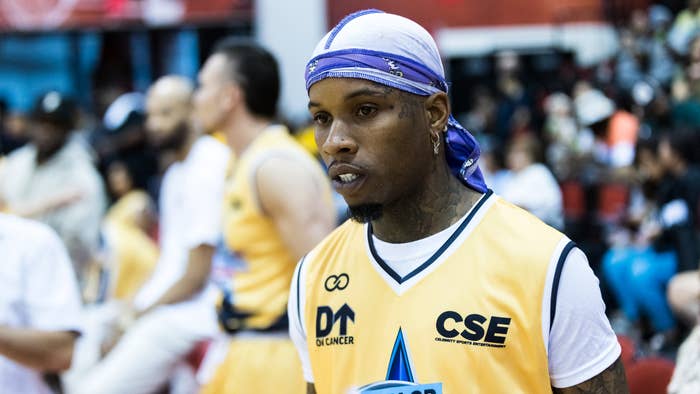 The Los Angeles District Attorney's Office is investigating an alleged fight that went down between August Alsina and controversial rapper Tory Lanez.
"We are aware of the allegations that the defendant attacked artist August Alsina and are investigating these claims," said the District Attorney's Office in a comment provided to Complex. "The allegations are serious and will be thoroughly examined."
Word started circulating that the two got into a physical altercation in Chicago over the weekend, although Lanez has stopped short of confirming a brawl went down. He later said he didn't know what people were talking about in a since-deleted post on his Instagram Stories, in which he said he's "been in the studio."
However, newly surfaced video shows what appears to show Alsina ignoring Lanez as the latter tried to greet him. It's unclear when this footage is from, but it does show they had a tense run-in at some point.
Alsina has seemingly confirmed the fight happened after he shared a photo of himself with a bloody mouth after what he described as an assault perpetuated by "a 4'11 sized leprechaun…...w/ 8 oversized security n***as." He directly name dropped Lanez in his post, and said it went down after he refused to "dap him up" when they ran into each other.
"There was never a 'fight!' Simply an Assault. Dude has no real friends, and is on a crash out mission," Alsina said. "With that said, I was gone keep it G & not come to the net, but you moving with foul intent feeding falsities to blogs to look for a 'moment' cus them moments ain't happening on stage for u."
Lanez's case over allegedly shooting Megan Thee Stallion in 2020 is still unresolved. In April he was arrested for violation of a protective order Meg has against him, and subsequently released on a bond that was raised up to $350,000.
"I want him to go to jail. I want him to go under the jail," Megan told Rolling Stone in a June cover story.