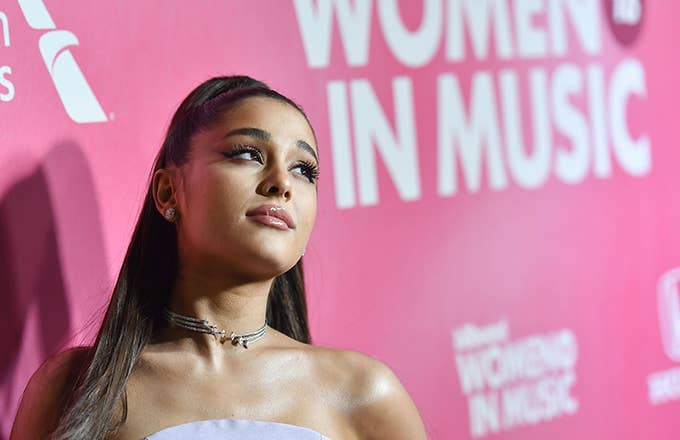 Ariana Grande is currently gearing up to drop her fifth studio album, Thank U, Next, but she's already got something to celebrate ahead of its release. The second single from the album, "7 Rings," has debuted at the No. 1 spot on the Billboard Hot 100, as Billboard reports. The single marks her second solo No. 1, with the album's title track debuting at the spot last year.
In the week ending Jan. 24, "7 Rings" managed to pull in an impressive 85.3 million U.S. streams. It's not quite as huge as "Thank U, Next," which drew 93.8 million streams during its first week, but it still indicates that the pop star likely has another No. 1 album to look forward to. "7 Rings," as Chart Data notes on Twitter, is her 12th top single on the Hot 100. It also makes Grande the third female artist with multiple No. 1 debuts on the Hot 100 chart, joining Mariah Carey and Britney Spears.
Despite all the success of the song, "7 Rings" hasn't been without controversy. Princess Nokia suggested that Grande ripped off her lyrics for the song, while Soulja Boy said she stole his "Pretty Boy Swag" flow. This all culminated in someone taking it upon themselves to blend the track with Soulja's "Pretty Boy Swag" and Princess Nokia's "Mine." Unsurprisingly, it works very well.
"7 Rings" is set to appear on Grande's new album Thank U, Next, which is scheduled to drop on Feb. 8. The singer recently revealed the tracklist and cover art for the highly-anticipated album on Twitter and Instagram.