Brooklyn drill rapper 22Gz has publicly asked Atlantic Records if he's still signed to the label.
"Am I signed or not why everybody mia what kinda black ball timing y'all on?" 22Gz wrote in an image shared on Instagram. "Am I independent or not idc to be signed to y'all." In the caption, he added, "Everybody mia I need answers my life and career on the line @atlanticrecords my fans want the new music y'all blackballing why is everybody mia now that I'm asking wassup w my music been turned my music over to y'all everybody thinking I feel off IM READY TO GO UP IDC ABOUT BEING SIGNED TO YALL YALL VICE PRESIDENT WEIRD AF."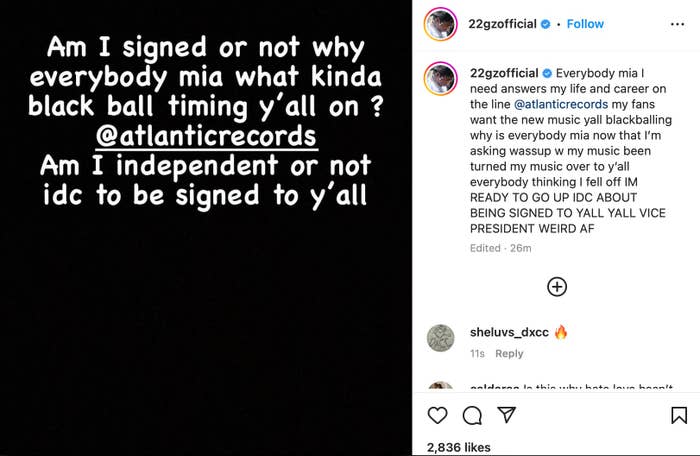 So far, 22Gz has released five projects with Atlantic Records, including the full-length efforts The Blixky Tape, Growth & Development, and The Blixky Tape 2. His most recent releases through Atlantic was the Year of the Blixky EP, which dropped in December 2022, and the Love, 22 EP last month. He signed with Atlantic Records in 2018. It's unclear what prompted his post on Instagram.
Last year, 22Gz was arrested and charged with attempted second-degree murder, but he was released just a few days later on a $500,000 bond. He's facing other charges including second-degree assault, two counts of second-degree criminal possession of a weapon, and reckless endangerment. According to authorities, he was arrested in connection with a shooting in March 2022 in which a man "suffered a gunshot wound to his left foot."
He was scheduled to perform at Rolling Loud New York last year, but he was among multiple drill rappers who were pulled from the lineup at the request of the NYPD. In a letter sent to organizers, the NYPD accused him and other rappers of being "affiliated with recent acts of violence citywide." They claimed that if he was permitted to perform, there would be "a higher risk of violence" at the festival.