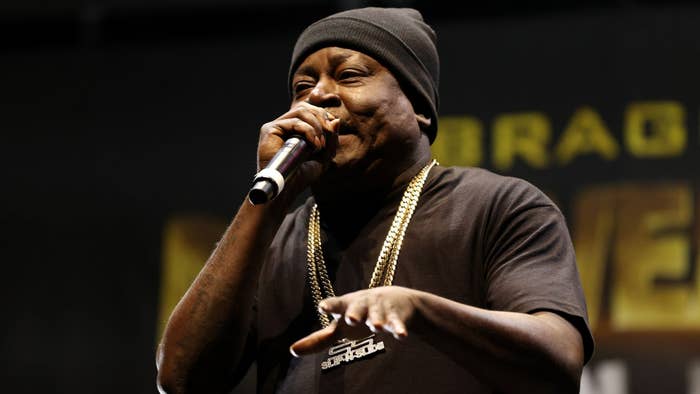 Just a few weeks after sharing some brutally honest takes on Beyoncé and Jay-Z, Trick Daddy is trending again, this time for a reported altercation he had with a woman outside a club. 
The 46-year-old Florida rapper reportedly appears in a recently surfaced video as he gets into an argument with a woman outside a Miami venue. 
The Shade Room reports that Trick got upset after the woman and her friends left the club without him, despite the fact that he paid for their night. 
"You wanna go viral, touch me," Trick can be heard saying in the video, as he eventually grabs the woman's wrist. 
"Who are you?" she responds. 
The video ends with Trick dodging a punch the woman threw his way; he appears to start to shove or hit her before the clip cuts off. 
Trick has yet to address the video circulating on social media, which comes less than a month after he issued Jay-Z and Beyoncé disses that set the internet on fire, claiming Bey can't sing. Of course, the Beyhive was quick to defend. 
"What I said was I don't think Beyoncé could sing and that Beyoncé is to R&B what Jay-Z is to the state of hip-hop in New York at the time that Jay-Z began considering himself as the king of hip-hop, the G.O.A.T. of rap, which is my opinion," Trick elaborated. "And opinions like buttholes: Without them, you'll be full of doo-doo."