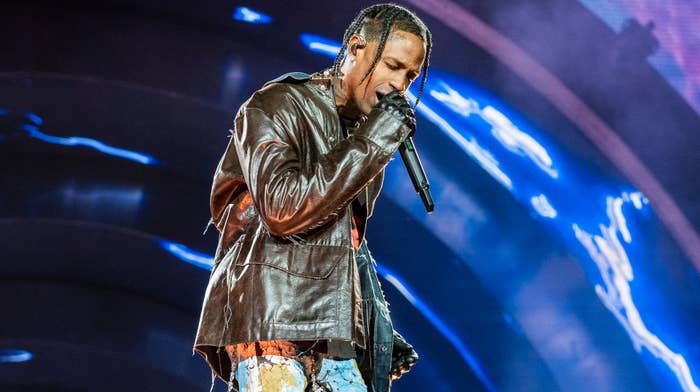 Travis Scott may not be performing at Coachella this month, but that doesn't mean his presence won't be felt as concertgoers head to the festival grounds in California. 
On Sunday, Scott's Cactus Jack Records posted four images on Instagram of billboards, and tagged "Coachella" as the display's location.
The signs read "Psst…….," "Looking for UTOPIA?" and "Wrong way!" before the Cactus Jack logo appears. The signs also sit off the I-10, headed away from the Coachella festival grounds in Indio, California, per Variety. 
Of course, Utopia is the in-progress title of Scott's long-awaited Astroworld follow-up. The album seemingly took a back seat as a slew of lawsuits began to appear against Scott, Live Nation, and others over the Astroworld Festival tragedy, which left 10 concertgoers dead and hundreds injured.
Following the events of the November festival, Scott was also removed as a Coachella headliner. An online petition saw 70,000 signatures demanding Scott be cut from the event, citing  "gross negligence and sheer lack of compassion for human life." Another petition saw a similar amount of fans asking the festival to let Scott perform, either in 2023 or during Kanye West's headlining set. Ye recently dropped out and and has been replaced by the Weeknd and Swedish House Mafia. 
Yeezy pulling out of the festival made him lose what would've been a reported $8.5 million payday, and Page Six reported the Weeknd threatened to also pull out if he didn't receive the same payment as Kanye. "Even after Coachella announced the new lineup on Wednesday, a deal wasn't in place for the Weeknd, who threatened to pull out at an hour's notice if he didn't get the same deal as Kanye," a source told the outlet. Ultimately the fest "caved and agreed to pay the Weeknd the same money."