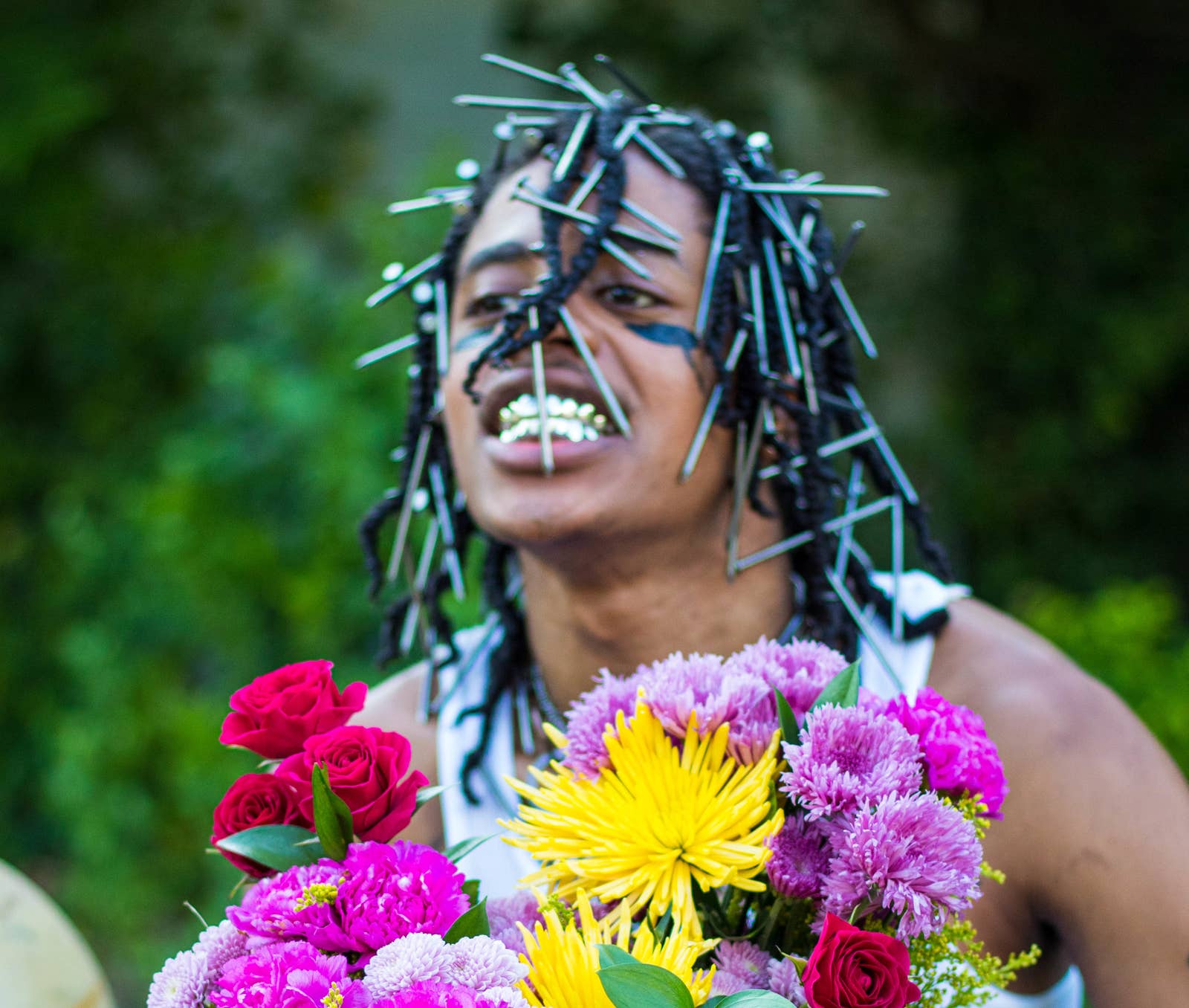 It's rare to see so much of somebody and still know so little about them.
Yet, that's Teezo Touchdown, who has made the last three weeks a never-ending maze in an attempt to learn bits and pieces of information—half the time, anything—about a man who has monopolized our Twitter feeds with a barrage of mammoth-sized chains, '70s lingo that few have dared to touch since the turn of the century, a Rick James Street Songs-era leather combat vest, and three rambunctious singles in the span of a month. The songs range from impassioned singer-songwriter tunes to the nameless diss track of the year, and they share few sonic similarities.
They do have something in common, though. They come from the brilliant mind of Teezo, a Beaumont, Texas native who would never consider doing anything less than extraordinary. That includes interviews.
This feature was never going to be a standard 15-minute Zoom call to add to the promotional cycle. No, instead for Teezo—who doesn't reveal his legal name or age outside of his now-regrettable early moniker Teezo Suave—this discussion was an extension of his three latest singles: The bad-ass guitar-wailing "SUCKA!," the mellow riffed-out "Strong Friend," and the inventive croon-rap punch of "Careful." He treated this press opportunity with as much care as his outlandish roll-outs, including that interview with TRL's Carson Daly and all of those scripted messages to fans filmed in front of what he still won't admit is his graffiti-plastered garage in Texas (it could be anybody's, honestly).
Teezo learned how to do all this—producing, recording and editing—on his own. Not because he wanted to, that came later. It was out of necessity. "It comes when you're in a room by yourself and your resources are limited," Teezo later told me. "So you just DIY and put what you have together with the skills that you've learned and put it into what you're doing."
Teezo Touchdown has touched down. And for our interview, if that's even what it is at this point, he channeled his inner Waterboy and went way, way, way past the endzone. He's in a whole 'nother stadium.

It started with sending Teezo an initial batch of questions—maybe 25 total. His manager, Amal Noor, who is a champion of everything Touchdown touches and is just as astonished by his creative leaps as the rest of his now-cult following, realized Teezo wanted to offer something more. He wanted to incorporate a visual element.
For context, Noor has managed Teezo since February of 2019, when she first heard a snippet of his disruptive punk track "100 Drums" on Instagram. His bio read "don't worry, you're early," which it still reads now. She realized then that Teezo knew he was set for superstardom at only 2,000 followers, so she linked up with him in Los Angeles. "That meeting changed my life," Noor said. "I was in a very low place at the time where I wasn't particularly excited about music anymore and was contemplating giving up… It's almost like Teezo was God sent because when I first met him, all he was talking about was being a positive light, making the world a better place, being someone who encourages community service, being an artist that is accessible to everyone and emphasising that we're all just really the same inside. We didn't even play music that day. We just talked about our goals and aspirations."
Teezo is exactly that; a ray of hope for those around him. He comes from Beaumont, which he calls a "great place to retire." He knows it as home to his favorite club Nell's Place, which he hopes to someplace buy out or promote in some capacity and his favorite restaurant John's Seafood, where he orders specialty salt-and-pepper wings. Others may know it as somewhere around the 15 deadliest cities in the U.S. in terms of murder rate. Just a few years ago, Teezo, who now lives in Houston, lost a loved one to gun violence. But he doesn't want to talk about anything too personal in our interview. And he barely wants to talk. He doesn't need to. 
Of the 25 questions I tossed Teezo's way to help him prep Noor's promised visual element, he only answered a few and did the extraordinary, channeling the publication's name, Pigeons & Planes, alluding to his most-fitting lyric "she-a bust it open like a letter" ("SUCKA!") and going full-on cinematic by opening our questions as letters in front of a camera. He put on a whole-ass production.
"[Individuality] means the most to me. Not only as an artist but also as a person because there's only one you and you make it count being the one version of you."
For some questions, he made entire songs out of his answers. For others, especially the ones that would've revealed anything at all about his specific whereabouts or personal history, he coordinated lively skits of him stomping on the letters or avoiding the questions entirely. 
I asked Teezo about how he's viewing his ascent and if he's "smelling the roses." In turn, he wrote an entire emo-pop power ballad about how good it feels to be recognized as he's dripped out in glitter and standing on top of a wooden office desk in front of the aforementioned garage backdrop. "I always stop and smell the roses," he sings. "When a door closes, another one opens, at least I'm hoping. It feels really good to be noticed. I hope my bank never closes and my schedule's never open, at least I'm hoping."
I then asked him about having a father as a DJ, to which he wrote me an audio tour through his record collection and explained which artists his family members have put him on to. "I would listen to whatever song my daddy play: Marvin Gaye, Frankie Beverly, and Maze."
Later on, I asked him where Texas can be heard in his music. As expected at this point in the video response, he dished out an Auto-Tuned country track about rodeos and mosquitoes, while wearing flashy leather chaps and spraying bug repellent through the air like it's nobody's business. Teezo, at his own free will, managed to soundtrack his own profile. 
"I just hope that 20 years from now, when an artist is trying to do their thing and when they're doing their research, that they search up my name."
This was more than an interview for Teezo. It was an introduction. Not to Teezo Touchdown the man, but Teezo Touchdown the artist. And his methods are paying off. The mystery of Teezo is part of what makes him so compelling. Every piece of the presentation is intentional, and if you only catch a glimpse of it on social media, you can't help but want to uncover more. You don't need to know what side of the bed he sleeps on to enjoy it, either.
And he put it all together—the music, the acting, the editing—in barely one weekend after we found out it was happening. We spoke about it after. "[Individuality] means the most to me." Teezo said. "Not only as an artist but also as a person because there's only one you and you make it count being the one version of you."
Teezo makes it count. He looks to '80s idols like Prince and Rick James—whose record he propped up when showcasing his collection—for direction with his own career. They don't dictate where he should go with his music or demeanor, though. He hates feeding into an "association craze" or being boxed in for the purpose of others thinking they'll understand his music better. Instead, these music icons give him something to look at to push his own individuality further ahead. You can see it in his vintage-inspired outfit, too, which he reveals as his "uniform:" "jeans, a beater and an attitude."
"What those artists are to me is a point of reference," Touchdown says. "So when you look back those are the people whose names are brought up, that's amazing. I just hope that 20 years from now, when an artist is trying to do their thing and when they're doing their research, that they search up my name."
With everything he creates, Teezo has complete faith in his ability to someday be somebody's Rick James, or rather somebody's Teezo Touchdown. But throughout our chats—via email, a pre-recorded video, and a later Zoom call when all was said and done—Teezo's emphasizing something almost as important as being himself: positivity. He refuses to refer to fans as anything other than "friends" or "champs." He's even prepping to throw them some advice via USPS as he encourages them to send fan mail to his PO Box. And at the end of his impressive production for P&P, he reminds me that I'm great at being myself, even if my interviewing skills can't stack up to Carson Daly's. "It's one of the most important parts because you know… words are powerful, thoughts are powerful," Touchdown says of his focus on pushing positivity. "I just sort of breathe and put out positivity because it's gonna come back."
On Friday, a few days before this discussion went live, I once-and-for-all linked up with Teezo over Zoom while he was in Austin, again dripping out in glitter. He's dressed in a sequin tank top, Jackson 5-era striped pants, and what appear to be metal nails sticking out of his hair. When he answers, it becomes clear that the Teezo whose been sending over snappy one-liners via Google Docs and putting on a James Cameron level production (without the 10-year wait) for our interview over the last few weeks, is exactly who you see standing in front of that Texas garage and exactly who finally opens up—at least a little bit—to me on the video call. 
He's gracious, charming, incredibly quick-witted, and still won't say too much about his history. Instead, he's focused squarely on the future. While speaking to him one-on-one feels a lot less like a presentation than watching his art from afar, he's still just as naturally charismatic. We bond over our appreciation for journalism and chicken wings, he tells me all about being a Beaumonster (that's what college kids called Beaumont locals), and his hopes to give back to Beaumont's music scene some day. He also talks to me about his love for the blog era, which pretty much explains why he went so big on the interview. 
The positive energy in Teezo's life is at an all-time high right now, he explains. He's getting recognized on the street for his work outside of his hometown, A-listers like Sia and Tyler, The Creator are showing him love on Twitter, and he feels like he's in one of those movies where the protagonist is finally face-to-face with fame. Teezo is clearly on the rise, but he reminds me still that I'm very, very early.
Teezo is planning on changing the world, whenever that may be. When I ask him how, and exactly what he hopes his future full-length release can offer, he gives me a short and sweet answer that I should have seen coming. Teezo Touchdown wants one thing to come out of this all—he wants to become the point of reference.