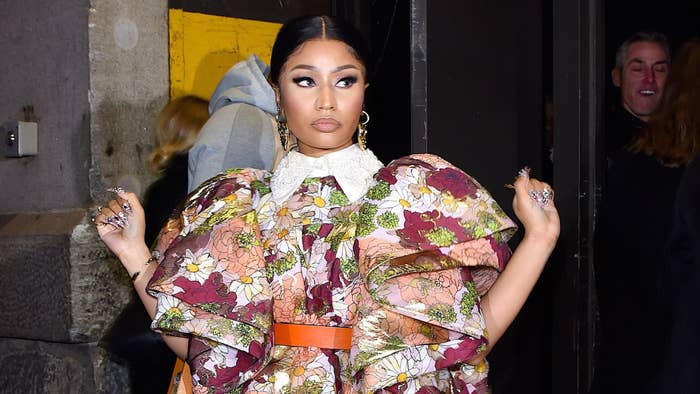 Nicki Minaj has revealed that she came down with COVID-19, and that she has yet to get her vaccination. 
The hip-hop superstar took to Twitter Monday to share with fans that she won't be attending this year's Met Gala in New York City, explaining that she got COVID-19 while getting ready for the MTV Video Music Awards.
"I was prepping for vmas then i shot a video & guess who got COVID," Nicki said. "Do u know what it is not to be able to kiss or hold your tiny baby for over a week? A baby who is only used to his mama? 'get vaccinated' Drake had just told me he got covid [with] THE VACCINE tho so chile."
She continued, claiming that she "had the exact same symptoms as ppl with the damn vaccine" in response to a fan who said the vaccine prevents more serious symptoms. She then revealed she isn't going to the Met Gala after wanting to do more research on the vaccine. 
"if I get vaccinated it won't for the Met," Nicki wrote. "It'll be once I feel I've done enough research. I'm working on that now. In the meantime my loves, be safe. Wear the mask with 2 strings that grips your head & face. Not that loose one ​​​​​​."
In response to a fan who said that blogs might "drag" the story, Nicki shared that she's not worried. "Who cares what blogs gon do," she wrote. "Y'all always worried about blogs. This my real fkn life. They can choke."
"My cousin in Trinidad won't get the vaccine cuz his friend got it & became impotent," she later wrote. "His testicles became swollen. His friend was weeks away from getting married, now the girl called off the wedding. So just pray on it & make sure you're comfortable with ur decision, not bullied."
According to the CDC, Johns Hopkins Medicine, and other reputable sources, there is no evidence that the COVID-19 vaccine causes feritility issues.
Some people on social media responded to Nicki's vaccine story about her cousin's friend by suggesting he most likely caught a sexually transmitted disease.
Visit the CDC's website for up-to-date and accurate information regarding COVID-19 and vaccinations.
Nicki went on to say that she will likely get vaccinated in the future.