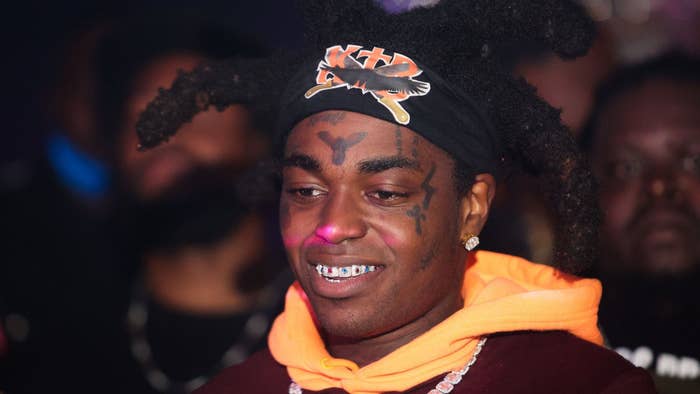 Just when you thought the takes were over, Kodak Black is now throwing his opinion into the ring over Will Smith and Jada Smith's relationship. 
Kodak took to Instagram Live over the weekend, seemingly calling out Jada over previous remarks she made about her husband on Red Table Talk. The resurfaced interview from 2017—which started circulating again following the Oscars slap—features Jada opening up about her marriage to Will, and how she faced pressure as a young actress and "never wanted to be married."
"You got a n***a who love you, all kinds of shit," Kodak said. "Come fuck with Kodak. That's what you need 'cause you just on some bullshit. You don't deserve Will Smith. You deserve Yak. You deserve me."
He went on to touch on Jada's past relationship with hip-hop legend Tupac Shakur, who he said "wasn't all the way gangsta his whole life," and "went to acting school, all kind of shit, dancing." After calling Will a "stand-up" man with "integrity," Kodak insisted the Oscar winner should go and find himself an 18 or 22-year-old "young tenderoni," before speaking on Will's relationship with his daughter Willow. 
"Go 'head get you a whole 'nother daughter, one who gon' praise you, gon' cherish you," Yak said. "Bitch, you supposed to be my daughter, daddy's girl."
It's very unlikely that Will would be taking any of Yak's advice here. At the moment, he's just a few days removed from finding out that he won't be able to attend the Academy Awards for another decade, a move on behalf of the Academy that's seen plenty of backlash from movie lovers.
After slapping Chris Rock at the Oscars last month, Will is now facing a punishment that many think is unfair, given the magnitude of what other Oscar winners like Harvey Weinstein and Roman Polanski have done outside of the Oscars stage. Even 50 Cent wasn't a fan. 
"Goddamn they doing Will dirty, This is too harsh so he cant come back till he 63 years old," 50 tweeted this week. "And the law suit ain't even hit yet. SMH."
Aa for Kodak's thoughts on the slap, he claimed that he wouldn't "sit back down" if he were in Will's shoes, and would've taken things a little further to retaliate against Rock. His full comments can be viewed in the YouTube clip below.