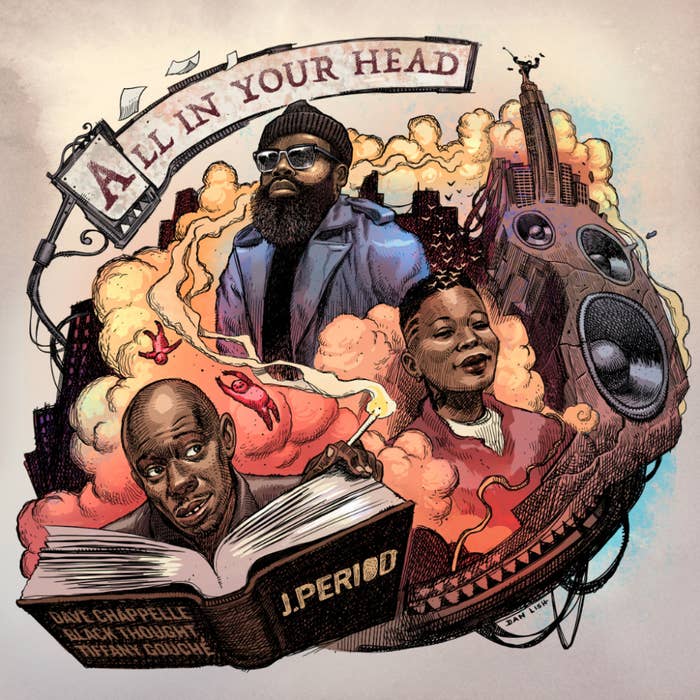 J.PERIOD has a story to tell on his upcoming debut album. And today, he's teamed up with some talented friends to share its first few pages. 
With narration provided by Dave Chappelle, a smooth verse courtesy of Black Thought, and some dreamy harmonies to cap it off from Tiffany Gouché, J.PERIOD's new single "All in Your Head"—the first cut off his Story to Tell (Chapter One) project arriving April 30— is the first taste of him bringing his new music to life just like a storybook. 
After a stacked career of working alongside Q-Tip, The Roots and Nas, serving as the music supervisor for the Brooklyn Nets, and even scoring video game soundtracks, the celebrated DJ looks to shake up our listening habbits with the new effort, thanks to some inviting narration from Dave throughout. 
"From Slick Rick to Biggie to Hamilton, hip-hop has always had a special gift for storytelling," J.PERIOD told Complex. "As a kid, the stories I heard on wax painted pictures in my mind and sparked my imagination; music was my bridge to discovery. For my debut album, I wanted to push the envelope and carry that tradition forward, and I am honored to have one of the world's premiere storytellers, Dave Chappelle, as the voice of our Story to Tell. Dave discovered me through the stories I've told on my mixtapes and we share a true love for hip-hop culture, so I couldn't imagine a better narrator for the next phase of my musical journey."
Get an early listen of "All in Your Head" below. You can pre-order J.PERIOD's Story to Tell (Chapter One) here and grab "All in Your Head" when it's officially released on streaming here.