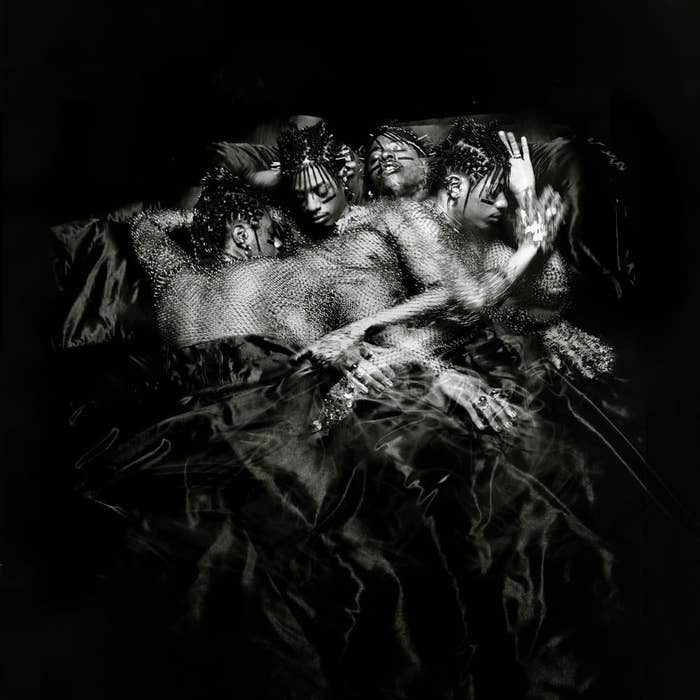 Teezo Touchdown released his highly anticipated debut album, titled How Do You Sleep At Night?, via Not Fit for Society and RCA Records on Friday. The project consists of 14 tracks and includes guest appearances from Isaiah Rusk, Fousheé, and Janelle Monáe.
Fans can give How Do You Sleep At Night? a listen on Spotify or Apple Music.
Teezo's album arrives five years after his 2018 mixtapes The Example and Cover Boy. During this time, he has steadily grown his fanbase and achieved remarkable milestones in his young music career. In 2021, he landed a feature on Tyler, the Creator's standout Call Me If You Get Lost track "RunItUp" and joined Tyler on tour.
Aside from a major collaboration with Tyler, the rising Beaumont, Texas artist has made some impressive guest appearances on songs with Lil Yachty ("The Ride"), Travis Scott ("Modern Jam"), and Don Toliver ("Luckily I'm Having"), to name a few.
Teezo's album got some big co-signs from artists including Tyler, Yachty, Monáe, and Drake. In August, he accompanied the Toronto star through the crowd at the Kia Forum in Los Angeles during his It's All a Blur Tour. Drizzy, who featured Teezo in several Instagram photos from that night, also revealed that he heard Teezo's record and called it "some of the best music ever."
Tyler and Yachty jumped into the comments section of that post and lauded their peer. Monáe, who is featured on "You Thought," also added to the hype, posting a photo of herself with a Post-It over her mouth reading, "I heard Teezo's album first."
In a recent interview with Zane Lowe on Apple Music 1, the 30-year-old artist released the tracklist and described the project's genre as "rock & boom."
"This is, as far as the sonics of what you're going to hear, I haven't said this publicly yet, but it's the sound that I'm crafting that's called rock & boom," he told Lowe. "It's R&B with the intensity of rock. It has R&B top lines. The boom, of course, for boom bap, it's the boom bap penmanship."
Teezo also explained why his album is light on collaborations and how Janelle Monáe got on it. "So, I have this fear, if you wonder why it's so light on the collaborative side, I have this fear of asking for things," he said.
As far as his Monáe collab, he revealed the singer was the first person to hear the project. "Janelle Monáe, the first person I played the album for. And that was just, I wanted to play the album for her," he said of the Age of Pleasure creator. "And then I also wanted her to do the voicing on 'You Thought.'"