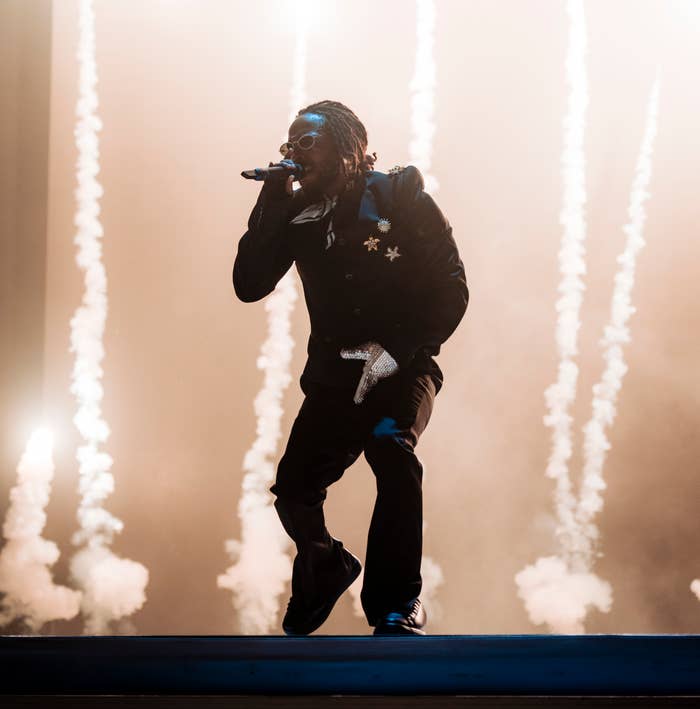 "I love you Dallas," Kendrick Lamar implored mid-concert on Saturday night, entrenching an intimate connection with his fans, from the sterility of a plastic quarantine cube. 
Clips of Kendrick performing inside a giant hazmat box during The Big Steppers Tour have been making the rounds on social media, which left me unsure about what to expect heading into American Airlines Arena in Dallas. Would he perform in the cube for the whole show? Would the plastic box be the centerpiece of the set design, like Tyler, The Creator's mansion during the Call Me If You Get Lost Tour or Kanye and Jay-Z's iconic twin blocks during the Watch The Throne Tour? 
It turns out that quarantine life was just one segment of many during Kendrick's robust 90-minute set in Dallas. Mr. Morale & The Big Steppers is a densely packed concept album full of interconnecting themes, skits, and audio cues, and this tour is Kendrick's first major opportunity to provide compelling visual addendums to his project (outside of a sole music video for "N95"). And just as Mr. Morale rewarded attentive listeners, the tour is full of engaging visuals, providing an immersive experience that builds on the themes he introduced in the album.