The Fugees Reunion Show Was Worth the Wait
Here's what it was like inside the Fugees show in NYC last night, where Lauryn Hill, Wyclef Jean, and Pras performed together for the first time in 15 years.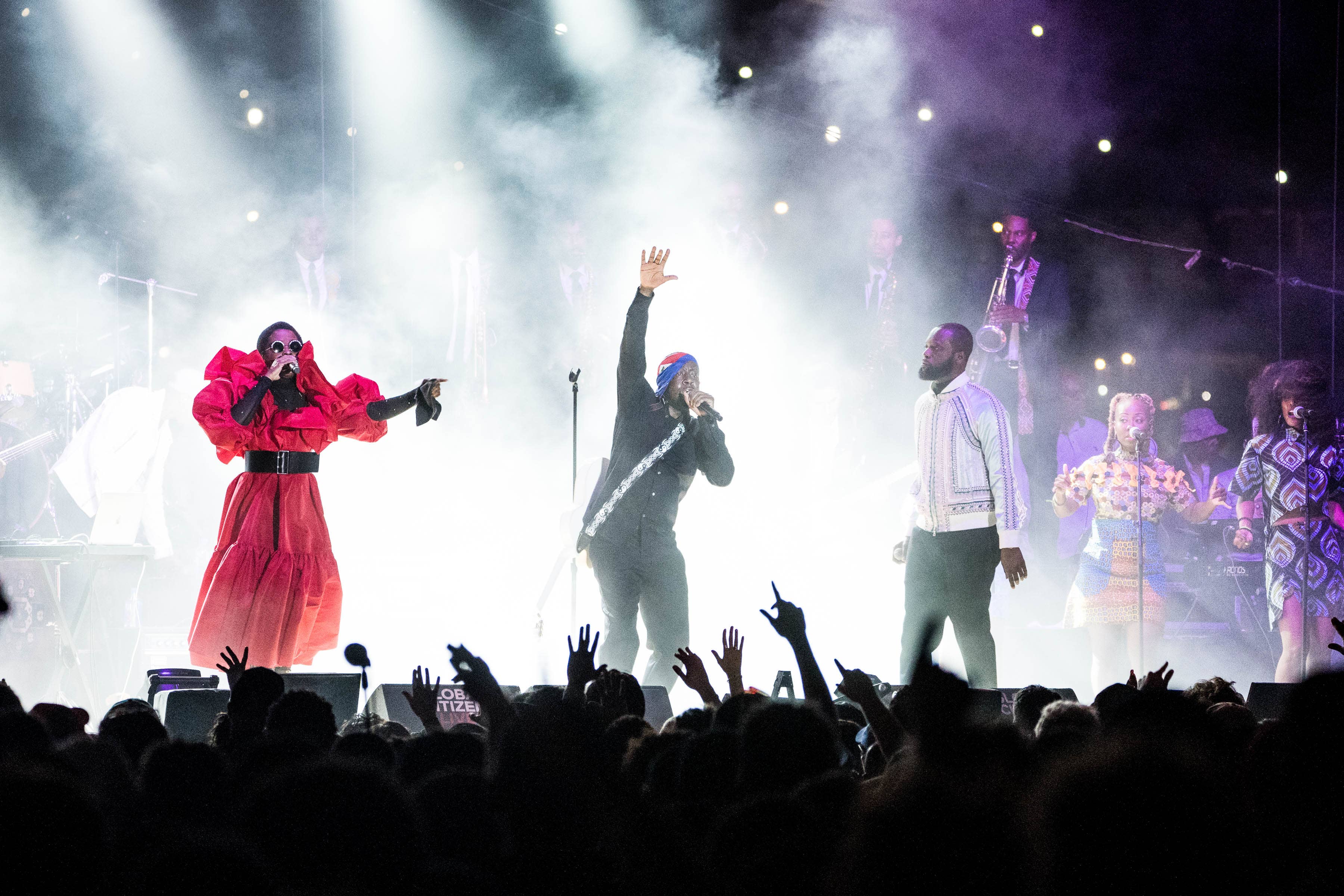 Publicist
Image via Keeyahtay Lewis / Live Nation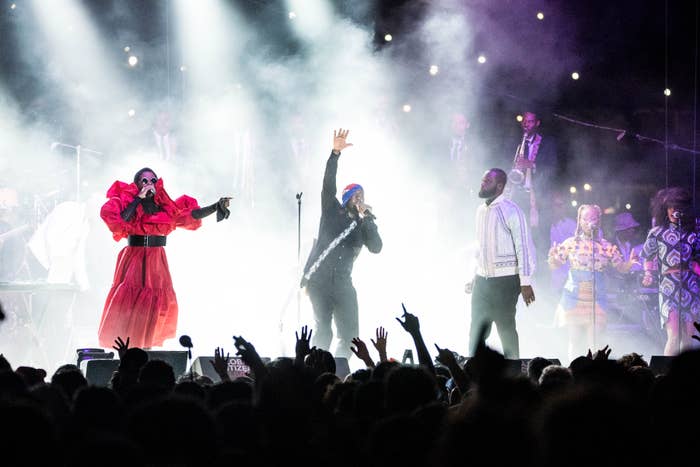 New seasons bring new moments—and sometimes they reintroduce us to some of our favorite experiences. 
On the first day of fall 2021, hundreds of lucky New Yorkers got to relive the timelessness of the Fugees. The legendary trio took to the rooftop of Manhattan's Pier 17 on Sept. 22 for their first live set in 15 years, which Lauryn Hill deemed a "preview" of their upcoming international tour. Lauryn, Wyclef, and Pras will be celebrating 25 years of The Score with 12 shows through the end of year.
Full band in tow, the Fugees collaborated with Global Citizen for a private pop-up show that will be streamed on Saturday as part of Global Citizen Live. They understandably took some time getting reacclimated to working with each other onstage, but the prevailing takeaways from their set were the very elements that compelled so many people to wait so long to see them: exuberance, passion, and heart. They offered a short, unforgettable experience that affirmed the rewards of patience. 
Over three hours late to the stage, the Fugees caused a delay so long that the start of the show veered past the time organizers said it was supposed to end, but fortunately for those in attendance, they couldn't have chosen a more beautiful setting for us to wait in. The rooftop overlooks lower Manhattan and downtown Brooklyn skyscrapers, offering a classic New York scenery for Tri-state area stalwarts. And fall kicked in the door with full effect, as a light breeze fluttered through the 78-degree sky.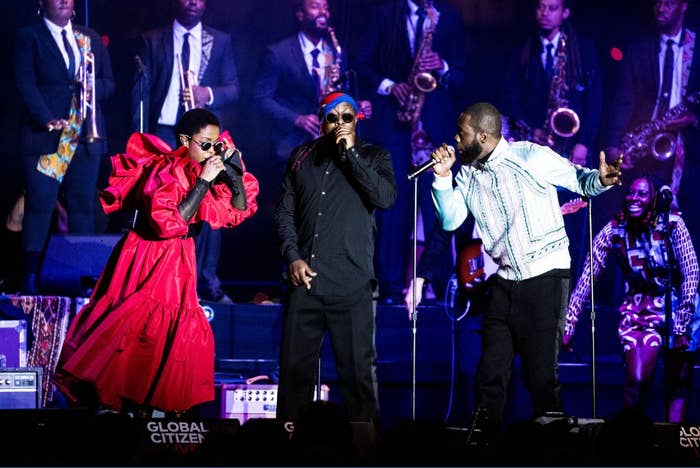 Before long, someone told me that it was 9:34 p.m. The show was originally set to end at 10:00 p.m., so the hourglass was fully flipped, and at this point I had no visions of seeing a lengthy set. I was just hoping they would come out at all because a no-show would have been an auspicious start for a reunion tour. I thought about the potential Twitter jokes about a show people didn't even know about, not happening. Eventually, DJ Reborn took her laptop off the table and left the stage. The smoke turned up.
A full brass band came onstage, dressed formally, along with the drummer and backup vocalists. Then they jumped into an ominous horn-based rendition of "The Score," before switching to "How Many Mics." The crowd exploded when Wyclef popped up. Then Pras appeared, before Lauryn strode out with an elegant red, ruffled dress. But she didn't come for a fashion show—she came to let us know, "Hands get calloused/ From grippin' microphones from here to Dallas."
There were moments during the show where the trio were still getting their bearings interacting together onstage and nailing every lyric. There were junctures where all three grouped together in the middle of the stage, and I looked at it like they were leaning on each other as a collective in uncertain moments. They started with "How Many Mics" and "Zealots," two invigorating lyrical exercises that surely got them in the mood for rapping. Then things turned way up. There were no walls to rattle or roofs to blow off on the rooftop, but "Fu-Gee-La" surely would've done both when it first dropped. They pulled it back after the first couple bars, challenging the crowd to get amped before playing it again. Wyclef was so excited that he poured a whole water bottle directly on his head. He probably didn't feel anything but the high of performance that so many artists gush about. It had been years since they had felt that rush together, and they were going to take advantage of every bar. 
The crowd was in lockstep with the group during "Fu-Gee-La," then things shifted again. Wyclef took the opportunity to chastise President Biden for his treatment of Haitian people who had recently come to the states after their recent earthquake, getting into a freestyle where he proclaimed that the border patrol officer who whipped a Haitian migrant in a ghastly viral photo should "die in El Paso." The crowd exploded in applause. Then he performed part of a new song before joking that he wasn't going to be the only person freestyling, figuratively handing the ball to Lauryn. 
An apparent setlist popped up on the internet today which showed that Lauryn may have planned on performing her instant classic verse on Nas' "Nobody" where she addressed her absence from the music game. But instead of rhyming, she expressed the same sentiment in a candid speech. She joked midway through that there wasn't necessarily a moral to her oration, but when you're as wise and experienced as Lauryn, the jewels are coming whether you organized them or not.  
She spoke about stepping away from the industry to live a childhood that she hadn't experienced because of being a professional musician for years. Then Pras told the story of Lauryn Hill performing "Eyes On The Sparrow" in front of him at 12 (Lauryn jokingly corrected Pras' assertion that the recitation was "for" him). She also talked about how making money in the industry brings people with agendas, and how she had to get away from it all. Her words took us back to '98, when she was a five-time Grammy winner on the cusp of being one of the biggest music stars in the world—a pedestal that would have brought on demands that she simply didn't want. 
Lauryn's message was a powerful, much-needed lesson on artistic fulfillment. The music world expects every artist to want to exhaust their opportunity in the spotlight. And the adage is to strike while the iron is hot, but when you have an inner flame for the process of creativity, not compulsion with the results, you already have everything you need to fulfill yourself whenever you step out. 
She capped off the speech by urging the crowd to "respect the miracle" of the Fugees. Indeed, the fortune and timing of all three artists finding each other and forging a powerful movement like the Fugees is miraculous.