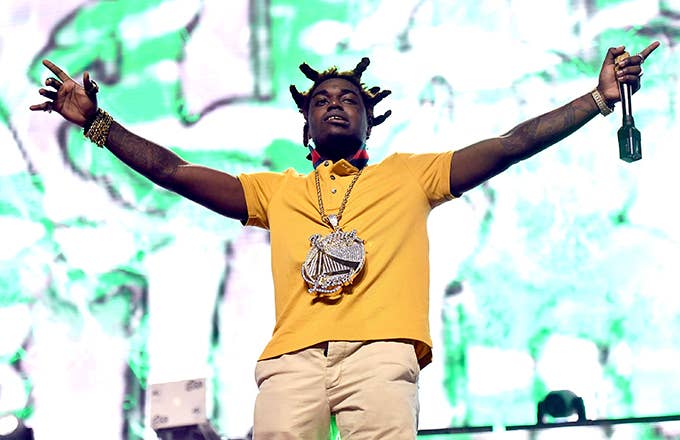 Kodak Black has shared the tracklist for his upcoming album Dying To Live. 
The album, which drops this Friday, features quite a few tracks that we've heard before like the summery anthem "Zeze" and the redemptive tracks "Calling My Spirits" and "Testimony." Given the Jesus-referencing title and the blood-red baptism happening on the back cover art, it's fair to say that this album will deal with Kodak going through some sort of spiritual shake-up. This makes a bit of sense as the Jay-Z-approved rapper recently announced a conversion to the Black Hebrew Israelites. 
We've already heard a taste of what that might sound like on "Spirits" and "Testimony." In the latter, he shares how he found the straight and narrow path in prison and is attempting to be sober so that he can stay righteous.
"They locked me in a box, I pray to God this ain't my destiny/I don't drink no lean, I'm sippin' on holy water like this my medicine," he rapped. "Everything I went through made me who I am 'cause he be testin' me/So I'm breakin' bread with all my fam 'cause I don't take no ecstasy."
It's a far cry from "every time you see me I'm surrounded by them snipers" and it will be exciting to see if Kodak can pull off the tonal shift. Check out the tracklist up top and try and forgive him for the sin of "Could Of Been Different."