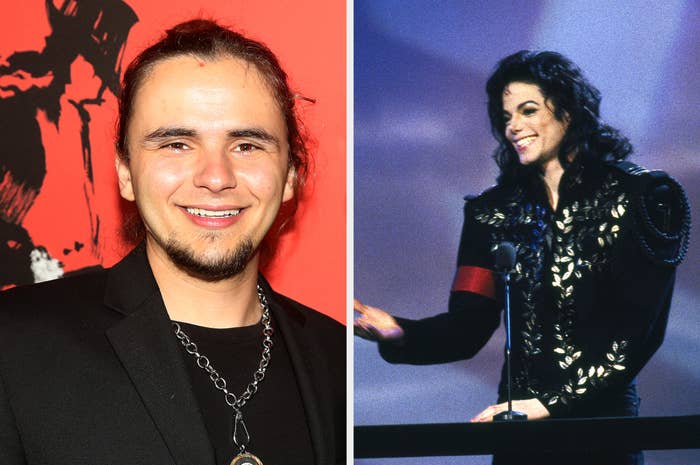 Prince Jackson is opening up about his famous father Michael Jackson and putting a pesky rumor to rest once and for all.
On a recent episode of Hotboxin' with Mike Tyson, Prince sat down with the famous boxer to talk about his dad's struggle with vitiligo, a skin disorder that causes the loss of pigmentation.
Tyson brought it up first, saying "Everybody thought he was changing his skin because he wanted to be white, he was changing it because he wanted to 'glow,'"
"When I was younger, he was always explaining to me, speaking about that," said Prince. "I think it was even in the autopsy report. I think the cause of it is up for speculation but it's either vitiligo or some form of lupus that contributed to the vitiligo."
The 26-year-old also mentioned that the Michael's battle with the disorder had an effect on his self-esteem. "He had a lot of insecurity around, kind of looking blotchy in his appearance," he said. "So he wanted to see if he could smooth out his appearance, to help with his security on his physical appearance. I think the 'glowing' may have probably also had something to do with it 'cause he was visionary in the way he thought, right?"
The King of Pop had previously addressed his skin disorder in a 1993 interview with Oprah Winfrey and denied the allegations that he was bleaching his skin. "I am a Black American, I'm proud to be Black American, I am proud of my race, I am proud of who I am. I have a lot of pride in who I am and dignity," he told Winfrey, explaining that he first noticed changes around Off The Wall or Thriller and that the condition has appeared on his father's side of the family.
He continued, "I have a skin disorder. It destroys the pigmentation of the skin. It's something that I cannot help, okay? But when people make up stories that I don't wanna be who I am, it hurts me."
Prince, who was 12 years old when his father passed away in 2009, says he's still learning about Michael. "He was very interesting," he added. "Personally, I'm doing a lot of research on him and learning a lot about his story. And there's so much to cover."