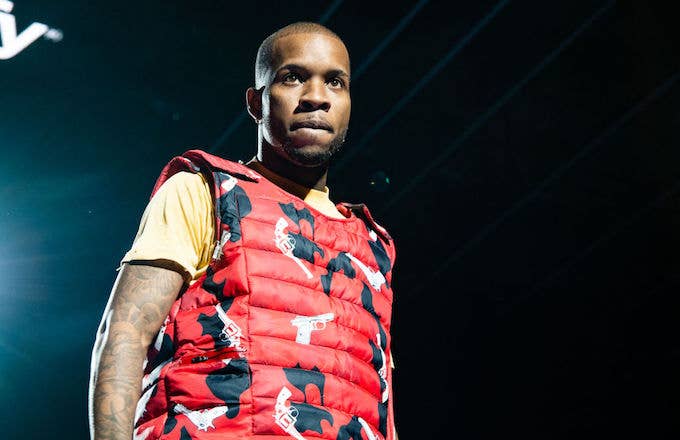 Tory Lanez reportedly ended his weekend on a low note. The Canadian artist was allegedly handcuffed following a brawl outside of LIV nightclub in Miami.
The large fight, which involved what appears to be multiple people, was captured in footage posted by DJ Akademiks. In the video, a man who looks like Lanez is cuffed against a vehicle after the altercation.
It's unclear why the fight broke out, if the rapper faced any legal repercussions, or if anyone else was handcuffed by authorities.
Recently, Tory Lanez has been making headlines for his back and forth with Joyner Lucas. Their beef has since came to a stall after Lanez declared himself the winner of the battle at the end of November. "That Joyner Lucas kid: I want to offer this moment right now to give him a good moment of silence. Rest in peace because today his career is over," he said at a show last month. "Joyner Lucas, we killed you. It's done."
The feud began after Lanez claimed Joyner was not on his level, prompting Joyner to challenge Lanez to a rap battle. After accepting, the artists unleashed a series of diss records over a few days, the latest being Joyner's "Zeze Freestyle." Lanez didn't think the track was worthy of a response.
The beef seemed fairly lighthearted, and also over, so it's unlikely Lucas had anything to do with the aforementioned Miami brawl that reportedly left Lanez in handcuffs. There are rumors Lanez was armed during the incident, but those are unconfirmed, so we'll have to wait for more details.