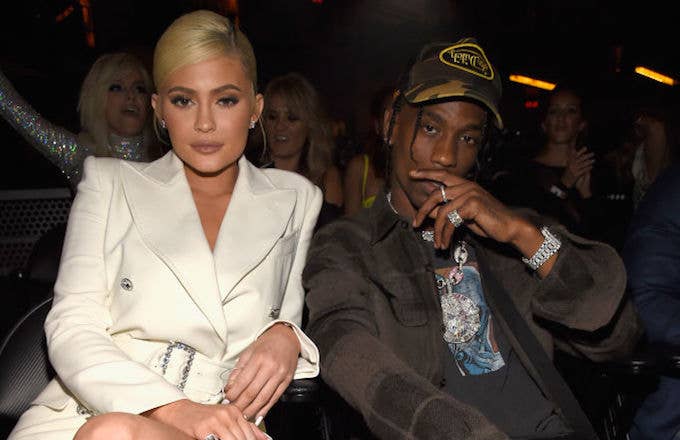 At 3:53 p.m. on Thursday, Kanye West dropped a bombshell thread calling out Drake in a long series of tweets. He later aimed some of that heat at Travis Scott, for allowing the Toronto rapper to diss him on "Sicko Mode."
Surprisingly, most of those tweets are still up a day later. 'Ye frequently deletes content, but all the tweets about Drake's baby, Pusha-T's concert, and "Sicko Mode" are still up. That is, except for this one:  
In one of, if not the only deleted tweet from the series, Kanye calls Travis his "brother-in-law," and said that "people sold their souls". He then made reference to the success of "Sicko Mode". "You gotta a number one record but you got it by letting this dude diss your brother in law," he wrote.
West is arguing that Travis shouldn't have allowed Drake to diss him on "Sicko Mode" not only because they are friends, but because they're family. Kanye is an uncle to Travis and Kylie Jenner's daughter Stormi.   
But the word "brother-in-law" is more specific, and now fans are wondering why, out of all the tweets, Kanye deleted that one. It could signal confirmation to rumors that Travis and Kylie have secretly gotten married sometime in the past few months.
Rumors about Travis and Kylie's betrothal began circulating a few months back, as the two began calling each other "hubby" and "wifey" online. During his set at Astroworld Fest in Houston, the rapper called Jenner his "beautiful wife."
Jenner also fueled rumors by posting a photo of her and Travis dressed in white with a ring emoji on her Instagram story at the beginning of December. 
In an interview with Busy Phillips this week, Kim Kardashian also danced around the couple's rumored marriage. "I really, I would say like no, they're just like being cute and posting that," Kim said, after being asked if her youngest sister is married. "But, they've posted it a few times, so I am going to ask in our group chat today when we leave here."
The non-answer sounds pretty dubious. Is Kylie keeping secrets from her sisters? Or did Kim really not know? Either way, it seems like Kanye might have been the one to finally spill the tea. Whoops.