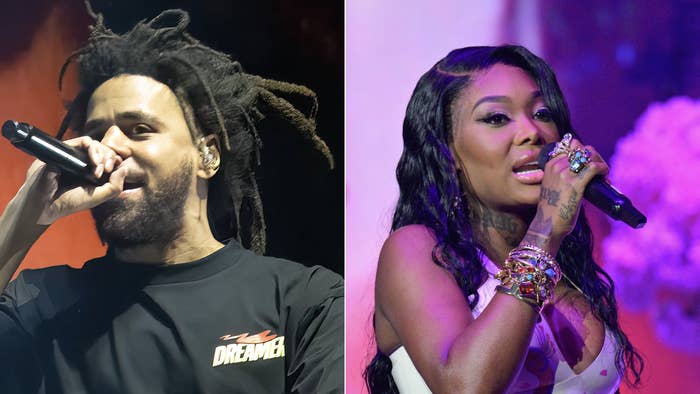 Summer Walker opened up about what J. Cole's "To Summer, From Cole (Audio Hug)" track meant to her during an appearance on Yung Miami's REVOLT series Caresha Please.
The song, which is the opening track on Summer's newly released nine-track EP Clear 2: Soft Life, sees Cole speaking directly to the singer and thanking her "for sharin' your light, your voice and writin' them beautiful poems."
He continues, also shouting out SZA and Ari Lennox, "If people knew half of the pressure they'd know that it's hard to be her/I'm sendin' you, SZA & Ari my love/Y'all holdin' us down, y'all holdin' the crowns/You ever need somethin' from me, don't hesitate, please/Just hit me and I'll be around, I'm gone."
During her conversation with Yung Miami, Summer revealed that the song brought her to tears and recounted how it all came to be.
"So we have a song called 'Audio Hug,' " Summer Walker said during the chat. "I had asked him to do a song... he really didn't get time to do it. He wanted to meet and I was so fucking pregnant, that I was just like, 'oh my God, I can't.' I don't know if you seen them damn pictures, I was like 200 pounds. My ankles were... huge. It was crazy. So we didn't meet. But, he did end up sending me something called 'Audio Hug.' And he was just like... It's so sweet. I cried when I heard it. He was just like, being hella sweet and just saying that he sees all the shit that I went through and if I ever need to call him for anything... it was just cool."
The track also notably featured Cole mentioning that he's working on his previously teased album The Fall Off.
Outside of Cole, Clear 2: Soft Life boasts an appearance from Donald Glover aka Childish Gambino. Solange, Steve Lacy, Jay Versace, and John Carroll Kirby provided production on the project.
Check out Yung Miami's full interview with Summer Walker below.