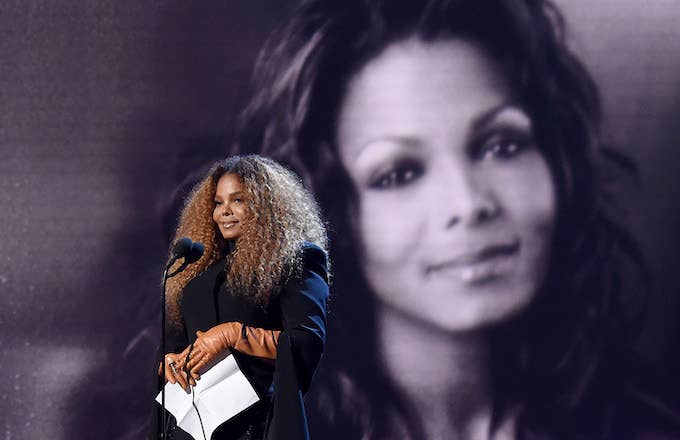 Janet Jackson was inducted into the Rock & Roll Hall of Fame on Friday night at their 34th annual ceremony. The event took place at Brooklyn's Barclays Center. 
During her speech, Jackson called for more women to be inducted. "Rock & Roll Hall of Fame, please, 2020: induct more women," she said at the tail end of her address.
Elsewhere in her speech, Jackson, who was inducted by Janelle Monáe, thanked her family, fans, Paula Abdul, Questlove, Dick Clark, Don Cornelius, Herb Alpert, Jerry Moss, and others. "I witnessed, along with the rest of the world, my family's extraordinary impact on popular culture—not just in America, but all around the globe," Jackson said. "And as the youngest in the family, I was determined to make it on my own. I wanted to stand on my own two feet. But never in a million years did I expect to follow in their footsteps. Tonight, your baby sister has made it."
Members of the bands Radiohead, Roxy Music, Def Leppard, The Cure, and The Zombies were also inducted. Stevie Nicks, who was also inducted on Friday night, became the first women to be inducted twice. She was previously inducted back in 1998 with Fleetwood Mac. "This year, we had 15 incredible nominees, all immensely talented and all recognized for their great contributions to rock & roll," a Rock Hall rep previously said of 2019's class of inductees.
Check out Janet Jackson's speech, as transcribed by Pitchfork, below.
Thank you so much. Janelle, thank you so much for your beautiful words. I'm really moved. This is a really big moment. When I was a kid, my dream wasn't to be a singer. I wanted to go to college and I wanted to be a lawyer. It was my father's dream. He wanted me to become this wonderful performer. He encouraged me. He was the first one to encourage me. And music became my passion.