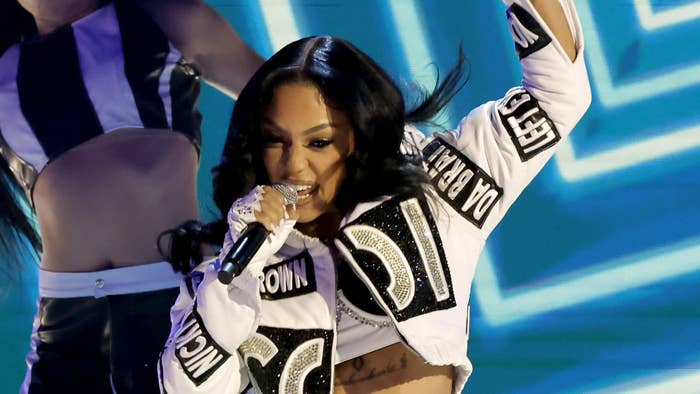 While performing at the BET Awards on Sunday night, Coi Leray paid homage to several women rappers by wearing an outfit that featured the names of BIA, Def Loaf, Nicki Minaj, Latto, GloRilla, Cardi B, Ice Spice, Missy Elliott, and others.
On Tuesday, Coi called for other women rappers to come together to create a collab track.
"Ain't been a [No. 1] rap song at all this year," Leray wrote on Twitter earlier in the week. "Calling all the female rappers to front. [Hear] me out. ladies night. Hip hop. Unity."
She continued, "Let's make history with a number 1 ... together .. with love. #justanidea."
Coi made the comments following reports pointing out that a hip-hop entry has yet to make it to the No. 1 spot on either the Billboard 200 albums chart or Hot 100 songs chart in 2023.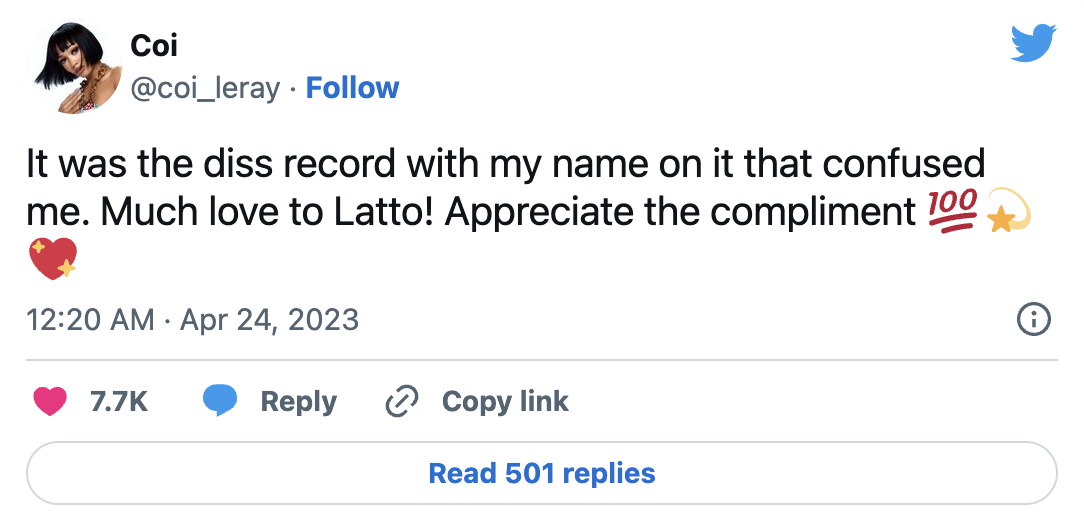 "I feel like it wasn't more about the body, it was more of mentioning my name. I feel like at the time of how everything went and just... I'm about positivity, you know what I mean? For real," Coi said in a recent interview with Apple Music's Ebro Darden. "And I wasn't sure where it was coming from. And not only that, I feel like the problem with our community today is we be so quick to trying to change things but we don't do nothing to actually change anything. You feel me? So if we're going to say we're going to stop talking about bodies, then don't mention anything about my body. Just period. Don't compare me to nothing, don't think about nothing. We not smoking on anything, it's disrespect. And where I come from I just don't like that. You know what I mean? "
Earlier this week, Leray dropped off her Coi album. The project, which contains 16 tracks, is a follow-up to her 2022 album Trendsetter.