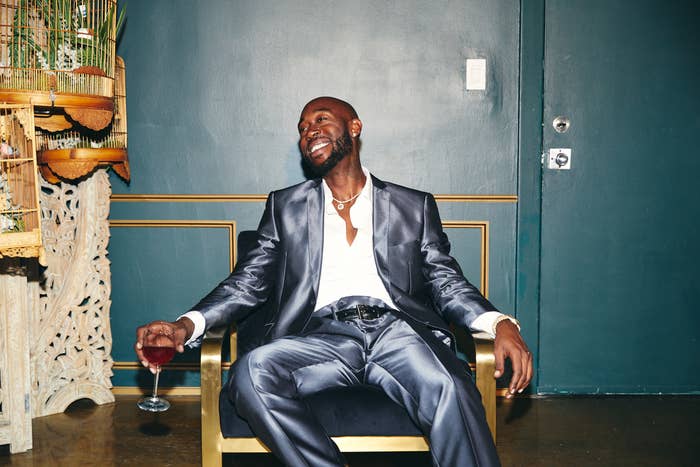 With generational rappers, part of the joy of their longevity is aging alongside them. You feel that in a number of ways—both in their content and subject matter, and physically, their voice earns a pleasant layer of dust and grit. When I listen to the first track on the ageless artist Freddie Gibbs' stellar new effort $oul $old $eparately, "Couldn't Be Done," and compare it to the first song of his I ever heard, 2009's "Boxframe Cadillac,'' what's striking is how little has changed sonically. 
Part of this has to do with Gibbs' physical gifts. He came into the game as a dexterous prodigy with a textured, world weary, old soul instrument that didn't require words to tell his story. The other part of it is his apparently bottomless well of flows. He's simply one of the most consistent rappers we've had this century—bar to bar, song to song, album to album.
And yet the Freddie Gibbs that Complex spoke to on a recent Friday afternoon, from his home in Los Angeles, couldn't be more different than the raw rapper who emerged from the streets of L.A. by way of Gary, Indiana. He's rich and famous now. The hardest of hardcore rappers who would openly share his exploits on the streets in graphic detail, both on wax and on the record, is now as much an artist as he is a certified media personality. 
"I feel like everything that I really wanted to do with music, I've done it," Gibbs tells Complex. "I think right now it's just time to collect. It's time to collect the accolades, the awards, the money and all of that. I feel like I put in a good amount of work, especially into this project… It's not a lot of guys from my generation in my age range that have been doing it as long as I have and as consistently as I have ever. I'm like LeBron right now." And it makes sense considering the album. It plays like a sustained victory lap. 
Gibbs took a long and arduous road to success, first as a hustler, then as a rapper. He's a comanche, seemingly at war all the time, but also quietly in his lane as one of rap's greatest utility players, with a dynamic flow that can flex between coasts and eras. It's why he's remained a fixture in our lives for the past 13 years. 
This is an interesting moment in Gibbs' career. He's coming off the high of one of the very few universally celebrated Best Rap Album Grammy nominations for 2020'sAlfredo, a full collaborative project with Alchemist. Gibbs has made this style of rap nerd dog whistles a specialty, along with the two he dropped with Madlib over the course of five years. 
"It's not a lot of guys from my generation in my age range that have been doing it as long as I have and as consistently as I have ever."
But $oul $old $eparately is a departure. It's a 15-track effort with multiple splashy features, ranging from mainstays like Pusha T and Rick Ross to bucket list guest stars like Scarface. You could credibly describe $$$ as his Life After Death, a sprawling and kaleidoscopic array of energies and tones that displays Gibbs' full range, at one moment sounding like he could easily step in as the sixth member of Bone Thugs-N-Harmony in Cleveland, and trading bounce with DJ Paul in full Memphis patois the next. This project is as close as Gibbs has come to mainstream, crossover appeal; the rapper has always existed comfortably in the underground, bridging the divide between the goons and hipsters that make up rap's underbelly.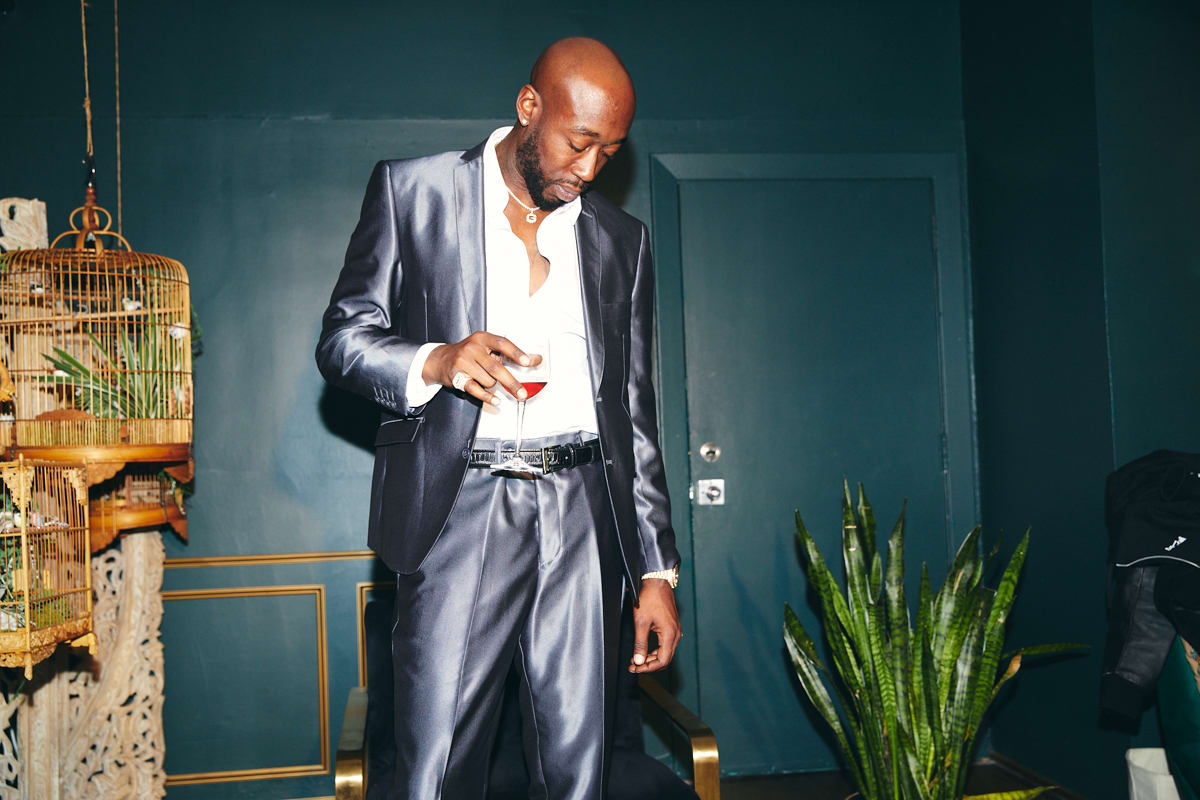 $$$ is being released at a tumultuous time in Gibbs' life—like many others over the course of his career, which you can practically measure in enemies. A quick Google search will get you this abridged list: In 2012, he was involved in a battle with Jeezy, whose label he was briefly signed to, that involved trading diss tracks and threats. In 2013, he called out Jim Jones for a potential misunderstanding over Jim claiming the Vice Lords, a gang Freddie is affiliated with in a feud that has lasted nearly a decade. In 2021, it resulted in an alleged brawl in a Miami steakhouse with Jim and company. In 2014, he traded shots with Lupe Fiasco on Twitter over Fiasco donning a clan robe and hood in a music video. In 2020, he took a shot at Gunna for a misunderstanding over whether Gunna had appeared on a show called Crime Stoppers. The same year, he was enmeshed in an ongoing war of shit-talking attrition with professional rap troll DJ Akademiks. And of course now, there is perhaps the most serious beef of his career with Benny the Butcher, over a falling out that resulted in Gibbs getting jumped in Buffalo and his girl being pulled into the feud in a lame knockoff of what Tupac attempted to put on Biggie in the '90s. 
Despite the discrepancies in wealth and success between Gibbs and his latest antagonist, he's not above the fray and doesn't shy from the issue. When asked about Benny aping his hero Pac, he said: "The difference is Pac didn't have the internet and all of that shit to try to get likes and clicks. He wouldn't have brought 30 people to a fight with a camera crew. He did that shit real TMZ style. Like, all of that shit was for clout, that's why I don't respect guys like that. He's just now getting in the rap game, so he just now really getting his feet wet and touching a little paper."
He continues, "A lot of these guys nowadays, man, they're not even real artists. Their music really sucks." When it comes to Benny the Butcher, specifically, he says: "His best song is a song I wrote for him, and the other of his top songs has J. Cole on it."
Like Jordan or Kobe, Gibbs is an apex predator who seems to need prey to achieve peak performance. When this idea is presented to Gibbs, he readily agrees and further explains his approach. "I might be a confrontational person, a competitive person. But I think that's just me being from Gary, man. I don't want to lose. I don't have a choice. We come from nothing, man," he reflects. "I'm one of a kind. I'm the only rapper from my city, so I got to fight extra hard, and with other people. I feel like I tell people this all the time. I'm the easiest person in the rap game to have a problem with because I don't have no real affiliations with no big rappers. You ain't going to go at a certain guy because he linked with Jay-Z. You ain't going to go at a certain guy because he with Dr. Dre, or you ain't going to go at a certain guy because he with Rick Ross, and you want that relationship. But that's some boys club shit that I ain't in. So I got to fend for myself."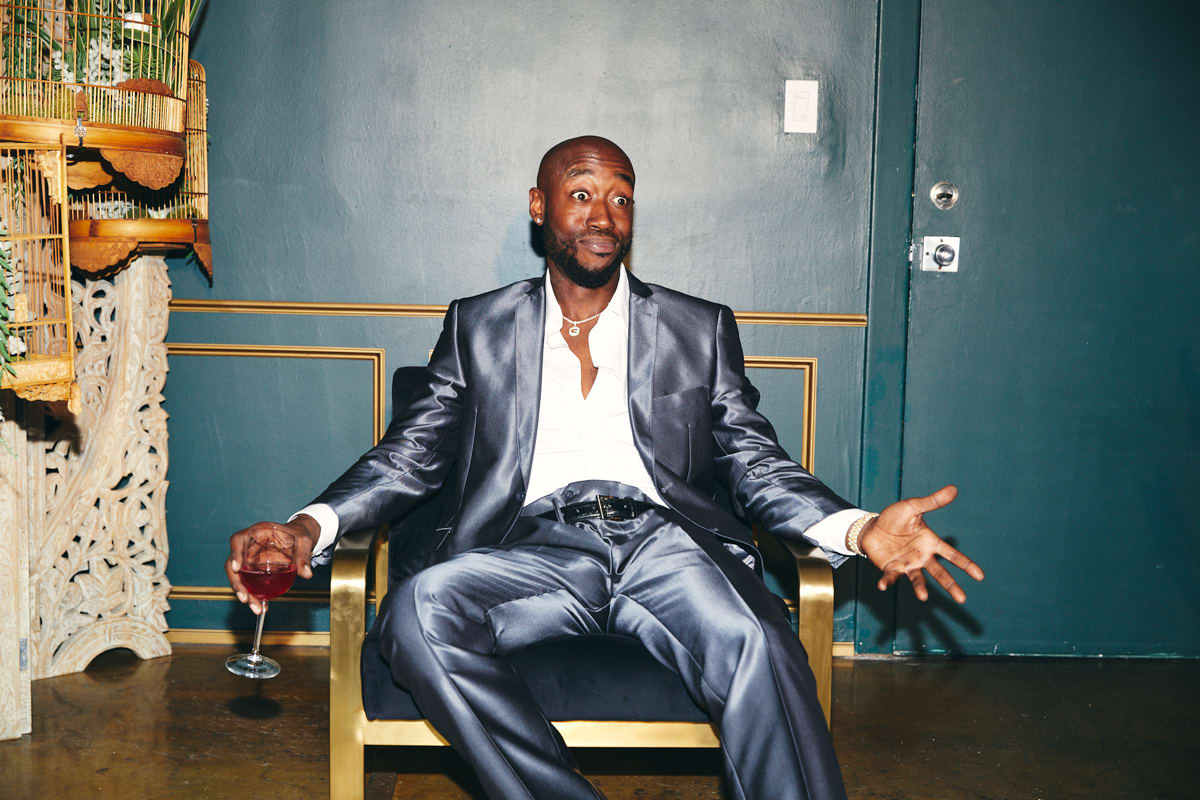 Over the last decade plus, Gibbs has carved out a dedicated fanbase for himself who loves his music, but also simply loves him. He's endeared himself to us as both an artist and a person. 
In 2021, Gibbs starred in Down With the King, a melancholy arthouse neo-realist character study directed by a French expat about a rapper driven to seclusion by the stressors on his life and career. He's a prolific podcast guest, both with sports guys like Jalen Hurts and Jacoby Brissett, as well as extremists on both ends of the political spectrum like Bill Maher and Joe Rogan. His Instagram is lit (or it was; it was taken down hours before our interview, again). In an age when simply rapping really well isn't enough, Gibbs circled the square by making himself into a fully three-dimensional character in culture. 
"I don't want to lose. I don't have a choice… I'm one of a kind."
This isn't just good fortune, but the culmination of strategy on Gibbs' part. He says, "Every rap artist that I like is kind of like an action figure or character to me. And they built that character and I bought into it. And that's kind of what I feel like I got to do. I feel like you got to buy into it to be a fan for life, not just like one song or something like that. I got to give you a whole aura. That's why this rollout is so important, because I feel like people just giving you a playlist today of songs to stream isn't enough. I feel like I'm giving you a whole experience." And on $$$, he succeeds. In addition to presenting a narrative, this album leans away from his usual method of working with a single producer to include greats like Kaytranada, Boi-1da, and Jake One, among others.  
The promo for this project is self-consciously hokey, like an Adult Swim bit that harkens back to the days when the likes of Diddy and Dr. Dre approached their albums as cinematic experiences with blockbuster production values, full of equally dumb and iconic skits, with full concept videos featuring splashy celebrity guest stars in exotic locales. It's Gibbs being game for any and everything, embracing his role not just as a rapper, but an entertainer utilizing mixed media across platforms. "Every time I drop an album, I'm giving you a different kind of thing," the showman says. "So I know everybody's going to start taking notes."
On his off time, Gibbs doesn't have hobbies. He's a dad who occasionally watches sports, and that's about it. "I feel like, to be the best, you gotta eat, sleep, drink this shit. Everything has to be about it," he explains. "It's like training for me. I got to live a rapper lifestyle to rap it. I'm dedicated 1,000 percent to being the best at this." This tunnel vision could explain the perpetual chip on his shoulder he needs to stay motivated. He says as much: "I'm the type of guy where I need some type of adversity to get me going. So it could be the slightest thing. It could be somebody telling me that I can't do this, I can't do that. I remember going into this situation with Warner, a lot of people thought that I couldn't make a good album or make a hit on a major label. It's like now we're top five added to radio with this record." 
None of the noise, beef, and cute promotional internet videos would matter if Freddie didn't keep delivering great music with each project. He told us his goal for $$$ was to add another classic to his ridiculously stacked catalog, and it will be hard to find critics who could argue he hasn't accomplished just that. When asked how he's managed to maintain focus and relevance, and warded off becoming repetitive and stale, he says: "When I run out of challenges, when I can't challenge myself, then I'm probably going to stop." And you hope he doesn't mean it. Because at this point, what challenges are left?