Kodak Black Donating Money and Gifts to Families in Need From Prison
Kodak recently alleged that he was "laced with an unknown substance" at the FDC in Miami.
Getty
Image via Getty/Scott Dudelson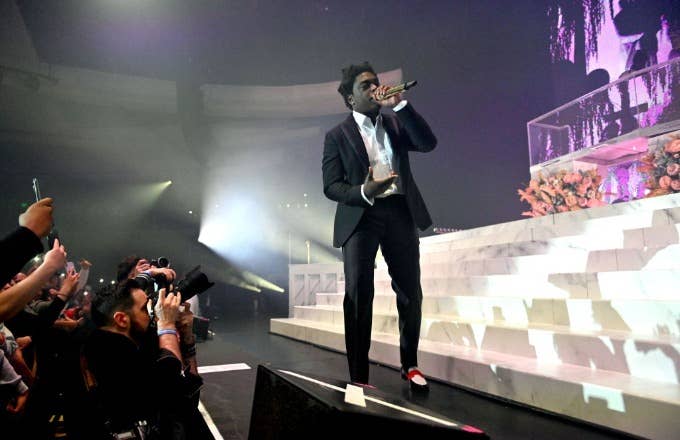 Kodak Black is stepping into the generosity vibes of the holiday season via a number of donations being made while he's in prison in connection with a federal weapons case.
TMZ reported over the weekend that Kodak's lawyer Bradford Cohen had informed them of donations to charity groups, religious institutions, and individual families in need. Kodak is buying toys for the Paradise Day Care Center in Broward County to help with their toy donation efforts for those in need, with the children ranging in age from 2 to 7. 
Kodak is also buying braille-assisted gifts, iPads,, mattresses, voice-activated games, and more for a family with a blind child. Per the report, Kodak had the family brought to his attention thanks to the regional LightHouse for the Blind organization.
Kodak is also putting up a $1,0000 donation to the Downtown Jewish Center Chabad's Rabbi Kaplan to help with new synagogue construction costs, with the total estimated coast of all "gifts and donations" said to be around $8,000.
Earlier this month, a message shared to Kodak's Instagram included the detailed breakdown of an incident which saw the Dying to Live artist allegedly getting "laced with an unknown substance" at the Federal Detention Center in Miami.
"I was denied [medical attention]," Kodak alleged. "This left me in a state of paranoia. Shortly after I got into an altercation with an [inmate]. This same CO who denied me medical attention proceeded to pepper spray me which instantly impaired my vision and I was oblivious to who was punching and grabbing me repeatedly in the face."