An endlessly fascinating podcast co-hosted by Rick Rubin has returned to the public consciousness with an expertise-stacked third season. In the most recent edition of Broken Record, billed as "liner notes for the digital age," Tyler, the Creator is interviewed by Rubin and co-hosts Malcolm Gladwell and Bruce Headlam.
Fittingly, IGOR talk is front and center here following some discussion on "staring at a mosquito" amid brutal heat "in the middle of nowhere." Speaking first on the development of album opener "Igor's Theme," Tyler recalled being in the studio with Lil Uzi Vert when the vocal melody finally came together.
"I was with Uzi—Lil Uzi Vert—we were at the studio hanging. I'm working on this and I couldn't come up with words but I had this melody," he said. "So I'm in there playing on the piano this melody and then he takes that melody and adds words and sings it right . . . And that's the song. It's nothing deep."
That fell into an aside on the importance of words and lyrics, to which Tyler responded with an assessment of his own habits as a listener. "I like beat first, then melody, then lyrics," he said around five minutes into the discussion, pointing out the late Amy Winehouse as an example of an artist he loved but—in at least one instance—didn't learn exactly what they were singing until years later.
Later, around the 13-minute mark, Tyler and Rick go deep on the power of songwriting restraint, specifically with regards to crafting the IGOR tracks. Tyler explained that "little details" in song arrangements, though not always spotted by a casual listener, are vastly important to him.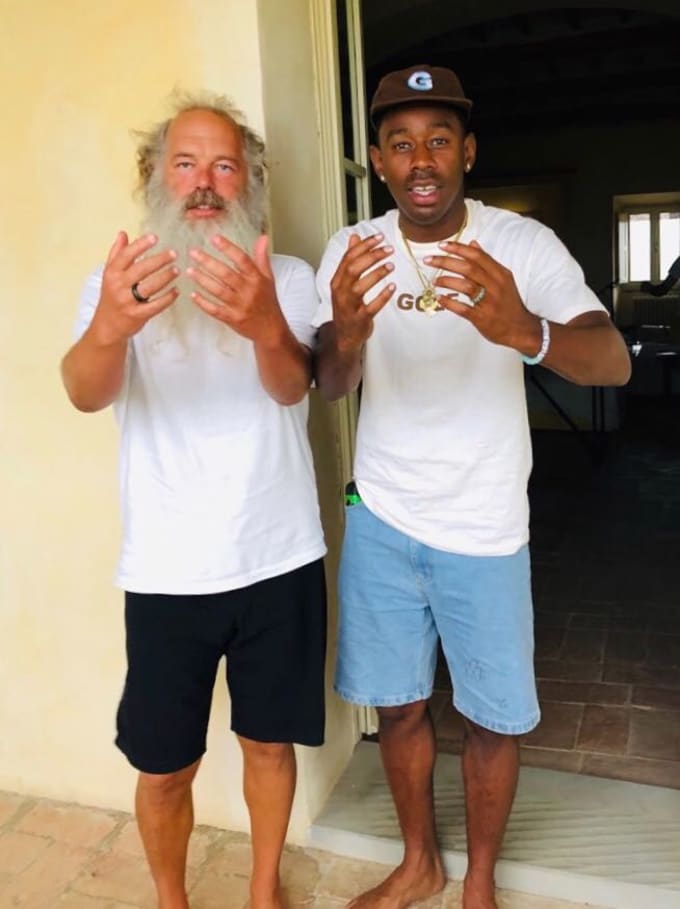 "That's why I tell fans like, hey, if you like it and you see me in person and I've got a minute to say hi or whatever, I want you to articulate what you like about it," Tyler said. "Don't just say 'I like it.' No. Hone in on what you like about it because, if you figure out specifically what you like about something, that'll help you understand other shit that you like and then weed out the shit that you don't and find other shit."
For more valuable insight, consult the full Broken Record stream of the Rick x Tyler chat below. Also notable is Tyler's take on Eminem's beat selection process.
"He picks some of the worst beats ever," Tyler said around the 8:40 mark in the YouTube version of the interview. "Even Ludacris sometimes picks shitty beats but their energy and their cool, witty lines is what made the songs cool."
Also worth your time is the recent Showtime docuseries Shangri-La, which centers on Rick Rubin's Malibu recording studio magic and heavily features Tyler, the Creator.