Moneybagg Yo and Megan Thee Stallion reunite on "All Dat"—their first collaborative joint since "Make a Bag" off Meg's 2018 project Tina Snow.
Moneybagg confirmed the release via Instagram on Wednesday, posting the song's official cover art in which he is rocking a grill featuring Meg's alias "The Stallion." There's no word if "All Dat" is a standalone record or if it's a taste of Moneybagg's next project. The Memphis rapper's last full-length release was 43va Heartless, which arrived back in May. In addition to the song, a Munachi Osegbu-directed video for the track was released. Check it out up top.
Moneybagg is also expected to drop a collaborative track with buzzing artist Summer Walker: "Me and Summer Walker, we finna work together. I reached out to her. I DM'ed her, strictly on some business," he said back in June, during a Power 106 Los Angeles interview. "Just work, nothing else ... I never met her, though, in person. She sent the Gmail over."
While we wait for more details about the Walker collab, you can stream the Denaro Love-produced "All Dat" now on all major platforms.
Moneybagg and Megan sparked dating rumors earlier this year, after they were spotted in hanging out together on multiple occasions. Though the southern rappers have not confirmed the status of their relationship, their recent social media activity suggests their an item. On Sunday, Moneybagg posted a photo of Meg with the caption: "Congratulations I Told U Ain't Nobody Fuckn Wit U." Hot Girl Meg hopped in the comments section to express her gratitude and urge Moneybagg to "hurry back."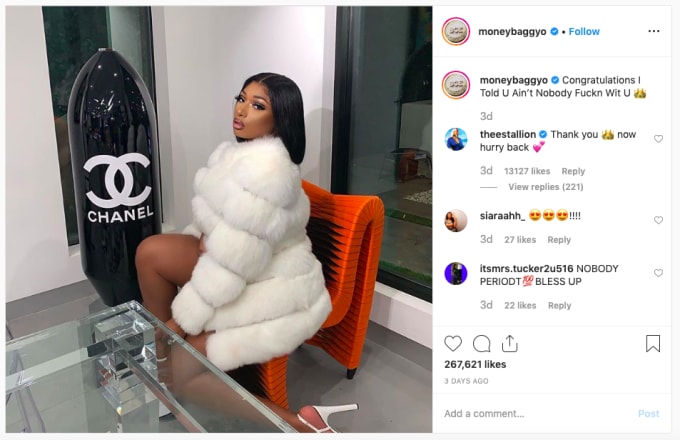 Moneybagg also linked with Apple Music's Zane Lowe to talk about "All Dat" and his upcoming album. "We both busy, but we make sure we get that time in," Moneybagg said of the Megan collab. "It was just one of them days. We was in LA. We went to the studio, went to, I think it was a Record Plant, Record Planet or something, went in there and the chemistry was already there. She like my best friend at the same time. I love her grind. I love her work ethic. I love how she keeps pushing. You know what I'm saying? I respect her whole hustle."
Speaking about his new album, Moneybagg said he's been working with Lil Baby, Yo Gotti, and Blac Youngsta, as well as Walker.