6ix9ine's Second Day on the Witness Stand: Everything We Saw in Court
Tekashi 6ix9ine took the witness stand again on Wednesday, testifying against members of Nine Trey and discussing his relationship with Trippie Redd.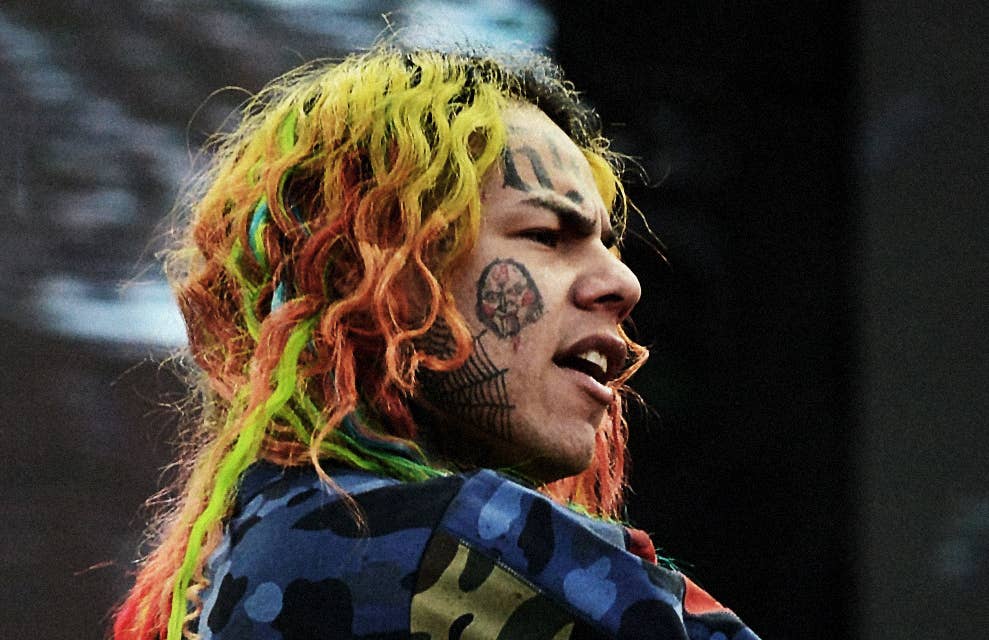 Getty
Image via Getty/Zachary Mazur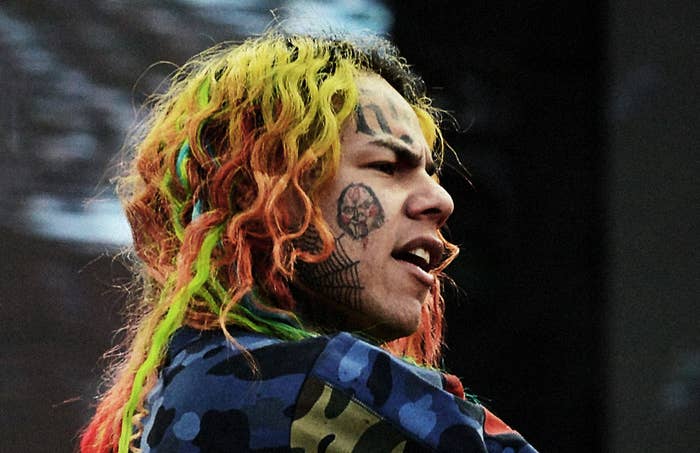 6ix9ine's dramatic recounting of his alleged July 2018 kidnapping was interrupted on Wednesday by the internet.
As the rapper's second day of testimony in the trial of accused Nine Trey Gangsta Bloods members Anthony "Harv" Ellison and Aljermiah "Nuke" Mack was nearing an end, news reached Judge Paul Engelmayer that a snippet of audio from the testimony on Tuesday had reached YouTube. Engelmayer shut down proceedings after a brief sidebar with counsel.
Before news of the leak, Daniel "Tekashi 6ix9ine" Hernandez had spent the entire day on the witness stand, recounting numerous violent and criminal incidents that he'd taken part in with members of Nine Trey, including stories about how he formed beefs with figures like Trippie Redd, Casanova, and Chief Keef. And the day culminated with Hernandez's account of how he was robbed by Ellison and an accomplice named Sha. The dramatic story included a beating, a filmed gang disavowal, and even an unexpected ride in a stranger's car that was accompanied by a wild video taken from the inside of the car of Hernandez's driver, Jorge Rivera. 
The morning began at Manhattan's Thurgood Marshall Courthouse with Hernandez testifying about how, just months after he met members of Nine Trey at the video shoot for "Gummo," he gave them tens of thousands of dollars ($85,000 in total), meant to support gang members both in and out of prison. Hernandez said his former manager Kifano "Shotti" Jordan explained to him that the money was also meant to buy guns "in case he had to be ready for war."
Much of the day was taken up with explanations of the internal Nine Trey beef. Most prominently, attorney Michael Longyear, who was doing the questioning, took time to lay out the widening rift between Jordan and Ellison. 
"I'm pleading with Harv," 6ix9ine remembered. "I'm telling him, 'Don't shoot. I gave you everything. I put money in your pocket.' I told him that I was tired of being extorted."
"They didn't like each other," Hernandez explained, saying that Ellison thought that Jordan was loud and vocal, but would allow disrespect of the gang. "Harv always pulled Shotti's card. He didn't feel like Shotti was a true gangsta." Ellison's disagreements with Jordan, which the government shared in numerous texts between the two, led ultimately to Ellison being cut out of Hernandez's burgeoning career. Things got bad enough that the formerly tight-knit Nine Trey crew splintered.
"The gang divided into four pieces," Hernandez explained. "We're all attacking each other at the same time. They put me in a position where I had to pick a side, and I chose Shotti's side." 
The parts of Hernandez's testimony that weren't concerned with intra-gang violence mostly focused on the oft-controversial rapper's beefs with his musical rivals like Trippie, Keef, Casanova, and the people behind Houston's Rap-A-Lot Records, the last of which Hernandez called "a wannabe Mafia type of thing" when asked to describe it.
After speaking briefly about Trippie on Tuesday, Hernandez continued on Wednesday. The rapper described how he had helped arrange a November 2017 assault on Trippie in a New York City hotel. He recounted secretly going to a Trippie video shoot in Brooklyn, waiting for him to leave, and following his car for well over an hour back to a Manhattan hotel. Once there, Jordan and Ellison "attacked [Trippie] at his hotel, assaulted him," with Ellison in particular punching Trippie in the mouth. 
Hernandez also gave context to the now-infamous brawl at 2018's Yams Day concert in the New York Expo Center in the Bronx. He explained that it started because Jordan, who at that time did not have a large public profile, wasn't allowed to be near the performers. A brawl with security ensued. 
The rapper also broke down what led to his fight at LAX airport, which also involved Ellison. When asked if he took part in the brawl personally, Hernandez replied, "Yeah, but I didn't land any punches."
When testifying about Casnova, Hernandez explained that after Cas's diss song "Set Trippin" came out, Hernandez was determined to "run down" on his rap rival. Hernandez's then-friend Seqo Billy offered caution in some text messages shown to the courtroom, saying that Casanova's Bloods set, the Apes, would retaliate. "There's a kite out saying if any apes happen to cross ya path to fire on you or anybody around you… smarten up," Seqo wrote to a group chat. 
Hernandez then explained what went down at his 2018 South by Southwest show in Austin, Texas. He couldn't perform, he said, for two reasons: First, Rap-A-Lot personnel, mad that he didn't "check in" and show proper respect when visiting Texas, had barricaded the stage. Second, Ellison and Billy Ato, Nine Trey members who were by then on the outs with Hernandez and Jordan, had shown up uninvited to threaten him. 
The rapper laid out in detail numerous violent acts he and his fellow Nine Trey members had committed. Among these was the June 2018 Chief Keef shooting (which Hernandez said began "over my female friend Cuban"); a shooting at Frenchie BSM, who was acting as security for Trippie Redd during a March 2018 New York City visit; an April 2018 armed robbery of a Rap-A-Lot artist in Midtown Manhattan that Hernandez admitted to filming; and several Brooklyn shootings on April 21, 2018 (including one inside the Barclays Center). Accounts of all of the April 2018 incidents were accompanied by surveillance video. 
The day concluded with Hernandez's nearly blow-by-blow account of Ellison allegedly robbing and kidnapping him. It was accompanied by a vivid video from the inside of the car that Hernandez was riding in. The car, the government had previously explained, was wired for sound and video (Hernandez's driver Jorge Rivera is a cooperating witness in the case).
The video shows the car stopping, and Sha and Ellison demanding that Hernandez get out. Afterwards, the driver attempts to follow the car that Hernandez had been forced into, resulting in a chase through the streets of downtown Brooklyn.
"I'm pleading with Harv," Hernandez remembered. "I'm telling him, 'Don't shoot. I gave you everything. I put money in your pocket.' I told him that I was tired of being extorted."
After that, Hernandez said, Sha pinned him down on the floor and kept hitting him, and he realized he was being filmed by Ellison. 
"Harv said, 'Say you not Billy,'" Hernandez recounted. "I said it three times." A desperate Hernandez remembered that he offered the kidnappers $100,000 if they kept him alive until the bank opened in the morning. Instead, they settled on a plan to take all of Hernandez's jewelry, which they took from his house in a pink Mickey Mouse diaper bag.
Eventually, Hernandez said, he escaped and jumped into a stranger's car. From there, he asked to be driven to a nearby police precinct where he received medical attention. He eventually ended up at a hospital in Long Island where he got a CAT scan and "concussion medication."
One of the day's most dramatic moments came when Hernandez explained that Jordan and others were planning retaliation for the robbery. Jordan came to the meeting with an assault rifle (which Longyear then produced and waved to the jury). 
The courtroom was full on Wednesday, though less so throughout the day as the detailed testimony continued hour after hour. One late visitor, showing up near the end of the day's proceedings, was the rapper Troy Ave. He was there, he said, to show support for Aljermiah "Nuke" Mack.
"[Mack's] a good guy," the rapper told reporters. "I don't know about this picture they painting. As far as I know, he was trying to get into the music business." 
Troy Ave also had some thoughts about the nature of the case he was seeing. "Realistically these type of cases happen all the time, but now there's a bigger spotlight on it," he continued. "Is it as big as Shyne and Puff? I just hope they see Nuke for the guy I know him as. We'll see what happens."
Hernandez is expected to take the witness stand for a third day on Thursday, September 19.