In the days since Hurricane Dorian slammed into the Bahamas, music stars have taken to social media to send love to those who remain on the battered islands. 
Rihanna tweeted several messages in wake of the deadly storm, announcing her nonprofit, the Clara Lionel Foundation, was exploring the ways it could provide aid to those affected by Dorian. 
Cardi B also showed love to the island in an Instagram story Monday, posting the national flag of the Bahamas: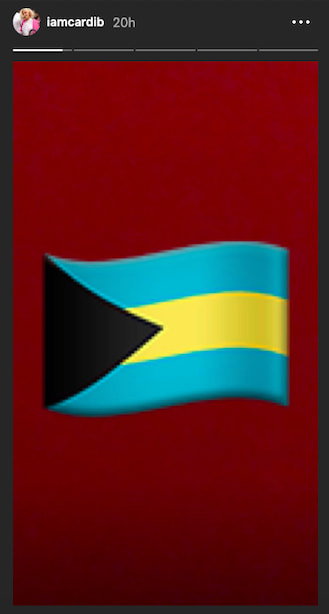 Dorian slammed the Bahamas on Sunday as a Category 5 hurricane with sustained winds of 185 mph and 220 mph gusts, according to NPR. Though the storm has since been downgraded to a Category 2, experts forecast Dorian's slow-moving pace will result in even more devastation. Photos and videos from the island show the extent of the destruction, as flood waters can be seen engulfing buildings and homes, many of which had their roofs ripped off.
According to Hubert Minnis, the prime minister of the Bahamas, there have been at least five storm-related deaths in the days since Dorian hit. "We are in the midst of a historic tragedy," Minnis said in a press conference, according to the New York Times. "Our focus is search, rescue and recovery. I ask for your prayers for those in affected areas and for our first responders [...] Many homes, businesses and other buildings have been completed or partially destroyed," he said.
You can read some of the other reactions to the storm below, including messages from Pharrell, Rick Ross, and Kingston's Buju Banton.
The storm is now making its way toward the southeast U.S. coast, as residents evacuate parts of Florida, Georgia, and South Carolina. Stay tuned for more developments.