Key Glock Arrested on Firearm and Marijuana Charges
The Memphis rapper was released on bond Tuesday.
Additional details about Key Glock's recent arrest have come to light. 
A day after the 2019 Rolling Loud festival, the Memphis rapper was filmed on the streets of Miami being detained and handcuffed by local police. The reason for the arrest was initially unclear; however, XXL magazine has since confirmed that Key Glock was booked on a total of three weapons- and drug-related charges: carrying a concealed firearm, possession of more than 20 grams of marijuana, and "cannabis poss more than 20 gr/armed." 
His bail was set at set at $17,500 for all charges—$5,000 each for the first two, and $7,500 for the third. The outlet points out that Key Glock—real name Markeyvius Cathey— is facing serious jail time, as the first two charges are prosecuted as third-degree felonies in the state of Florida.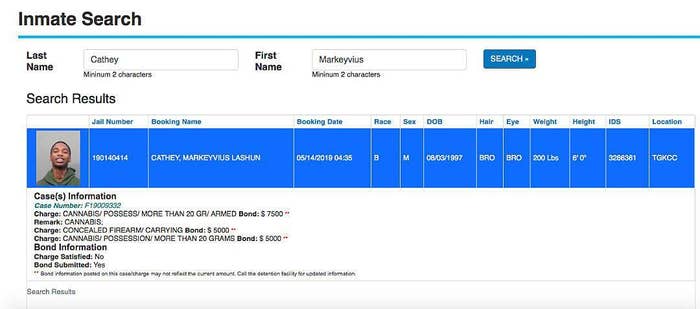 According to the Miami-Dade County inmate database, Key Glock posted his bail Tuesday. The rapper also shared an Instagram video in which he is seen leaving jail with a smile on his face. 
Stay tuned as more information about Key Glock's case becomes available.
The arrest occurred shortly after Kodak Black was taken into custody by Florida police. The rapper was arrested Sunday hours before he was set to hit the Rolling Loud stage. He is accused of falsifying gun applications in January and March. If convicted on the federal charges, Kodak will face up to 10 years behind bars.