Jay Rock has just been honored by the city that raised him.
On Friday, the TDE artist was handed the key to the South Los Angeles neighborhood of Watts. L.A. City Councilman Joe Buscaino presented the key during a public ceremony at the Nickerson Gardens Community Center, where fans, friends, and family gathered to show their support.
"For the last 12 years, Jay Rock has done so much, so much to lift himself, Kendrick [Lamar], and TDE into the stratosphere of global music influencers. Now they're not called 'Top Dawg' for nothing," Buscaino said at the event. "And it all started here: 5-5-2, in Nickerson Gardens in Watts. We love you, Jay Rock, for your contributions to music, culture, and, most importantly, to this community."
The councilman then declared May 24 "Jay Rock Day" in Watts.
The Grammy-winning rapper then took the mic and began thanking God, his family, the TDE crew, and, of course his community.
"To my homeboys, my homegirls: Man, I love y'all—giving me support since day one. If it weren't for y'all, I wouldn't be right here," he said. "[...] And to my young boys out here that's trying to do the music, that's pursuing y'all's dreams: Don't give up, man. This a prime example right here."
During the key presentation, it was announced that Jay had teamed up with TDE and Lyft to donate $5,000 to the community center.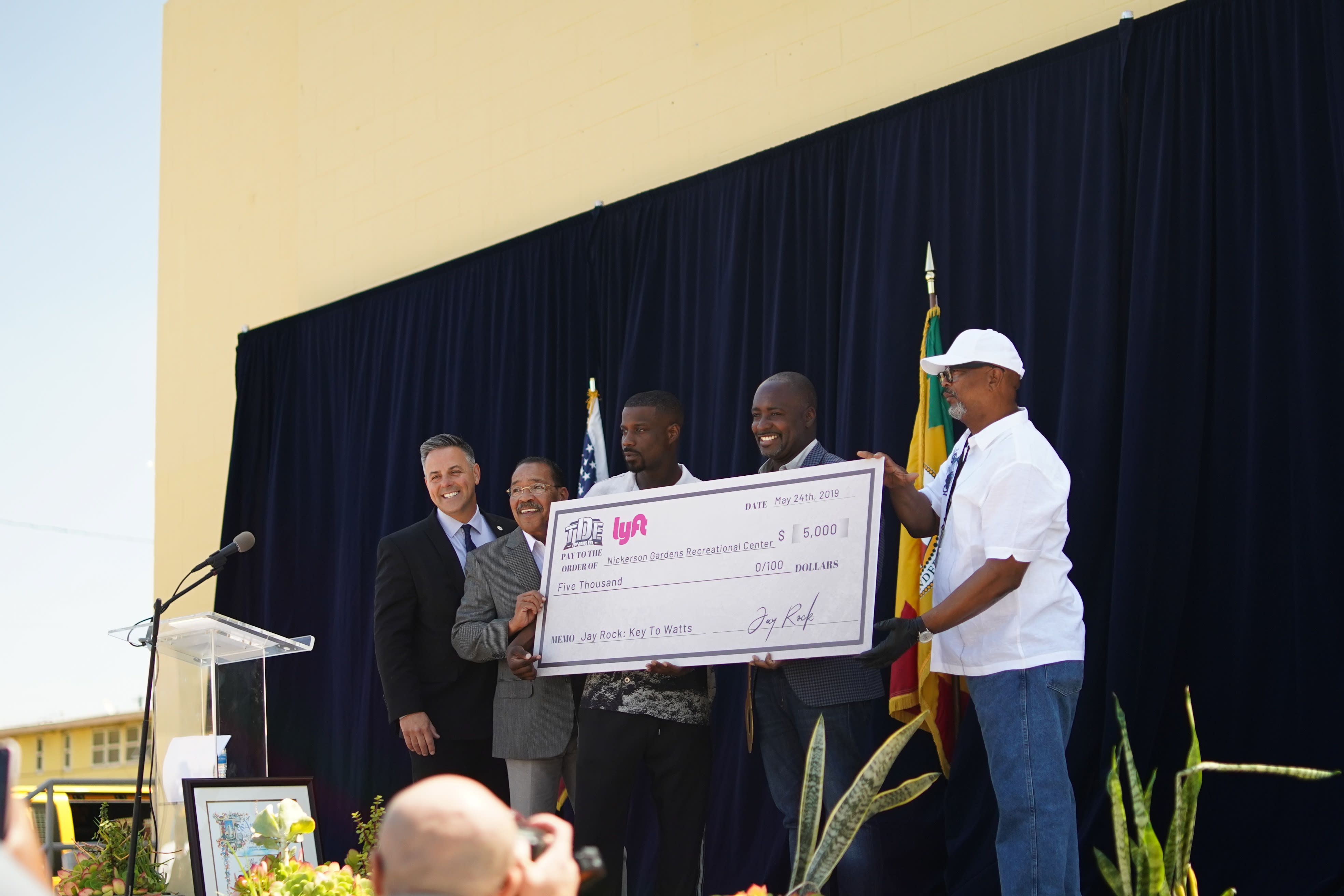 TMZ caught up with Jay at the event, and asked him about YG's recent comments about the "fake" love Nipsey Hussle has received. Jay said he approved of all the support Nipsey was getting, but recognized that many people don't show love to an artist until he/she is gone.
"I love Nipsey, man. R.I.P. Nip Hussle. We went to the same middle school together," he said. "[...] Me and Nip Hussle, our first tour we ever went on was with The Game. We went to like, 30-40 cities together. I'm a Blood, he's a Crip. My homies was with his homies; we were together every day [...] Everybody come together. Red and blue make green, baby."
Check out more photos from the day's ceremony below.