De La Soul Calls Out Former Record Label Over 'Unfair' Streaming Deal
The group says they will receive 10 percent of the profits when their back catalog hits streaming services. The other 90 percent will allegedly go to Tommy Boy.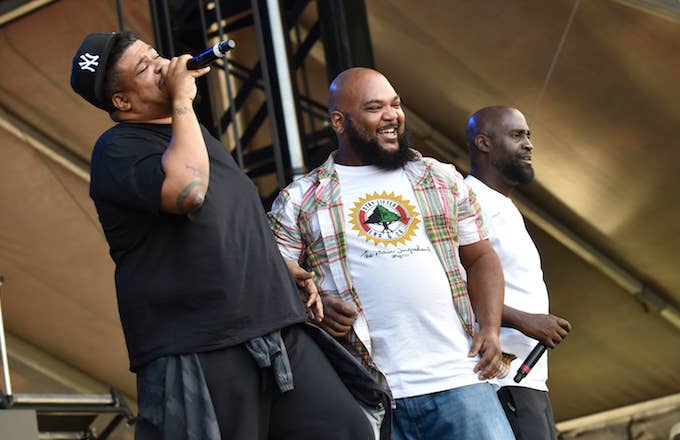 Getty
Image via Getty/Tim Mosenfelder/WireImage
First, the good news: De La Soul's back catalog is finally coming to streaming services. The bad news? De La Soul isn't happy with the terms of the deal.
Earlier this week, it was announced that the group's first six albums—including 3 Feet High and Rising, De La Soul Is Dead, and Buhloone Mindstate—would be available to stream on major platforms such as Apple Music and Spotify. However, members Posdnuos, Trugoy, and Maseo have since gone to social media claiming they will not be fairly compensated for the digital releases. De la Soul said it will only receive 10 percent of the profits, with the other 90 percent going to its former label Tommy Boy Records.
"Dear fans, The music WILL be released digitally," the group wrote on Instagram. "After 30 long years of good music and paying their debt to hip-hop, De La Soul unfortunately will not taste the fruit of their labor."
De la Soul encouraged fans to boycott the new drops and instead purchase 2016's And the Anonymous Nobody… and 2004's The Grind Date, two of their non-Tommy Boy albums that were already available on streaming platforms. 
De la Soul has also called out Tommy Boy for allegedly rushing the deal and placing clearances on the back burner:
"We're completely missing a significant part of this digital era because of all the infractions that exist with the back catalog," Maseo said during a Tuesday appearance on Sway in the Morning. "Now fast forward to 2019, Tommy Boy has been able to acquire the catalog back, but there's still some infractions around the catalog for the release, things that we're sure that still aren't cleared that might have more potential issues now dealing with the new medium. Also, for what's on the table for De La is unfavorable."