Last month, Desperados hit the beautiful city of Venice, Italy, to descend down into the depths of the world's deepest pool to create 'Deep House', one of the most surreal party experiences that's ever been envisaged. Linking up with legendary party-starters elrow and two of the best DJs in the biz, Peggy Gou and Artwork, Desperados took 400 fans raving under the water using state-of-the-art SeaTREK diving technology to party on the planet's deepest dancefloor. After getting kitted up and ready to get deep, party-goers were able to cut some sub-aquatic shapes while Peggy Gou shelled down another expertly-crafted set.
After watching her perform underwater, we caught up with Peggy to talk through her experience at performing at 'Deep House'—"the craziest gig she's ever played"—as well as learning more about her musical upbringing, in-roads into fashion and how her fans keep her going through her increasingly hectic schedule.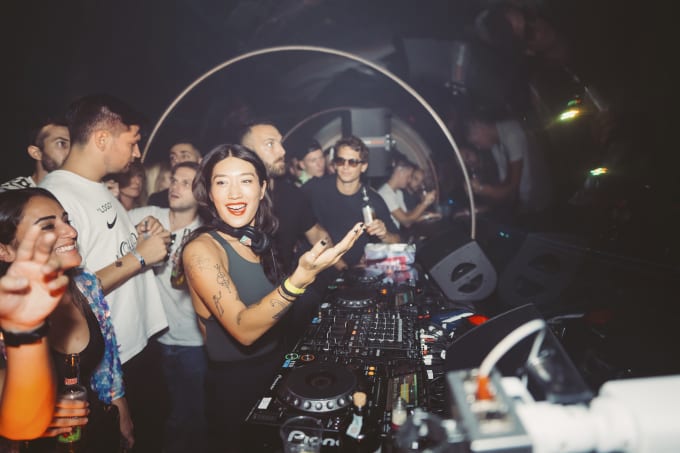 COMPLEX: How excited were you to take part in this event? It probably has to be one of the craziest gigs you've ever played.
Peggy Gou: It was definitely the most unique place I've ever played. You're DJing and there are mermaids coming out in front of you, people swimming all around you and on top of where I was performing! It was really hard to describe but it was completely amazing, and I'm really honoured to have played here. 
How did this compare to your more typical sets? Do you feel different after playing it?
Every gig is different, and this one I definitely feel more like it's a feeling of "Wow, what the fuck just happened?" But in a really good way. 
How are you finding living in Berlin and the lifestyle there compared to growing up in London?
I like living in Berlin because I'm not there all the time. If you want to live in Berlin you need to leave—it's good to have as a base to travel to other places as I do all the time. While my spiritual home is Bali, Berlin is still a place I call home as I can go back and just relax, and let it all out after touring.
What came first for you: style or music?
It would have to be music. I was always one of those kids who would go around with a Walkman with both CDs and tapes. I was also trained on the piano growing up too, and always felt really deeply connected to music growing up. My brother was very good at piano too. My dad sang and played guitar too. But then I also loved dressing up since I was really young too. I got properly into fashion when I was 19. I went to London to pursue my love for fashion more, but then while I was doing that I got more involved in music and then I realised that was what I needed to do.
And the convergence between the two worlds helped you meet Virgil too?
Yeah, definitely. I was playing at a fashion show, and I was really surprised when he came up to my stage and was like "I've been following your journey." We then became friends soon after that. Virgil is a very creative person, so when I talk to him, I was really inspired by our conversation. We clicked because of the conversation, and very creative. We are both very driven, very ambitious.
You have one of the biggest releases of this year with Once. How has the reception to that changed your life?
I was really scared about releasing this EP—I was worried that people don't like my voice, or don't like the language. I really didn't expect all the support from it at all. Most of my YouTube views before the track were like 100k max. When I started seeing the video got over 4 million, I was properly taken aback. But people always say "how do you feel after achieving the success from Once?"—but I don't feel like I've achieved success yet. I'm still working hard every day to reach my goals!
You've recently been gifted a custom South Korean football shirt in Ireland, but what's the weirdest gift you've received from a fan?
If started out being shoes, and then it became loads of giraffe themed stuff, as I said they're my favourite animal. I love connecting with people, so it feels great knowing my fans take such an interest in what I do and what I like.
Gifts like that show how crazy the support from your fans is. How does it feel to be supported like that?
It feels great, especially knowing that not everyone has this following and have fans as cool as mine who take a proper interest in what I do.
What are your plans for the rest of the year?
My touring time is slowly easing off now which is cool, but I've still got some dates in Austria before the end of the year. I'm also taking my yearly ritual to visit Bali and recover for a bit, and then I'm hopefully allowed to unveil plans for my new label before the year's out too! 
COMPLEX spoke to Peggy courtesy of Desperados' 'Deep House', the latest act of Desperados which follow a series of unique acts to foster wild experimentation in music and partying.
For more information about Desperados Deep House or any other activations including Sound Stage: W.T.F., SkyFest, Train Trax, Bass Drop and House Party Plugged, or for visuals of the new Desperados brand identity, visit www.desperados.com