Migos Tied the Beatles for a Major Billboard Hot 100 Chart Record
Both groups have had 14 simultaneous entries on the Billboard Hot 100.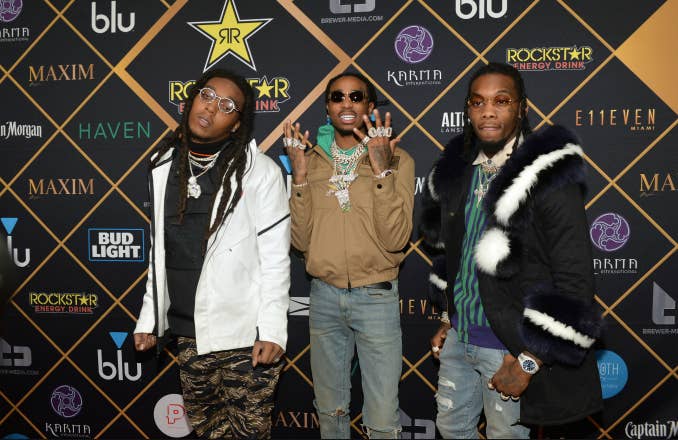 Getty
Remember when Offset claimed that Migos is "the biggest group ever"? Well despite all the naysayers, it looks like he might actually be on to something. The best-selling rap trio have made history, tying The Beatles for the most simultaneous entries on the Billboard Hot 100 songs chart among groups with 14, according to Nielsen Music (Drake holds the individual record with  24 concurrent songs under his belt).
The announcement comes one day after the trio's Culture II debuted at the No. 1 spot on the Billboard 200 chart. In its first week, Culture II sold 199,000 equivalent album units, making Migos the fifth rap group to have multiple No. 1 albums, joining Beastie Boys, A Tribe Called Quest, Bone Thugs-N-Harmony, and D12. Culture II also surpassed its predecessor, Culture, which debuted at 131,000 units last year. 
The irony of Migos tying the Fab Four isn't lost on anyone. For years, fans of the rap trio have compared their success to the Beatles (albeit sometimes with their tongues planted firmly in their cheeks). That notion was unofficially confirmed when Donald Glover anointed Migos by thanking them for making "Bad and Boujee" while accepting the award for Best Television Series - Musical or Comedy for Atlanta at the 2017 Golden Globes. 
"I think they're The Beatles of this generation and they don't get a lot of respect, I think, outside of, like, Atlanta," he continued backstage at the ceremony. "Not that they don't get a lot of respect, but there's a generation, sort of like the YouTube generation that I kinda came up with. There's a generation of kids that are growing up on something that's completely separate from a whole group of people."
Migos can celebrate their record-breaking success when they return to Saturday Night Live to perform on March 3. And the fact this is all happening during Black History Month makes the news all the more sweeter.