The career of 20-year-old rapper SahBabii can be summed up as a family affair.
A move from Chicago to Atlanta in 2005 came with hopes of Sah's brother, T3, breaking into the Atlanta hip-hop scene for the family—surname Valdery. "T3, he wanted to do music first," Sah recalls. "He used to play the piano back in Chicago and stuff, that was his dream."
The family immediately took to Atlanta, reveling in the warmer weather, colorful atmosphere, and emerging hip-hop talent on every corner. "You can really see the artists up close, " Sah explains. "They be in clubs and everything. They really mess with the hood, the artists really show love like that."
With some much talent hanging around and a younger generation vying for the spotlight, it wasn't long before Sah too caught the bug. "I think [in] 2012 [was when I first realized] I wanted to really do music," Sah explains. "That's when I dropped my first project, Pimpin Ain't Eazy. That's when I knew I wanted to do it, [when] I got like 40,000 views on [YouTube]." With help from his brother on production and his father Sup as his new manager, Sah started recording music in his family's home studio on Salem Road, uploading it to Instagram and YouTube and seeing if anyone was listening. Turns out, they were.
"When I was uploading my videos on Instagram, like snippets before I was big; they used to comment five emojis, tell me to drop," Sah recalls. "That just used to keep me motivated. See they reactions on the snippets I had, that made me really want to go harder."
It wouldn't be till August of 2016 that Sah would firmly cement himself in the hip-hop world, when he uploaded a snippet of his latest track, "Pull Up Wit Ah Stick," to Instagram. The song immediately went viral, getting nods from Young Thug, T-Pain, Fetty Wap, and even prompting Drake to claim that he was going to drop a verse on it.
Since then, everything has changed for the Valderys, but Sah remains the same: energetic, carefree, and creating for creativity's sake. "You know I'm just being myself in my music; I like animals [so] I do animal noises in there. [I like] anime, I like cartoons, I like nature." Aware of the possibilities laid out in front of him, Sah is not naive or lazy about his artistic practice, claiming his new album is nearly complete ("I have just four more songs left to finish") and always stressing the importance of a video. "I try to [show] them the inside of my mind," Sah explains his videos. "Trippy, colorful stuff."
Sah would be the first to admit how his color palette widened upon moving down to the A. "It's real colorful in Atlanta, that really made my music colorful," he says. In such a vibrant city, nothing shows your radiant energy quite like your shoes. " That's a big part of the outfit. I just feel like that's what people always look at. Puma had like different colors I can switch it up with, you got a match that's going to throw it all off."
Sah's been rocking with Puma ever since he can remember. "I was wearing PUMA's every time I got up some money. I had some purple ones, some blue ones. PUMA always had the different colors," he says. And he's got a different color for every scenario, "I hoop in the PUMA, I wore PUMA in the "Pull Up With Ah Stick" video." Atlanta's got its own special swagger, and when the next PUMA's drop, Sah knows where people will be going. "Foot Locker [is] definitely [the] destination spot. When new shoes come out, that's where everybody flood."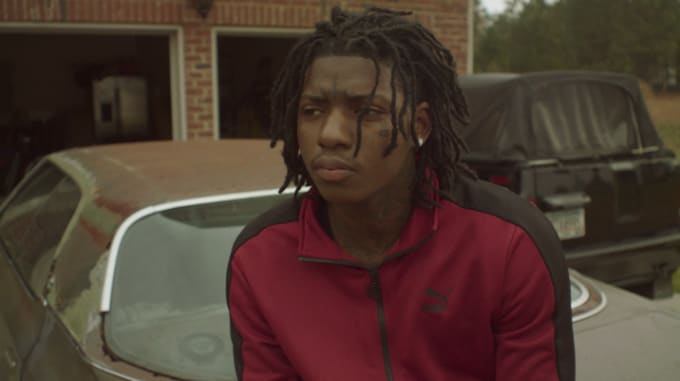 Complex recently caught up with Sah on his home turf in Atlanta. From his family's house to the local corner store, from the studio to the neighborhood roller rink; we meet Sah in the ATL to find out what keeps him moving and to witness how he chases after his dreams. Peep the video above for a glimpse into Sah's world.
Sah wears PUMA Japanese Gardens & Wasabi Pack available exclusively at the PUMALab, powered by Foot Locker.