Chloe and Halle are beaming. They certainly have plenty of reasons to smile. A couple of years after channeling summertime boredom into an impressive YouTube career with millions of views, the teenaged sisters posted a cover of Beyoncé's "Pretty Hurts." To their surprise, their heart-wrenching rendition not only reached the superstar herself, but also landed them a deal with her production company. In the four years since, Chloe x Halle's lush harmonies have earned them an opening slot on Bey's Formation world tour and an appearance in Bey's critically acclaimed visual album Lemonade as well as a feature on Michelle Obama's charity single "This Is For My Girls." Now, Chloe, 19, and Halle, 17, are gearing up to release their long-awaited debut album.
Still, they've seen plenty of challenges, from hearing the word "no" more times than they can count to experiencing the pitfalls of being young girls in a testosterone-driven industry. But their bright, be-happy dispositions and "sisters-against-the-world" mentalities have helped them conquer it all. The two spots of sunshine sat down with Complex to talk constructive criticism, sisterly spats, and of course, Queen Bey. This interview was performed in partnership with Peet's Coffee, who is celebrating the passion that drives people like Chloe x Halle in the pursuit of their craft.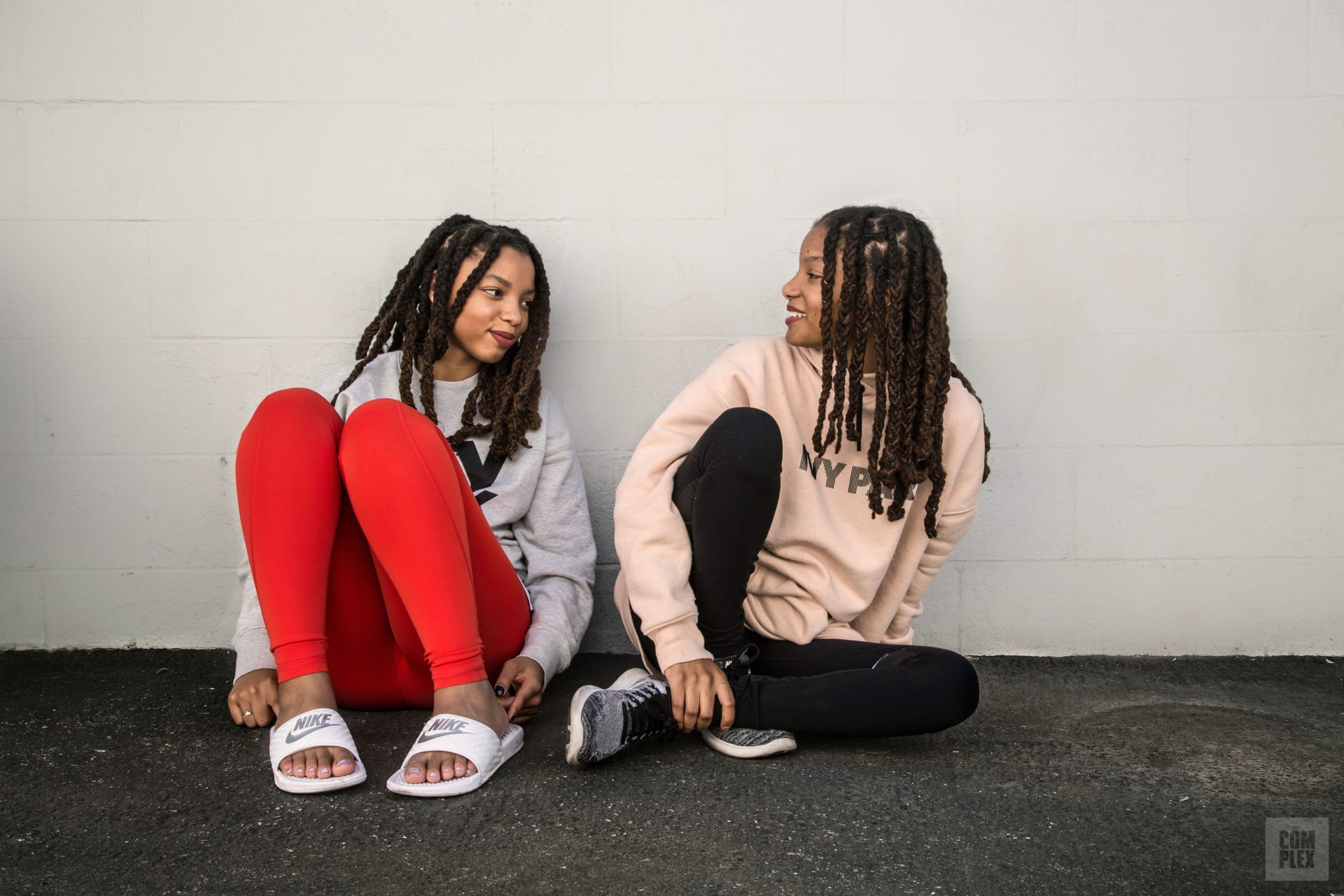 Baby, You're a Star
Chloe: "We always loved music, even when we were babies. We were toddlers singing along to songs. I guess that love just grew. We originally started in acting 'cause we loved being in front of the camera. When I was 7 and my sister was 5, we performed in a talent show at summer camp. What did we sing?"
Halle: "'Summertime,' by Nina Simone. Our mom dressed us in these matching outfits, striped skirts with green shirts and big flowers in our hair. Our friends were cheering for us, screaming, 'Go, Chloe and Halle!' Ever since, it was like, OH, we like this."
Numbers on the Board
Chloe: "People told us the thing to do is post YouTube covers, and we were like, eh, maybe not for us. One summer we didn't have much to do, and we loved the song, 'Best Thing I Never Had,' by Beyoncé. We recorded it, asked our parents if we could post it and were happy when it had 50 views!"
Halle: "We were like, 'Wow! 100 views! That's so amazing!'"
Chloe: "Ever since we were little girls, our dad told us, 'You shouldn't rely on anybody. Figure it out so you can do it for yourself.' So when I was 10 and my sister was 8, our dad, who's an incredible writer, taught us how to write songs. Since then, it grew."
Halle: "We learned to take stuff into our own hands. My sister learned how to produce, amazingly. She's a force of nature. So amazing to see her work. We learned to be self-reliant and do stuff ourselves, 'cause we're powerful."
Chloe: "Believe in yourself. Find what makes you stand out and truly believe in that. That's what grabs people's attention. There are so many types of people who go down a certain path, but go your own path. And don't ever stop, no matter how many no's you get.
'Cause you will get a lot of no's and you will feel discouraged. It's those moments when you really have to look in the mirror and say, 'I can do this.' Those are the moments that create you and make you, they don't break you."
Halle: "Just trust your gut. We have this built-in intuition as human beings that always tells us the right answer and we try to ignore it. Trust your gut and follow your heart and what it's telling you to do, I'm sure you'll enter the world of rainbows."
Everything That Glitters Is On Instagram
Chloe: "With everything—music or acting or even the corporate world—you're always gonna have obstacles. And that gets put in the shadows. All we see is the glitz and the glamour. We live in a world where everyone posts their best selves online. Sometimes you look at yourself and think, why can't I always be 100%, 1000%? But everybody gets told no. But when one door closes, another opens. And you have to look at that as a lesson: That wasn't meant for me. God and the universe has something special for me. You have to trust that.
My Name Is No
Halle: "No's come in a period of growth. When I look back on those moments we got no,  it was soon after that we grew and evolved from that moment. I realized that was supposed to happen so we could turn into better versions of ourselves."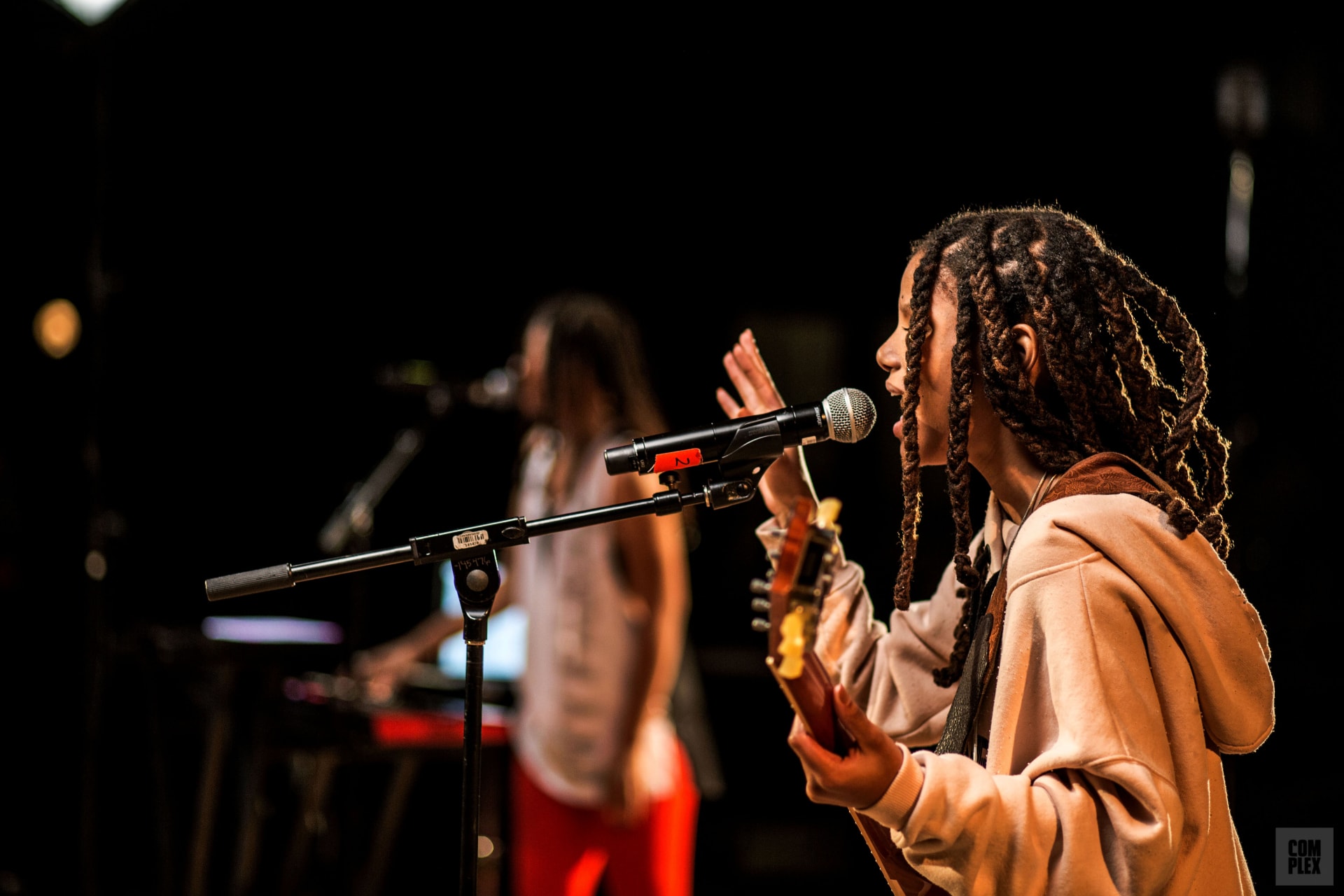 Free Your Mind
Chloe: "Creating has always been deeply rooted in us. That's how we express ourselves. It's like our diaries. It's how we get all our feelings out, and it's the most freeing thing. You should never force it. Sometimes we'll be inspired by a phrase or word, but if we don't have words saved, we'll just play something. We want to find the beautiful chords that make your heart sing. That's where it starts. Then we just let the energy take us where it needs to take us. Sometimes it's really terrible and we'll be like, what the heck is that?! And we'll laugh. But that's a part of the creative process. It makes you appreciate the times it comes naturally. Our dad told us, you can write 100 songs, but only 10 you'll really love. So it's trial and error. You can't get discouraged. You have to be like, ok, that sucked. Moving on."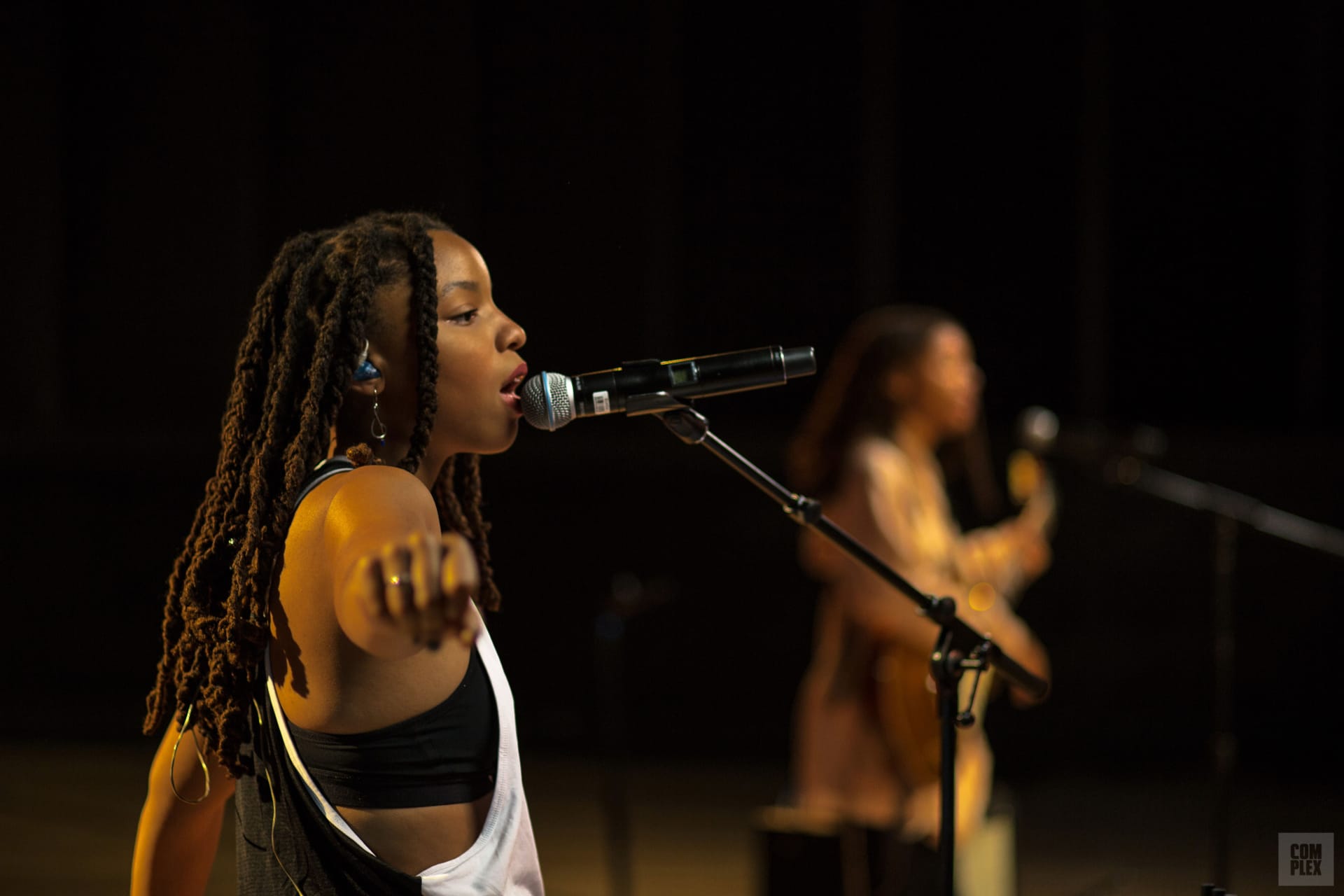 Harsh Words
Halle: "We have to realize we can always do better. Always grow. Constantly remind ourselves. And when one forgets, the other reminds."
Chloe: "You are an artist and you're sensitive about your work. But once you remember it's not about yourself and that you're creating art for other people and the world, that's when you're like, ok, I'm gonna put it out right."
Sister, Sister
Halle: "Of course we have spats! We're sisters! But it's always over the smallest things, like, 'You lost my eyelash curler! Where's the coconut oil?' We don't really get into huge fights. We're just best friends. We realize, okay, we're gonna be here for a while. Might as well learn to love each other."
Chloe: "I'm so happy I have my sister, because whenever I get discouraged, she will lift me up and I will lift her up. Important to have someone you can lean on. You'll have moments, and she'll be like, 'Snap out of it! You got this!'"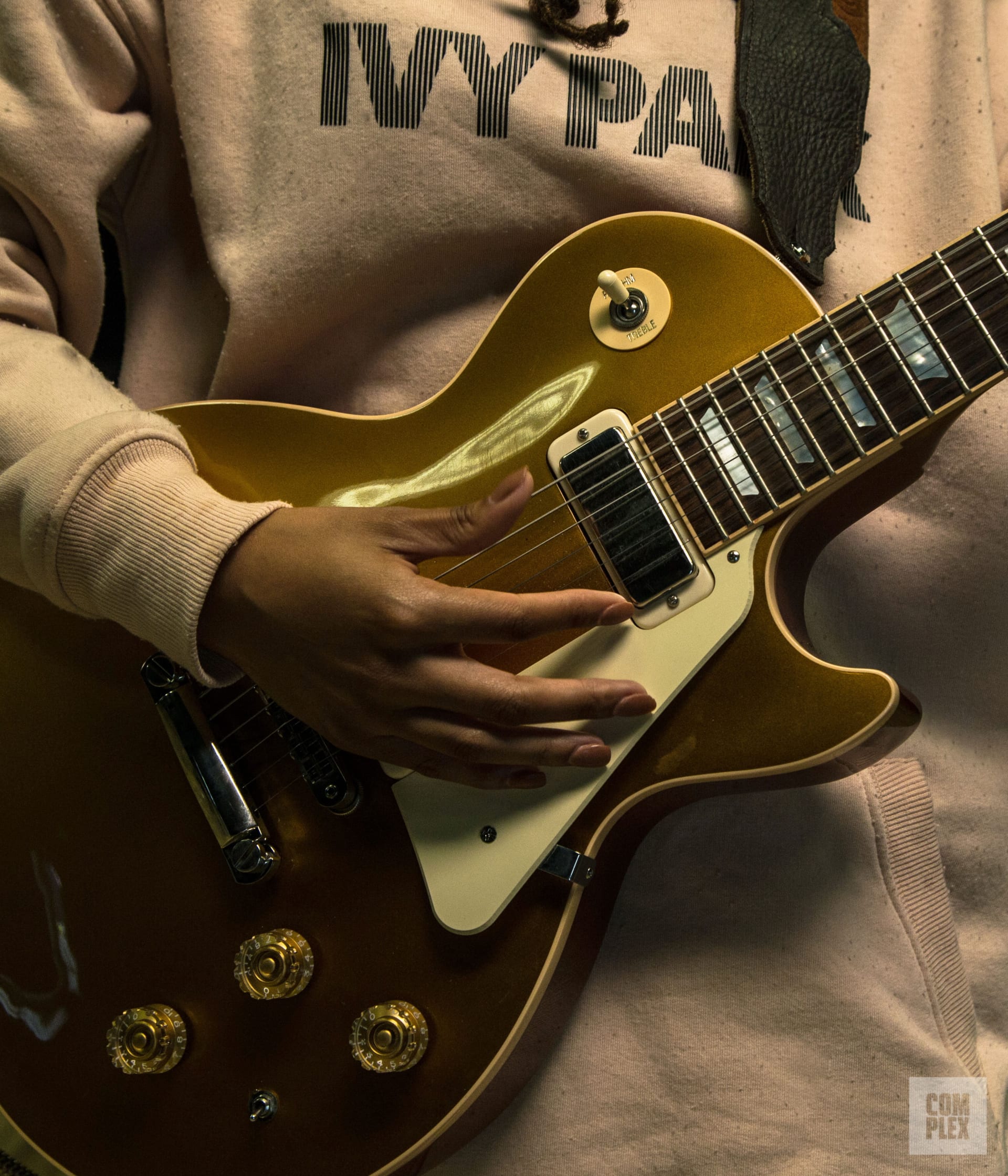 While My Guitar Gently Collects Dust
Halle: "I got a guitar randomly for my 10th birthday. It wasn't on my wish list. I was like, 'Wow … super cool … Dad? Mom? Why did you do this?' [laughs] It sat in the corner of my room for six months, collecting dust. One day I got really sad and thought, I should do something with this. I picked it up and started playing around with it. Went on YouTube and learned how to play our favorite songs with simple, easy chords. I feel like I'm still learning. I sorta have a grip on it, but I want more."
Feeling Comes First
Chloe: "Music is more a feeling for us, rather than being very technical. Feeling comes first. That rings in everybody's heart. Everybody's a music lover, but not everybody is a musician. Everyone can relate to feeling. They understand it."
Halle: "I don't know why people were drawn to our music, but I'm grateful. It's super cool that people felt something from it, because that's only our intention: to make people feel good."
The Healthy Voice Diet
Chloe: "Number one secret to keeping our voices in shape? God. Two, we're vegan, so we're not consuming dairy and it's not that extra mucus buildup all the time. We hydrate a lot more before performances. We were really on a roll of drinking gallon jugs of water, and that made us feel better mentally and physically."
'You shouldn't rely on anybody. Figure it out so you can do it for yourself.'
No Meat Allowed
Halle: "Being vegan started from our mother. One day she was like, 'I'm gonna try to be vegetarian for a week. You can join me if you'd like.' We started the week with her and just never went back."
Chloe: "Eggs and dairy never sat well with me and I never really liked cheese, so it was easy to let go. When we moved to L.A., it really became easy. So many vegan restaurants and vegan aisles in the grocery store are like heaven for us!"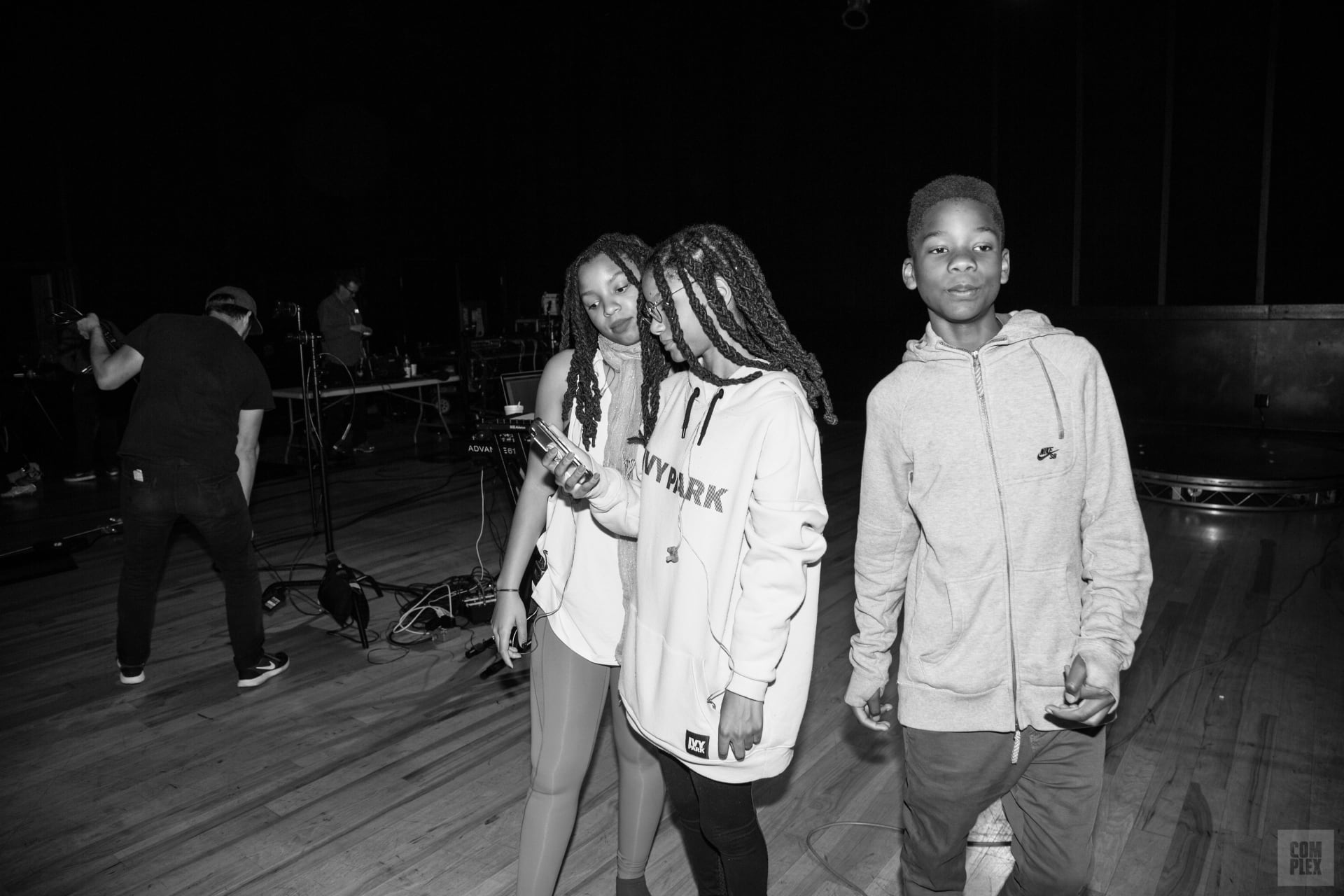 When Queen Bey Calls
Halle: "I think Beyoncé found us on YouTube. She watched our 'Pretty Hurts' cover and the rest of them, too! We got an email from the company asking if they could post our video on their socials, then they asked if we were signed. We were like, 'HMMM. Why are they asking if we're signed?' No, we're not!"
Chloe: "Then we slid in dad's number. Just in case!"
Halle: "A month later we met her."
Chloe: "She allows us to grow into our own musically and as individuals. She always tells us to trust our instincts. Because she was so young when she started, she knows. She figured out which paths to take, and I think it's lovely that she's sharing her knowledge so one day we can get to where she is. We look up to her on so many levels—she works so hard, she's an incredible businesswoman, her voice is out this world. I'm so happy we even get to be aligned with that."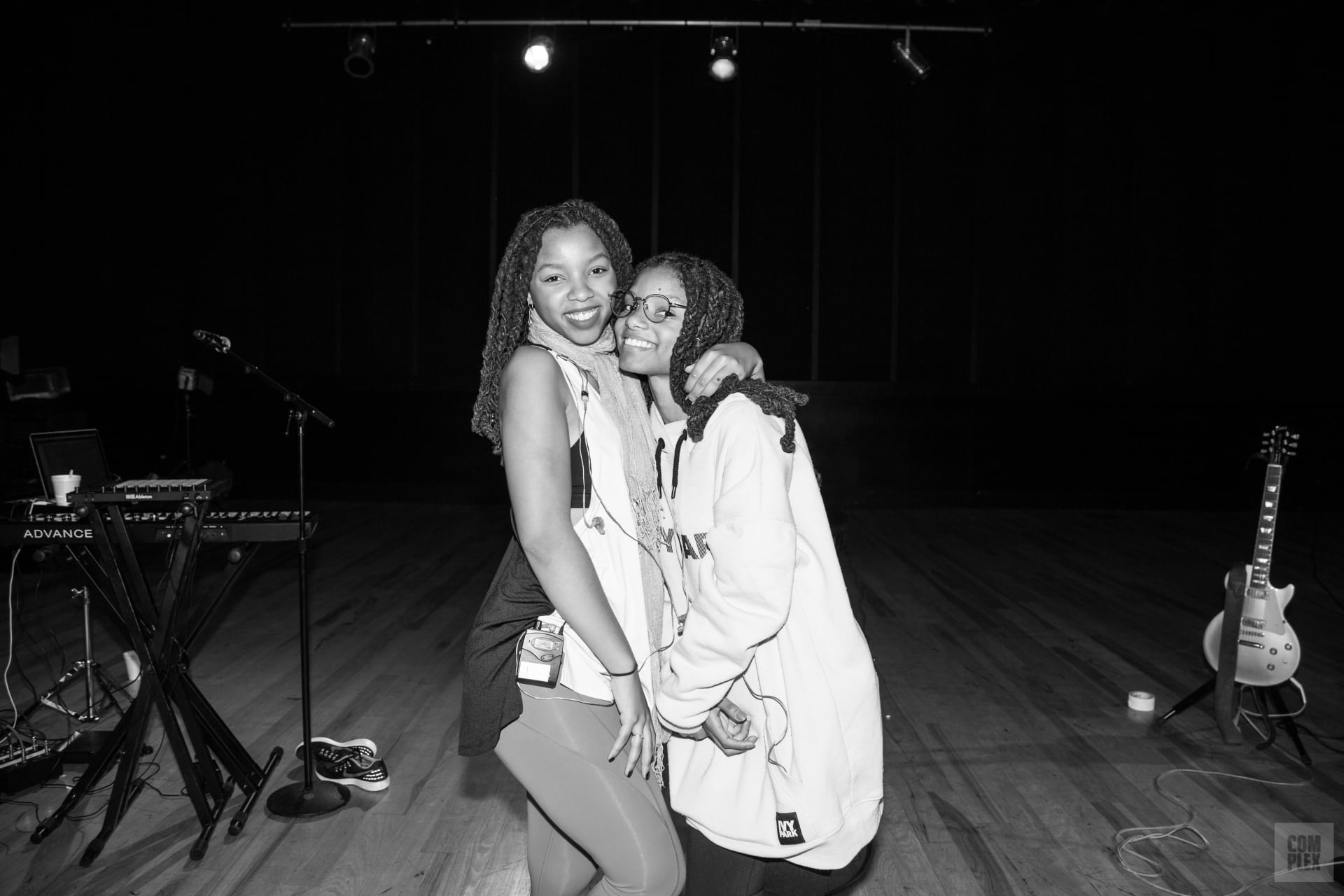 Girl Power
Chloe: "I'm hoping we show women that anything they put their mind to, they can do. You can rock out on the guitar, you can make fire beats just as good, if not better than, guys. You can do this. There's no limits. You can do it. We're here to inspire others to be themselves."
Halle: "And inspire people to never feel they have to be constricted or that they have to do one thing. Branch out. We as women are powerful and smart and strong. Whatever we want to do, we can do it."
Inspired by Chloe x Halle's story? Share your passion on peets.com/passion for a chance to win a year of free Peet's Coffee and be inspired by the stories of others pursuing their craft.