Kamasi Washington on 'To Pimp a Butterfly': 'That Record Changed Music'
The saxophonist spoke about working on the album and how it has continued to affect the industry.
Getty
Artist Kamasi Washington attends 2017 Whitney Biennial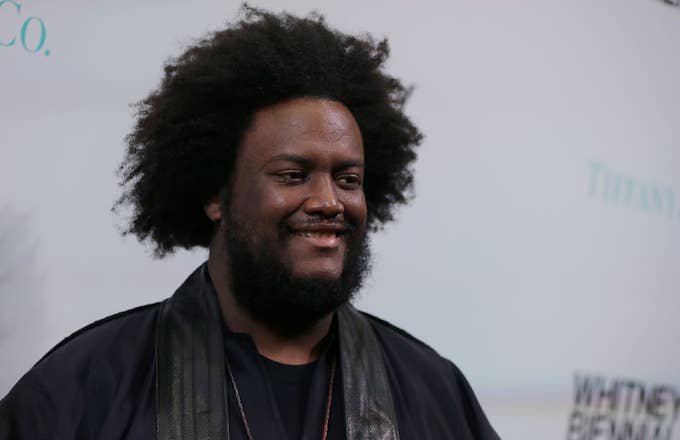 To Pimp a Butterfly has been regarded as one of the greatest hip-hop albums of the decade. Some would even argue it deserves a place among the greatest of all time. The jazz-infused production, the politically charged themes, and Kendrick Lamar's raw lyricism helped the album garner both critical and commercial success. According to saxophonist Kamasi Washington, it was a formula that continues to have a far-reaching impact not only in hip-hop, but the entire industry.
"That record changed music, and we're still seeing the effects of it," Washington told Pitchfork. "It went beyond jazz; it meant that intellectually stimulating music doesn't have to be underground. It can be mainstream. It went beyond everything else too: harmonically, instrumentation-wise, structurally, lyrically. I feel like people's expectations of themselves changed too. It just didn't change the music. It changed the audience."
Washington was one of many talents who contributed to TPAB. He provided the string arrangements for "Mortal Man" as well as the tenor saxophone on "u." Though he wasn't involved in the early stages of the album, the 36-year-old musician said he immediately understood the significance of the project and how it would change the world.
"From day one, I knew this was a classic, world-changing record. Kendrick not only brought in the best people, but he allowed them to be at their best. That's the rare thing," Washington said. "There are the people who it just comes easy to and there are people who work at it. Kendrick is both. He can instantly write a song that's dope as hell, but then spend the time to meticulously work it out and make it perfect."
Washington opened up about Kendrick's hands-on approach, and how, unlike other musicians, he seemed genuinely interested in every detail.
"He'd be sitting there watching me write string parts. Not a lot of people would care. They would be like, 'Show it to me when it's done.' But he's always in the studio giving you ideas, and his instincts are incredible," he explained. "He'll hire people to do the style that they really want to do and then take all this genius poured into this pot and use his own genius to shape it into this perfect album. It's a real type of humility—not humble for any philosophical purpose, but a true humility."
You can read Washington's full interview, in which he discusses the albums that have shaped his life, at Pitchfork.