JWhiteDidIt Talks Working With Cardi B, Creating "Bodak Yellow," And What It's Like To Have A New York Hit
JWhiteDidThat saw Cardi coming a mile away: "I'm so proud of this girl."
WikiCommons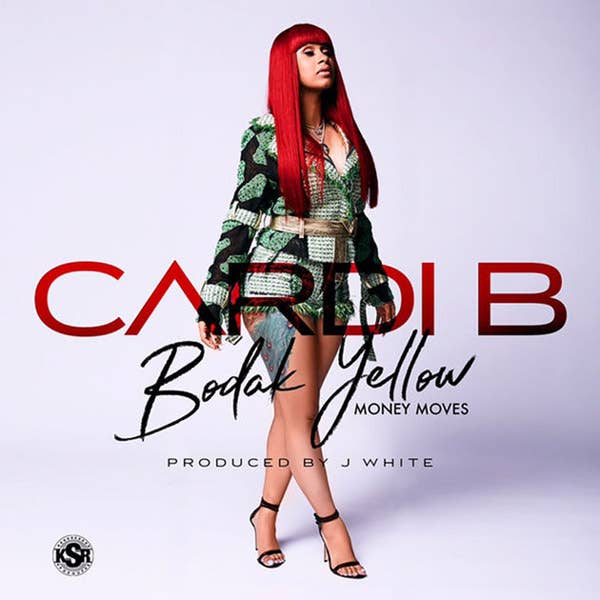 Cardi B's star power is undeniable. The Bronx native has been able to finesse her daily Instagram videos into a full-fledged rap career, which has now made her into a polarizing figure. While others try to deny her success, "Bodak Yellow" is the No. 14 song in the country according to the Billboard Hot 100 chart, climbing up from No. 28 last week. Shit, just a few weeks ago the song was sitting at No. 78 when y'all was sleep. The song makes people go crazy and will likely be a go-to karoke pick for years to come. The song has become so popular over recent weeks that Drake brought Cardi out for OVO Fest earlier this week and said that he was proud of her. Not too bad for an "internet personality," right?
One of the people that has believed in Cardi's rap career from jump is the architect behind the "Bodak Yellow" beat. JWhiteDidThat, a Dallas native by way of Kansas, has managed to make a New York summer anthem—which isn't all that surprising considering his mentor/manager Shaft was a former producer for Bad Boy during the mid 2000s. We caught up with JWhite to talk how he linked up with Cardi, what it's like to have one of the hottest records in the country, and what the hell a Bodak Yellow is.
How does it feel to have one of the biggest records in the country right now?
I get that question a lot right now, how does it feel? How does it feel to see somebody like Cardi B, somebody who people wrote off time after time, and now she has one of the hottest songs in the country right now? It feels amazing. It feels like, about time. That's what it feels like, like finally. That's what it feels like.
I remember being impressed when we premiered her first tape. I saw her on Love & Hip Hop and figured she was maybe trying her hand at rap for a quick check, but she's serious about it. In the year that you guys worked together how has she gotten better?
Dawg, all she does is work on her craft. I promise you, from the little Instagram videos she does, she has those headphones on and she be engaging beats. She's treating it like she's in the dang NFL or NBA. She's grown so much in the past year. I'm so proud of this girl. For her to be so young, it's crazy to see somebody's growth like that. Just from her first mixtape to her second mixtape, then she went from "Lick" to "Bodak." People didn't take her that seriously. "Bodak" made nonbelievers, believers.
What makes Cardi a star, in your opinion?
Her being her. Her personality. I don't ever want Cardi B to change, just how real she is. The girl is unfiltered. That's what makes her a star. Her personality is everything. The girl got it. She has no filter. I respect her because she speaks her mind. She speaks and she says what people are thinking. She's going to say it, either in a song, or she's going to tell you on Instagram, or she'll tell you on Twitter. She doesn't mind letting you know how she feels. I think a lot of young people, just people in general, look up to Cardi because she's not a bad person at all. She just speaks her mind, and I think that's what makes her a star.
So what's Cardi like in the studio; what's your process together?
It's weird seeing her on TV and in the public because she's so turnt, but when she's in the studio, bro, she's focused. She's like a lion. She's in it to win it. Hell, sometimes I'll be intimidated. Our chemistry at first was a love-hate one because I was such a general at first, and then she became the general. Now, we're both in there, we know what to do, man. It's just a really smooth chemistry.
I was going through your SoundCloud, and you've produced for Plies, a song with Wacka Flocka, how did you link up with Cardi?
We had the same manager, Shaft. He linked us last year or so. My first record I did for her was called "What a Girl Likes". Then I worked on her second mixtape. I did a couple joints on that which wer "Lick", "Leave That B Alone", and "Bronx Season". Then, we got some other stuff we haven't released yet, but "Bodak Yellow" was like our humdinger. Oh, yeah, we got a record coming out with Juicy J as well. That's going to go on the EP. That's how this whole thing really happened. Shaft the mastermind.
When you guys got Offset on "Lick", I bet you thought it was gonna blow like "Bodak Yellow" did.
Let me tell you something, bro. When Offset got on that, I'ma tell you what I did. I can't speak for Cardi or no one else. I went online, I started looking at what new car I want to buy, I start looking at property, different places.I promise you, I was like, "This is a female anthem." "Lookin' like I caught a lick." I said, "Oh! Oh! This is it!" I promise you man, the people on our team, we were all excited for this record. We were like, "yo, if people don't take Cardi seriously after this one, they hating."
You basically made New York's summer song; do you feel like the song captures the sound of New York? Was that what you were aiming for because Cardi's from here?
Man, nah, I wasn't thinking on that scale when I was making the record. I was just thinking, "Yo, people are going to respect my girl, Cardi." That's what I was thinking. I wasn't thinking about the New York "Song of the Summer," I was just thinking about making a great record that was going to make everybody have a good time. We're going to give that energy to people. Now, to think about it on this landscape, it's a honor. People are hitting me up like, "Yo, you helped give New York a summer anthem." That's big coming from New York, because New York people they cut it straightforward to you. Either you hot or you not with New York. Just to get the compliments from the East Coast, man, I just love New York period.
WHy do you think this song speaks to so many different groups of people?
It's because when she said different lines there's something for everybody, man. There's something for everybody in her. I hear some females being like, "This is not for dudes." Listen, this song is for everybody that got that energy. It's just a female that's delivering the words. I say the little, "You couldn't mess with me if you wanted to." Anybody can say that. I wake up and I be feeling like that every day. Like, "You can't fuck with me if you wanted to!" You know what I'm saying? These expensive, these is red bottom shoes. I got red bottoms, these are bloody shoes! I get to the store I can get them both. But anyway, that's how I feel about it.
I was going to ask before what the song has in common with "No Flockin" so tell me about what it has in common, and why you guys named it that.
Well, when I think of the track, me personally on a producer standpoint, was talking about the beat sounding like "No Flockin." I wasn't thinking about "No Flockin" honestly. I honestly never heard the record personally until Cardi started doing her thing and started writing it. I guess she felt that vibe.
What would you say someone who tries to diminish the success of the song because of "No Flockin"?
I'm glad you asked that. I mean, listen, there's nothing new under the sun. This is hip hop. Hip hop we all sample from each other. Why hate? Why?
That's the whole point, right? Because the song is named after Kodak.
It's called "Bodak Yellow!" How much more obvious can it be? Just enjoy the music. "No Flockin" did what it did, it's still out, you can still go play "No Flockin" if you want to. You can enjoy both records.  I just don't think people enjoy life like they should anyway. I think that's where hate come from, and I think people feel good about themselves when they hate.
Honestly, bro, with the whole "No Flockin" thing, I didn't think about "No Flockin" when I was making the track. I was thinking about something that sounded dope, and then Cardi just got that vibe. At first, she was thinking more like, you know what, "Money moves, money moves, I don't dance, I don't gotta do nothing." Then, she was like, you know what, when we heard the record back, she was like, "You know what, it's Bodak Yellow." What the hell's bodak yellow? If you asked Cardi yourself, she can't even explain what Bodak Yellow is. Kodak Black, Bodak Yellow, she's a yellow-bone chick? Cardi B, Bodak, bloody shoes. I don't know what be going through Cardi's head. She go by Bardi B sometimes. So it's still Kodak and she's giving him homage. Then yellow, she's a yellow bone. Bodak Yellow, that's a conversation that we didn't have.