Noisey recently dubbed Layla Hendryx "the coolest-sounding rapper in the city by several margins" in their recent Essential Guide to West Toronto Rap, and they weren't doing so merely for dramatic effect. It's her voice—with its natural auto-tune quality and ability to dance between singing and rapping from word to word—that made everyone take notice when she released her Channel 6 EP back in 2015. Once everyone realized that she had top notch production and slick songwriting to match her show-stopping flow, rave reviews and a building buzz inevitably followed. 
While she's been a little quieter since releasing her sophomore project Out of Time in early 2016, Layla hasn't left the game; in fact, she's been working. She just released a new track, "Livin' It Up" in collaboration with Pressa, another Toronto artist who gained notoriety for his distinct voice. As she prepares to drop her new EP Pree Paid, we caught up with Layla for a quick Q&A on what we can expect from the project (hint: SAUCE); her thoughts on the highs and lows of making music in Toronto; who she would love to collab with in the future; and pizza (and cheese).
You are about to release your third EP in as many years. Do you ever experience creative block or do you find it easy to pump out material?
Fortunately I don't ever really experience creative block, and that's because Me and JMAK just click like that, so there's never really a shortage of "sauce" as he would say. I keep a lot of my emotions to myself and music is pretty much one of my only outlets of just raw self expression.
Your new EP was produced by JMak, who you worked with on Channel 6. What can you tell us about your working relationship, and can people expect the same vibe on Pree Paid as your first EP?
Honestly JMAK is one of my closest friends, we're basically family. We work together like peanut butter and jelly; like pizza and cheese; you can't have pizza without cheese, and you can't just eat cheese... well you could, but that's wack as fuck. Which basically sums up how we work together, he knows which beats I wanna hear before I even do, and I know exactly what to do with them. Pree-Paid is a different vibe from Channel 6 but it has all the same elements that made Channel 6 feel right, it's definitely more evolved for sure though.
If you could describe your new EP in five words, what would they be?
LIT, LIT, LIT, LIT, SAUCE
Around the world people talk about Toronto as a musical hotbed. Do you think this is true?
Yes it is very true, Toronto is so culturally diverse and there are creatives from pretty much every background you can think of. Which makes this place a giant melting pot of sounds and creativity.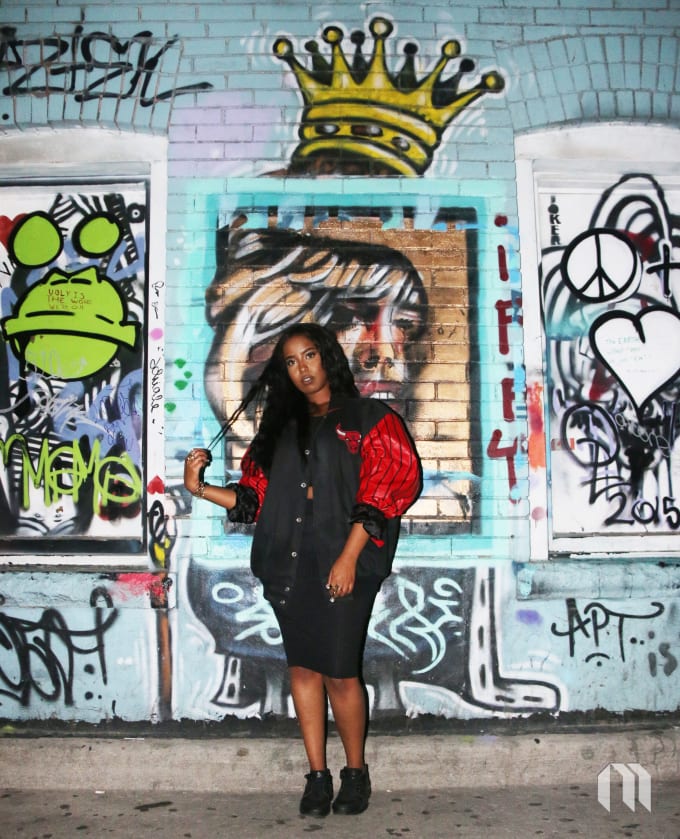 Sometimes when a place is buzzing like that it can bring on different challenges as well. Do you think there are any difficulties about being an artist in Toronto that people outside might not think about?
I wouldn't say there are many different challenges here that you wouldn't find in the rest of the world, but there are definitely some people stuck in this crab in the bucket mentality and that's terrible for progression period. Whether you wanna be a stripper or a paediatrician or both you're going to have to understand that someone else's win doesn't mean you lost.
Out of Time had a more R&B flavour to it; do you as an artist feel more drawn to rapping or to singing? If you hear a track how do you decide whether you will rap or sing on it?
Honestly it's just whatever I'm feeling in that moment in time, but I never just "rap" there's always some melody incorporated into it.
In past interviews you spoke about receiving judgment from some in the Somali community about your choice to make music. Has that changed since you've stuck with it for a few years and gained some recognition, or are there still the naysayers?
At first coming into this it may have looked like it was just my community hating, but it is also the same community that shows a lot of love, which I appreciate. I've come to realize that it was just that my people were the first to pay attention, and with anything you do there's always going to be negative and positive feedback and maybe just some straight up hate, but that's life
You've collaborated with CMDWN's Castro Guapo and now Pressa. Are there any other artists from the city who you'd like to get on a track with?
Yea they're both really great artists s/o to them! And yea besides the obvious which is Drake, The Weeknd and Party, I would have to say Nav for sure; I think he's really dope, his sound is crazy.