While you may not agree with Azealia Banks' commentary (or the fact that she sacrifices chickens in her closet), you have to respect the fact that she doesn't waiver. Banks was relatively early with her thoughts on backing Trump in the 2016 presidential election, tweeting that she feels he is "the only one who truly has the balls to bust up big business." She doubled down on her Trump stannery a few months later, saying that "Trump just wants the U.S to be lavish.... for all of us. I can fuck with that." Sadly, for all of her support, when the list of performers at this year's inauguration went out, one of his loudest supporters was nowhere to be found.
Banks took to her Facebook page (which we guess isn't suspended anymore?) to express her feels.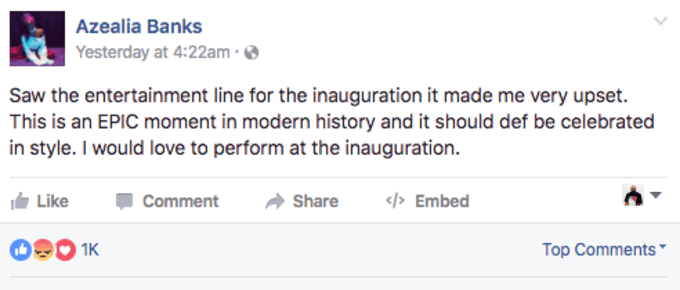 Wait, could Azealia Banks be behind the vitriol that Jennifer Holliday caught for being on the list? Was Banks hoping she'd replace Holliday instead of Chrisette Michele? Why has Trump not been listening to Azealia Banks and her support...surely she should've been #1 on his list, right?
Or maybe he doesn't f*ck with sacrificing chickens in closets.
In all seriousness, the saddest part of this not that Banks is really outchea Facebooking about wanting to perform; it's the king troll Milo jumping right into the comments with some hot garbage.

Ugh. Cozying up to a trash individual for the 'gram? Keep that, Azealia.