Much like the Weeknd's previous releases, Beauty Behind the Madness is sparse with features. Lana Del Rey, Ed Sheeran, and Labrinth; that's it. Oh yeah, and Maty Noyes.
While Noyes is technically not "featured" in the general sense, she does provide vocals on the album-ending "Angel." We know this because 1) piracy is as relevant today as it was back in the Napster days and 2) she confirmed it with a recent Instagram status in which she screenshot a news article listing her contribution.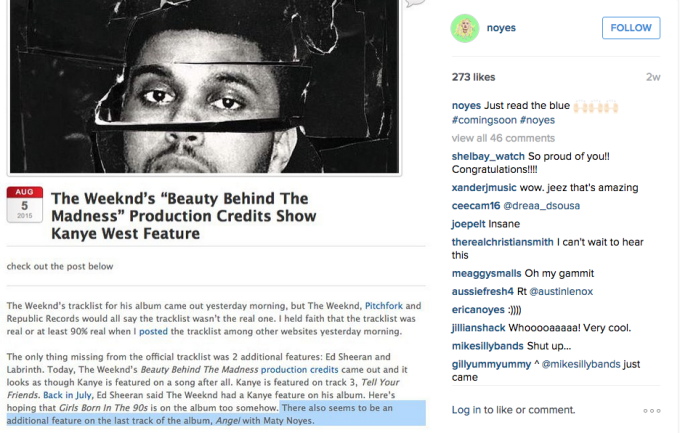 So here comes the next part: Who the hell is Maty Noyes? According to her Facebook page, she's a teenage singer straight outta ​Corinth, Miss. There's also this important factoid: she's signed to Lava/Republic, the latter record label being the same one the Weeknd is signed to. Oddly enough though, she has very little music to her name.
She released an eponymous four-song EP in 2013, one that is no longer available on iTunes. A SoundCloud account listed as Maty Noyes—which may or may not be hers—is void of any releases. She definitely did have an account, as UK blog Breaking More Waves shared some music from her back in October of 2014; the stream has since been deleted.
It's likely that Lava/Republic decided to wipe the slate clean so they could trot Maty Noyes out as a brand new act who's got next. When Republic shared their "Class of 2015" roster earlier this year, Noyes was one of two artists who had their social media accounts listed, but no music available. The other artist was Clairity​.
One other thing to note: If you skim through several pages of Google search results, a link on the Republic Records site shows up listed as—Maty Noyes "Confessions of a Bad Bitch." However, it's password protected. Could be her debut single. Just something to think about.
So will Maty Noyes blow up after her high-profile spot on the Weeknd's new album? Your guess is as good as ours.
We'll leave you with this nugget: back in June of 2013, Noyes commented on an Interscope Records Instagram post with a link to her four-song project and said, "There's a lot more where this came from. Shoot me an email if you're interested." She would go on to sign to a label that shares the same parent company as Interscope. Never give up on your dreams.