The Music Business Journal estimates that 1.9 million dance music lovers attended festivals in 2009. This number nearly doubled to 3.4 million EDM fanatics attending festivals worldwide by 2013. Thus, it's fairly easy to believe that global festival attendance will eclipse five million people by the year 2020. As impressive as those numbers are, the permeation of what EDM conglomerate SFX Entertainment calls "electronic dance culture" into the mainstream has numbers supporting its growth that are far more significant; EDM as an industry has recently been valued as being worth $6.9 billion as of May 2015.  
Keeping a $6.9 billion industry afloat requires not just a series of hot nightclubs, but also something that satiates desires of dance fans when they're not busting a move in the club. David Fogel​ may have found that something in the combination coffee shop and vinyl record store Bump N Grind Coffee that he co-owns in Silver Spring, Md., which gives the nighttime EDM crowd somewhere to gather in daylight hours. "I love nightlife as much as the next person," says Fogel, an event promoter and the co-founder of Washington, D.C.'s homegrown, week-long electronic music event Forward Festival. Fogel says he started Bump N Grind because "there needed to be a space where [the nightlife-engaging population] could engage with each other during the daytime."
Bump N Grind is the brainchild of Fogel and fellow D.C. area DJ and promoter Joe Liehr. While at the Burning Man Festival in 2013, the duo discussed their unique vision for sustainable daytime options for dance music and the collision of mainstream and underground culture. "[Joe and I] decided that we wanted to create a coffee shop that mixed in culture that excited us," Fogel says. "We also source as much of our food and drink locally as possible." 
Though Washington, D.C., is a burgeoning hub for dance music with venues like big-room Echostage and underground friendly U Street Music Hall, the idea of extending the life of music into the daytime—namely at record shop/coffee bars—isn't exactly brand new. Brooklyn has Black Gold Records, even tiny Hillsdale, Mich., (population 8,207) has Checker Records, and coffee shops like San Francisco's Four Barrel Coffee feature what the San Francisco Chronicle refers to as "thousands of dollars' worth of high-end vintage turntables, amplifiers, and other paraphernalia" that allow patrons to have not just a premium cup of fresh-brewed coffee, but a premium audio/musical experience, too.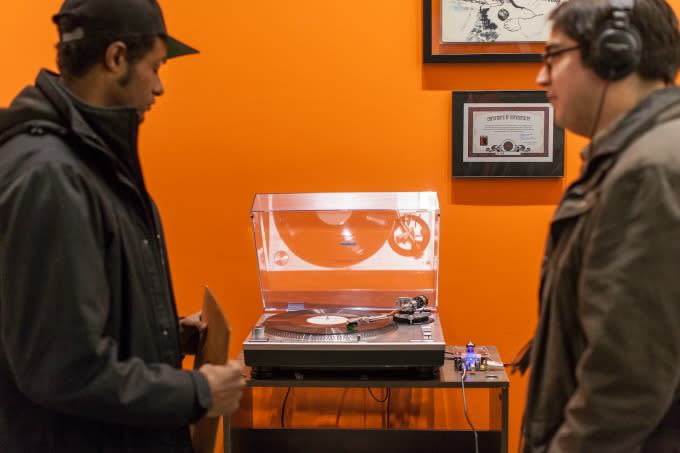 However, where Bump N Grind differs and maybe creates a progressive model lies in how dance aficionados interact with dance music. The D.C.-area shop's simple, yet logical business plan was to create a restaurant/coffee shop with a love of music and vinyl records at the core. While records from all genres are available at Bump N Grind, it's dance that may create the most significant impact. Fogel's idea to replicate the dancefloor moment when the thumping bass line of a track "hits you right in the chest" while you're "sitting at a listening station with a hand-poured cup of Ethiopian coffee" truly takes the record store/coffee shop model to the next level.
Whether specific to dance or not, deepening the personal connection among sound, scene, patron, and food is a concept that can be exploited with significant potential for growth and popularity. "The connection between food and music is obvious," says Fogel. "The same four-minute process that it takes to brew a cup of coffee compares to the amount of time it takes to literally make a vinyl record, or even more closely listen to and connect with a new track."
The community-based aspect of Bump N Grind is what ultimately makes the concept of mixing dance culture and small business work. It's the idea that the coffee shop represents a community unto itself within a broader suburb that's just outside of the nation's capital that's intriguing. The tie that binds this subset of a larger group of people is a love of people and moreover a love of music.
When considering the short-term and long-range potential of the Bump N Grind business model, the idea of five million people and $6.9 billion of active interest in EDM being monetized via dance community-friendly and locally significant businesses is intriguing. "L.A. and New York have enough coffee houses and record stores," says Fogel. "I want to go into the second-tier cities like Oakland, into the communities that need sustainable businesses." In a perfect world, cities nationwide embracing local food and beverage start-ups mixing with the dance culture makes for a fertile space for such an idea to have the potential for success.
EDM festivals are growing and expanding constantly, and though national attractions like those certainly help to propel the industry ever onward, local pushes like Bump N Grind play their part in the expansion. It's in the crafting and curating of unique everyday spaces—like coffee shops in the shadow of Washington, D.C.—where electronic dance music and popular culture can commingle on a smaller, more personal scale.
Marcus Dowling is a writer living in Washington, D.C. Follow him @marcuskdowling.