For a kid growing up today in Queensbridge, the largest public housing projects in North America, it might be difficult to fathom that the neighborhood was once a seedbed for rappers. But throughout the 1980s and 1990s this insular community in Long Island City, Queens, produced more rap talent than entire cities, states, and regions—Marley Marl, Roxanne Shante, Nas, Mobb Deep along with a hive of gifted MCs and producers emerged from QB. More than a sub-niche of New York boom bap, Queensbridge's sound mirrored life in the projects. The music was violent, claustrophobic, and nihilistic. It was confrontational. That the defining rap beefs of the 1980s (MC Shan vs. KRS-One), 1990s (East Coast vs. West Coast), and 2000s (Nas vs. Jay Z) all involved artists from Queensbridge was no coincidence. Queensbridge rap thumped. It banged. And it is now endangered.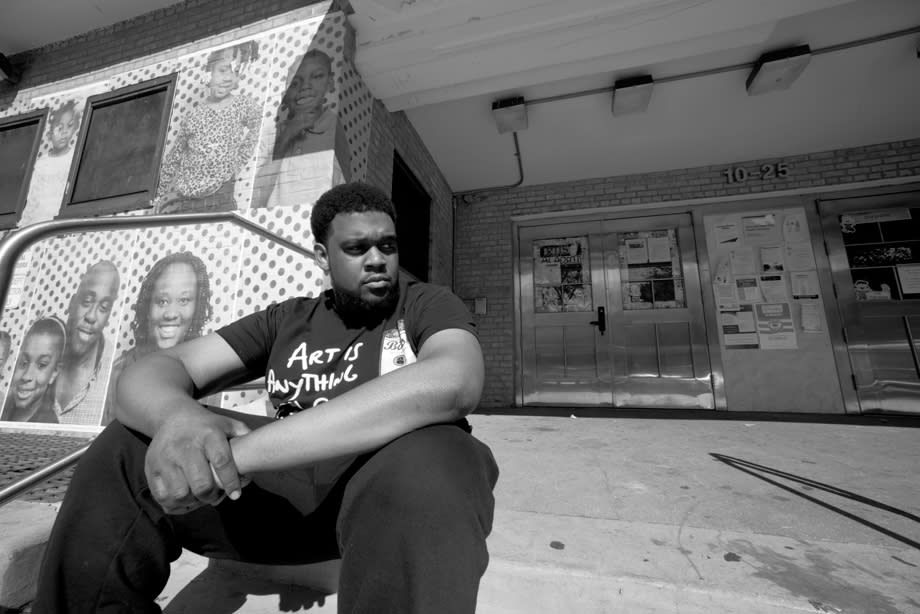 As Nas and Mobb Deep enter the third decade of their respective careers, the next generation of Queensbridge artists has yet to materialize. The last Queensbridge artists to debut on a major label were the Bravehearts, Wiz and Nas' brother Jungle, poster children for rap nepotism; Bravehearted was released on Ill Will/Columbia in December 2003.

Different theories exist on who is culpable. Artists like Kanye West and Drake—middle class strivers who never sold drugs—brought a tamer perspective to hip-hop. But in doing so, they made tales from hoods like Queensbridge seem archaic. DJ Hot Day, a 44-year-old producer renowned for his early blends, believes today's aspiring Queensbridge MCs are misguided, and he cites a recent studio session where a teenage rapper told him he thought Nas was "trash." Havoc thinks Queensbridge rappers are too stubborn. Marley Marl points the finger at the major labels. "The industry got their pick of the litter from Queensbridge," he says. "It's like, 'We got our Nas already. We got our Mobb Deep.' I bet you if there was a big hot white boy rapper like a Macklemore, more that style, they would go pillage their village."
Beef between Queensbridge artists is another problem. "It's held a lot of rappers back," says Mike Delorean from Bars-N-Hooks, infamous for allegedly fighting Nas at Sony Studios. Nearly everyone also acknowledged the South's rise as a major contributing factor to Queensbridge's decline. But QB's problems go beyond mere regionalism. New York has yielded Nicki Minaj, who is one of hip-hop's few remaining superstars, A$AP Rocky, and French Montana, while Queensbridge hasn't even produced a Bobby Shmurda in the past 15 years.
What the drilly with that though?
"Each block in Queensbridge has its own mentality, its own movement." 
 — Capone
On a recent Friday afternoon, Tragedy sits in a booth at Big NY Fried Chicken, a grimy eatery bordering Queensbridge on the corner of 21st Street and 41st Avenue He's with his teenage son, whom he introduces as Buddha, an aspiring music producer. Tragedy is aware of his neighborhood's downturn. "I'm looking at The Bridge like, 'Damn, where we at?'" he says digging into a plate of fried shrimp. Queensbridge rappers today, he says, are way too Queensbridge. "They seem to keep more of that essence of Queensbridge, it could be a gift and a curse," he says. "Like, you couldn't tell where Nicki Minaj is from—" He stops mid-sentence having recognized someone on the sidewalk outside the window. "Hold up, yo, call Nasheen. Yo Nas! Yo Nas! Come here. I'm sorry I have to stop. This is crazy. That's Nore's son!"

In walks Nasheen, a mirror image of his dad. Tragedy puts his arm around the slender teenager. "Where you going, son? What'chu doing? Chilling?" Nasheen smiles sheepishly as if seeing a rowdy uncle for the first time in years, then walks off with Buddha. "That's bugged out," Tragedy says. "That's bugged out."
Tragedy first met Noreaga when Nore was an aspiring juvenile delinquent. His nickname at the time was Papi. [Writer's Note: Though Noreaga is from Lefrak City, Queens, his work with Queensbridge native Capone made him synonymous with QB.] "His sister was like, 'Can you talk to my brother? He's hardheaded,'" Tragedy remembers. "Nore was small and disrespectful. He was a dirty motherfucker too, his pants were hanging. I just wanted to smack him. What his look said was this." Tragedy then feigns spitting on the floor. He laughs, a hard chortle.​
As the link between the Marley Marl Era and the Nas Era, Tragedy has seen it all. He urged a young Kejuan Muchita to write rhymes, and then, impressed with his tenacity, named him Havoc. He also advised him to be a solo artist. "When Havoc first brought Prodigy to me, I didn't like him, something about him," Tragedy says. "I think what it was, was that when Havoc first brought him, Prodigy sucked. Later on I ate those words."​
IyNmxzcTqssgt-w2bx6mIMmeCmY4wmMg
Tragedy was a rap savant raised on the 41st side of Vernon Boulevard. As a child he memorized songs off the radio, wrote rhymes on park benches, and from the age of 11 performed at park jams in River Park (now known as Queensbridge Park). "This shit was like Rome," Tragedy says, "and the park jam was like the Coliseum." But Percy Chapman IV was a tough, imaginative kid. He could take the criticism, just like he could take a whooping from his mom once she discovered he had sneaked out the apartment to rhyme. But the beatings were worth it because he met Marley Marl, and everyone who made it from Queensbridge in that era made it through Marley Marl.​
Already an influencer from his position as DJ for Mr. Magic's Rap Attack on WBLS, Marley formed a collective known as the Juice Crew, which included MC Shan, Roxanne Shante, Craig G, Tragedy, and rappers from outside of QB such as Kool G. Rap, Big Daddy Kane, Masta Ace, and Biz Markie. In 1988 he released his solo album on Cold Chillin'/Warner Bros., In Control, Vol. 1. It was a Juice Crew showcase, but once you vault past the grandeur of "The Symphony," it appears just as Marley promised: Tragedy, "Live Motivator," verse two, the blueprint for Queensbridge MCs.​
Tragedy thought of Rakim, Kool G Rap, LL Cool J, and KRS-One before writing the song. "I was looking at all them going like, 'They don't use simple shit,'" Tragedy says. "I was like, 'I don't want to be a simple dude.'" At the same time he was a street kid—even his mom hustled, which lent a furious, ominous edge to his verse."Born to destroy, talkologist terminator/The rebel of the treble, the motivator." I relay what Marley told me about "Live Motivator." For the first time all afternoon Tragedy seems muted, he responds in a soft tone. "For Marley to even say that my verse set off every rapper here, that's ill, that's like the illest compliment."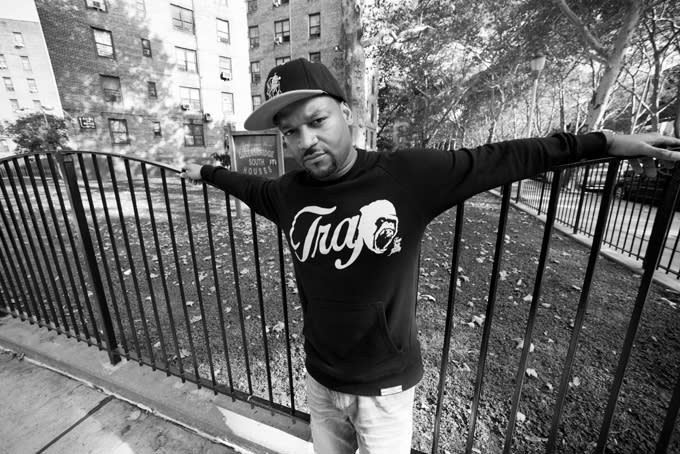 "This s**t was like Rome, and the park jam was like the Coliseum." 
— Tragedy
At 16 Tragedy was convicted of robbery and sent to Elmira Correctional Facility. He became a Five Percenter up north, and upon his release his music took a mindful turn reflecting that conversion. He changed his name to Intelligent Hoodlum. By then a new wunderkind had surfaced. "They're like, 'This nigga Nas.' When I saw him, I was like, 'This dude?' He was my sister's boyfriend," Tragedy says. "He would be around me, but I didn't know he could rhyme because he never said a rhyme around me. He would be watching. He might be around my sister, I might be in my room with a beat tape writing. I never paid attention to them because I was in my own zone."
Nas, who declined to comment for this article through a rep, rhymed about Tragedy on "Surviving the Times." "This 40 side where they say shorty rhyme/Tragedy, he used to come through all the time/I'm talking Juice Crew, not what the word define/He had a sister named Erin, for sure was fine/That was my first crush/I bought my first mic…"
"People were saying, 'He bit your style,'" Tragedy continues. "I don't feel Nas bit my style. What I see is that I influenced him a lot. Just like how Rakim, G Rap, L, and KRS-One influenced me."
We're then interrupted again. "Who are y'all," asks a kid hovering near our table.
"That's rude, say, 'Pardon me,' first. My name is Tragedy."
"My name is Malik Johnson, I'm co-founder of…" A friend of Tragedy's shoos Malik away. "You're going to miss me," Malik says as he's escorted out.
"I respect that. Listen, boom, see, young'un."
Tragedy regains his train of thought. "It feels good to know that you influenced one of the greatest MCs in the game. Son is nice, and it feels good to know he came from here. To me, it gave other people hope."
"As long as this repetitive cycle of animosity and bulls**t goes on, we're hurting each other." — Cormega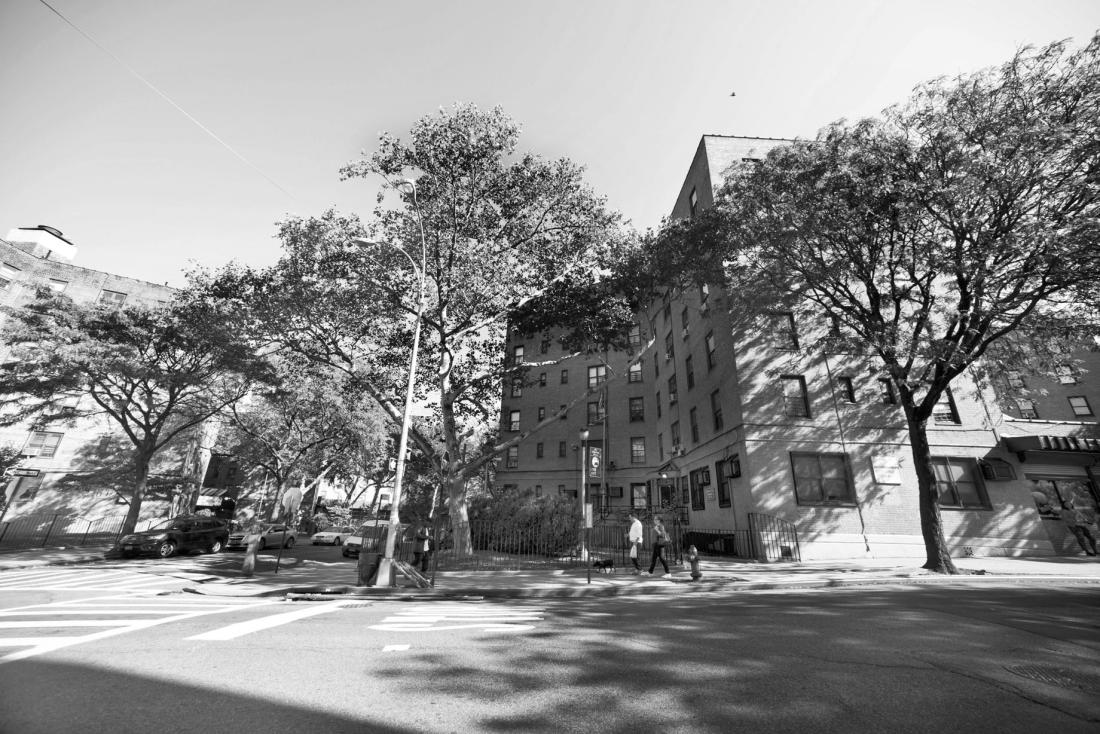 With 96 buildings encompassing a six-block radius, Queensbridge has been described as six projects in one, each its own micro city, which led to beef between different blocks. "Each block in Queensbridge has its own mentality, it's own movement," Capone says. "I could see someone from Vernon, and they might not get along with someone from my block, 12th Street, and that's because Vernon and 12th Street always had beef." Tribalism, ego and machismo were already present in the hood, then hip-hop added the spirit of competition to the mix. It was a recipe for disaster. As Nas said, there's one life, one love, so there can only be one king.
Queensbridge rap in the '90s was defined by beef, and no one was involved with more beef at the time—both on and off the streets of Queensbridge—than Cormega, who isn't from Queensbridge. Born Cory McKay in Brooklyn, Cormega moved at an early age from Bedford-Stuyvesant to Co-Op City in the Bronx where he lived on a 22nd floor apartment with a balcony. Life was good until his father discovered crack cocaine.
Mega moved to Far Rockaway, Queens, and then he began dealing drugs in Brooklyn. By that point crack had overtaken America's inner cities, none more so than Queensbridge. Sensing a business opportunity, Mega moved into the hood. "It was craziness," Cormega says. With scores of fiends stalking the open market, he could sell a "five-pack" ($500 worth of crack) in an afternoon. Most teenagers looked up to Marley and Shan, but Mega admired Trent and Rodney, the two biggest drug dealers on his block.
"I can say I sold more drugs than other rappers from Queensbridge," Cormega says, an odd grin on his face. "That's a fact. That's not up for debate." 
The rest of Cormega's story is now part of industry lore: Jailed for armed robbery, shouted out on "One Love," came home to "paper in hand" as Nas rapped on "Success" (or not, "Son, you gave me a hundred dollars when I came home," Mega stated on 2002's "Love in Love Out"), joined the Firm, the supergroup also consisting of Nas, AZ, and Foxy Brown, booted from the Firm for not signing a production deal, replaced by Nature in the Firm, went to war with Nas and Nature, signed with Def Jam, got shelved, went independent, and is now a respected veteran.
Sitting in an office in Union Square, Mega reflects on how beef plagued his generation of Queensbridge rappers. "Too much aspiration and ambition and inner bickering, the crab mentality," he says from behind his tortoise shell sunglasses. "The most popular rapper in Queensbridge is Nas—straight up and down—and if you can't accept that, you're not being real with yourself. After Nas, it's Mobb Deep. Accept it. There was so much inner bickering and bullshit. I'm not saying I'm not guilty of it, but mine was different. Me and Nas were from the same block. I knew his mom. Our differences were business, not bullshit."
A brief truce among all the rappers brokered by the late Killa Sha resulted in Nas & Ill Will Presents QB's Finest, a compilation released on Columbia in December 2000. But it was soon war again: Cormega vs. Nas; Nas vs. Prodigy; Nas vs. Nature; Capone N Noreaga vs. Tragedy; Capone N Noreaga vs. Mobb Deep. The watershed moment was "Destroy and Rebuild," Nas's diss record on 2001's Stillmatic, which aired the Bridge's dirty laundry specifically targeting Cormega, Nature, and Prodigy. I ask Cormega about the record. "I don't want to revisit that era." He then deflects a follow-up question regarding the neighborhood's response to the record. "To not revisit it means I don't want to revisit it."
Cormega made peace with Nas years ago; he had reconciled with Nature in the late '90s and collaborated with him on his most recent album, Mega Philosophy. "I try to work with everyone from my hood and show love, but everyone isn't on that. That's what brought the hood down," Cormega says. "As long as this repetitive cycle of animosity and bullshit goes on, we're hurting each other." Perhaps the battles did hurt what was supposed to be the next generation of Queensbridge rappers like Big Noyd, Infamous Mobb, Bravehearts, Nashawn, Lakey the Kid, and Screwball—there's collateral damage in every war.
I then ask Cormega if he likes any new Queensbridge rappers. "QB has been kind of quiet," he says. "I haven't had nobody catch my attention. I don't know. I got to ask around."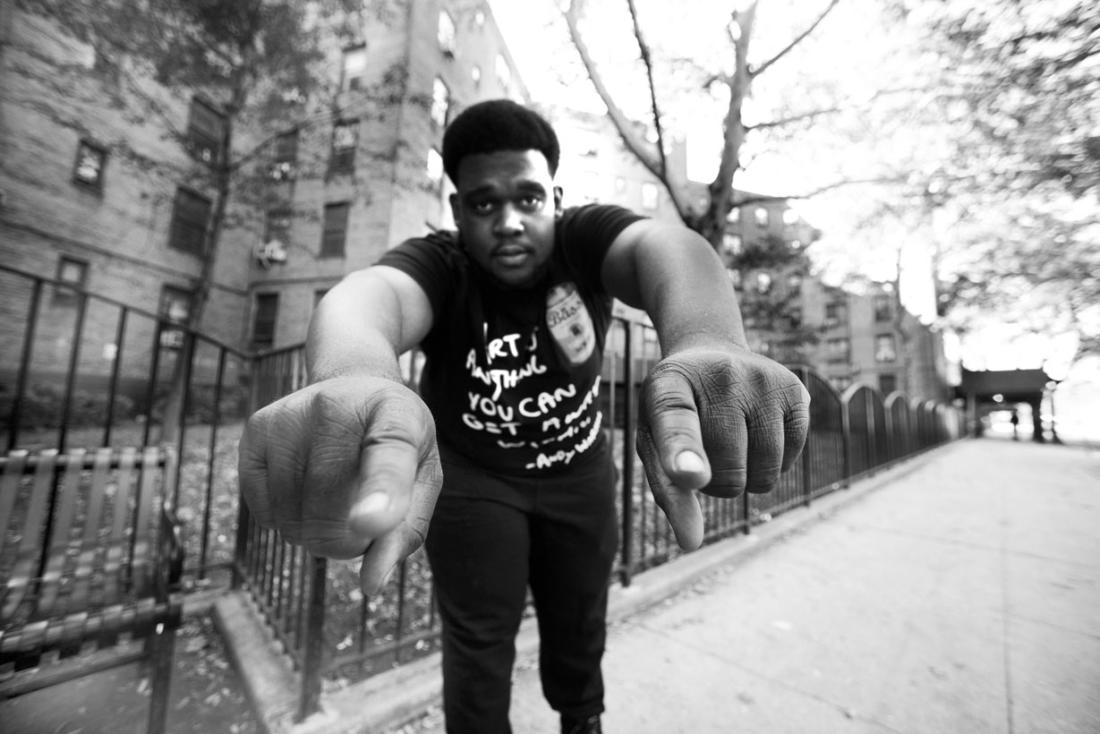 "Even though I love the Queensbridge sound, times change."
—Sheff La
Whenever I inquire about the future of Queensbridge rap, Sheff La's name comes up. A talented 27-year-old colossus with a halting gait and weary smile, Sheff greets me outside his building on the corner of 21st Street in Queensbridge. He's immediately recognized by a white dude in jorts and a ponytail. "Yo, I love that '0 to 100,'" the man says referencing Sheff's remix of Drake's recent hit. "You killed that, man." From there we walk down 41st Avenue deeper into the projects finally roosting on a bench near a disabled man hawking skin oils.
As a rapper Sheff La is unlike most Queensbridge MCs, eschewing storytelling and excessive mean-mugging in favor of clever one-liners ("Smack you with the Heat like I'm playing 2K," he raps on his remix to "1 Train") and swag. And though he maintains some of Queensbridge's gritty rap tenets, at times he sounds more like a descendant of the Migos than Tragedy's "Live Motivator," which is by design. "I love Southern music," he says. "That's a fact." He listens to Chief Keef with his friends, and says Queensbridge rappers younger than him are experimenting with trap music.
Routine trips to Harlem to visit relatives also influenced Sheff's sound. "I would rap with some guys up there, then I would rap back in Queensbridge, and that's where I got my style from," he says. "Even though I love the Queensbridge sound, times change. It was hot when it was hot back in the days. You hear the radio. You don't hear anyone with the Queensbridge sound on the radio."
The young Queensbridge rapper Foul Monday reverberates Sheff. "I don't always put Queensbridge in my music," he says. "I don't always talk about the hood. I don't want the Queensbridge sound to pigeonhole me. I don't want people to hear my stuff and be like, 'OK, this dude is from Queensbridge.'"
Sheff has also begun incorporating Southern imagery like Styrofoam cups into his YouTube videos and wearing trendy clothes like oversized black-rimmed glasses and pattern T-shirts. Today he's rocking an American flag T-shirt, navy sweats, and crisp Uptowns. He has a complicated relationship with the neighborhood elders: They'll dismiss records like "Ammo," which with its minimalist production and slow talk-rap could pass for something from the present Chicago scene, but then praise his punishing verse over the "Microphone Fiend" instrumental. None of this has really boosted his career.
Back in 2010 he moved to Los Angeles to work with Ron Artest on the basketball star's Tru Warier label. Naturally he also wrote rhymes for Ron Ron. He spent time around Artest, Polow da Don, a pre-fame DJ Mustard, and penned the hook for "Go Loco," Artest's single featuring Fat Joe, B-Real, and the comedian George Lopez. "I got paid—crumbs," Sheff says. "But what I'm a do? I'm broke. I can't do nothing about that. These dudes got millions." He also wrote and performed the hook on Artest's "Peanut Butter," a bouncy Q Made the Beat-produced single featuring DJ Paul, Ray J, and YG that might have been a hit record if it weren't a Ron Artest record. Sheff wasn't  allowed to spit a verse on the song. Dismayed, he eventually returned to Queensbridge, his celebrity friends no longer around. "I wish someone would sign me," he sighs. "I want to show that I can do it all. I want to make an album with original production. I want to stray from remixing other people's beats. I want to make full songs, hooks. I want to be more of an artist."
The plan is to continue dropping records on YouTube, perform at open mics around New York City and record when he can afford it. At times he'll hit up a studio in Jamaica, Queens, but $40 an hour adds up especially since he's saving for a Windows laptop; he recently discovered that his computer isn't compatible with the old Pro Tools. For now the occasional construction gig pays the bills. "I make ends meet," Sheff says. He stresses he'll never stop rapping. "It's tough out here, but I still love to make music. That's the only way I can be heard. When I talk, they don't listen. But when I rap, they always listening."
"​If no one new comes out, we lose the whole community, the whole thing that Queensbridge was known for." ​—Ruc Da Jackel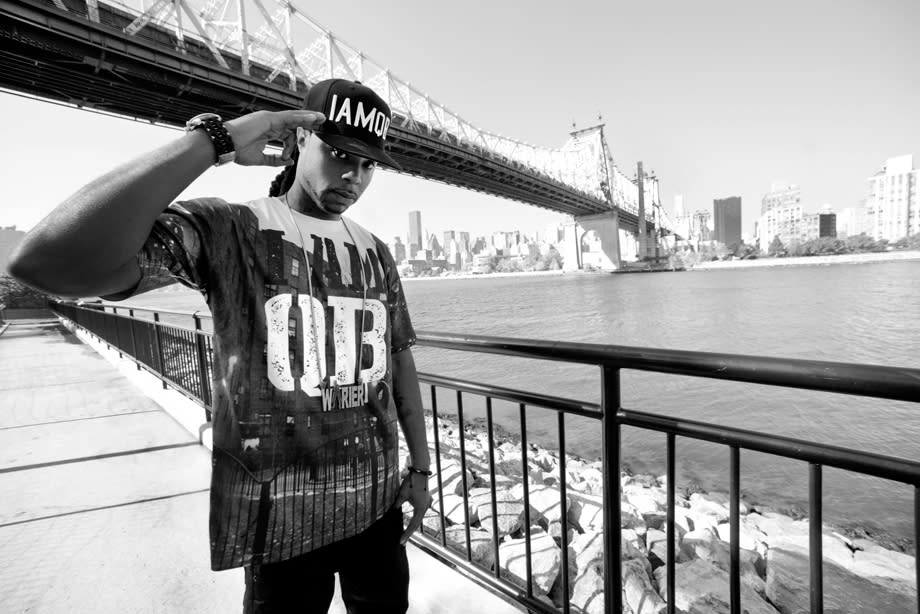 Ruc da Jackel, also known as Mr. QB, is taking a different approach than Sheff La, doubling down on the Golden Age sound that brought Queensbridge to prominence. He walks through Queensbridge Park, slithering past the softball field, down to the benches on the waterfront. Not far behind is "Uncle Face," a stone-faced brolic hulk with a noticeable limp. I ask him what happened to his leg. "I got shot." Where? "Both legs."
Ruc wears a black snake skin ball cap, a khaki-colored "I Am QB" T-shirt, camouflage True Religion shorts that hang past the knee, and black high top sneakers dotted with mini spikes. A lot has changed since Ruc's formative years when he would come down here to escape from the madness of the nearby projects, smoke a blunt, write rhymes, relax. Music, Ruc says, was everywhere. "There are a lot of regulations now with permits and stuff," he says. "We still do things, but the park jams aren't like they used to be. You can't really put speakers up no more. Police aren't letting you do that."
Hip-hop memories, like seeing the Juice Crew filing out of Marley's studio, define his childhood. Ruc started banging out beats on the lunchroom table, then spit his first rhyme at 12 years old. Soon he joined a crew, the Killa Kids. He landed a guest appearance on the QB's Finest album rhyming alongside Nas on "Real Niggas," which became a hood anthem after Nas shouted out a host of QB legends on the chorus and outro. Ruc thought he'd made it. "You always think you're on," he says today. Then, like Sheff La after him, he began working with Ron Artest around 2002, "acting like his assistant or manager…. I did a lot of marketing, managing, pulling deals" and other nebulous activities." [Lesson learned: Don't work with Ron Artest.]
Ruc felt something was missing in Queensbridge though. "One thing about our community is that it is a community, it's not just a housing project, and music was always part of our essence. I cherish that," he says. Ruc has an if-you-build-it-they-will-come ethos regarding Queensbridge hip-hop. "Once we bring it back, you're going to see all these artists come back and record again. Once we start shooting all these videos in the projects again, everybody is going to come back. It will bring it back full cycle."
The I Am QB movement, which is the name of his new album, and his fashion line, is his new cause. Packed with guest appearances from just about every living Queensbridge rapper, I Am QB sounds like something out of 1996.
Queensbridge rappers have always felt resistance when trying to expand their sound and often retreat to what's comfortable. "We experimented, don't get me wrong, but the feedback from it wasn't too good, so it was like, leave that shit alone," says Havoc alluding to "Hey Luv," Mobb Deep's poppy R&B-tinged single off 2001's Infamy. "The fans will let you know. Fans will be like, 'No, no, no, no, don't do that.' We quickly learned that we have a foundation we do not want to upset." With the album recorded, Ruc is preparing a marketing plan, and trying to get music into the hands of DJs who still support his sound.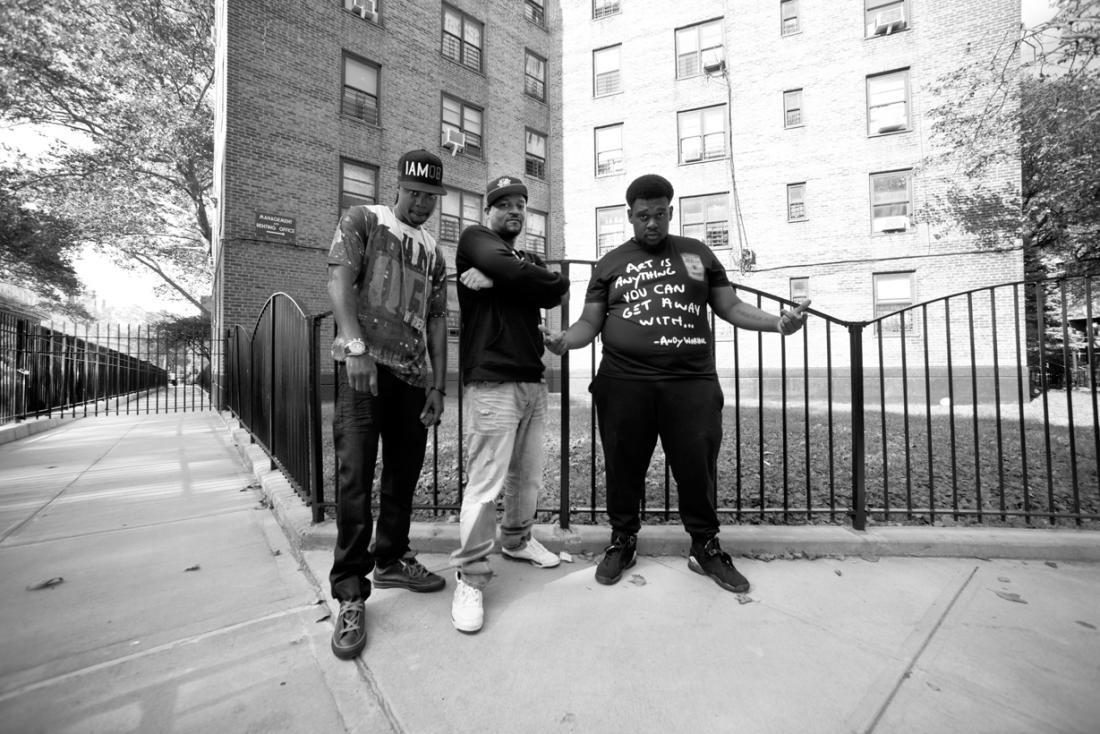 The sun is now setting over Manhattan. The view of the 59th Street Bridge is mesmerizing. Ruc breaks out a mini-speaker and begins playing selections from I Am QB. He bumps his collaboration with Nature that goes, "I'm from QB, I'm from QB/My thuns get it poppin." There's also a record featuring Tragedy that recycles the same sample from Killer Mike's "Ric Flair." He's most proud of "Hip Hop 101," featuring Marley Marl, Craig G, Mr. Challace and a score of 1980s references (the Wop, Gazelles). "This is some essence of hip-hop shit," Ruc says. "See if you gaze off and listen, you're in the '90s. You're not even in 2014." He says that as if it's a good thing. It's a fun record, but I can't imagine anyone under the age of 35 appreciating it. (I ask Ruc his age. "30," he says smiling.)
We walk back up to 12th Street. "We can't let it get lost," Ruc says unapologetically. "If no one else comes out, it's over. Capone, Nature, Trag, Nas, they already on their routes. If no one new comes out, we lose the whole community, the whole thing that Queensbridge was known for."
Can Queensbridge thrive again? I ask Sha Money XL, executive vice president of A&R at Epic Records, home of Bobby Shmurda. "The water is good there," Sha Money says. "There has to be another kid that got that story they want to tell about the hood."
He even believes the '90s Queensbridge sound can make a comeback. Styles return just like in fashion, but only organically—you can't announce that you are bringing something back. Hip-hop, more than any other art form, is guided by the youth. It's about looking forward. Nostalgia will only kill you. But maybe Queensbridge's future lies elsewhere. Maybe the future of Queensbridge isn't in hip-hop.
"The Bridge doesn't have to solely exist around music. You got dudes from the Bridge who are ill in other shit," Tragedy says back at Big NY Fried Chicken. "We can't just be stuck. You can make it out of here with a video camera. You can make it out of here with a book. You can make it out of here with some paintings. You can make it out of here creating a new app. You can make it out of here by coding.
"You can make it out of here by whatever, and still rep the Bridge."