While Rob da Bank assured the world that Daft Punk would not be touring in 2013, the latest Daft Punk rumor has the duo performing at Coachella, and it's all based on their Vevo page: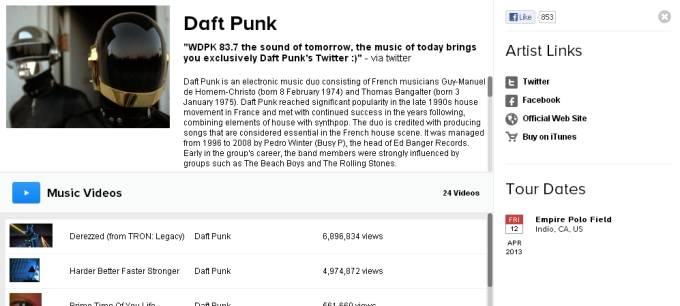 If we believe this information, Daft Punk will be hitting Indio the first night of Coachella. The first night? Why would the world's most important dance music act rock Day One of this six day, two-weekend festival, one of the biggest in America? Just seems off; we're glad FACT pointed out that a lot of the Vevo tour dates are pulled from Songkick, who have had a tendency to inflate the truth when it comes to tour date info.
And to think, this is just a few days after Ultra teased Daft Punk as headliners of the 2014 Ultra Music Festival. Only time will tell... although March is almost over, and April 12 is fast approaching.
THE 10 BEST DAFT PUNK SAMPLES OF RAP TRACKS