'We Won't Cave' Trudeau Says as 'Freedom Convoy' Protest Continues
Despite requests from the premiere of Ontario and prime minister of Canada, the convoy protest isn't showing any sign of letting up as it enters its third day.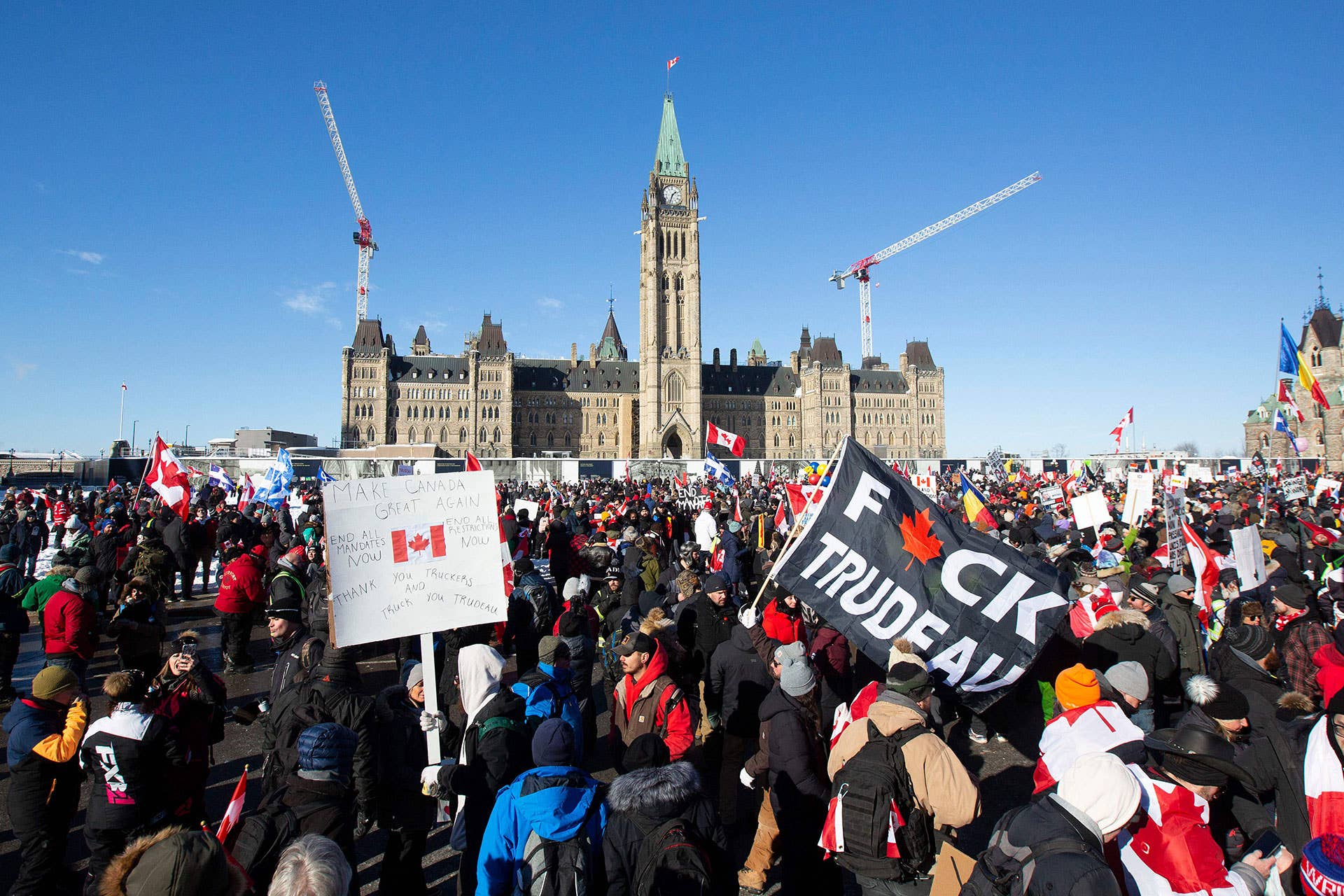 Getty
Image via Getty/Lars Hagberg/AFP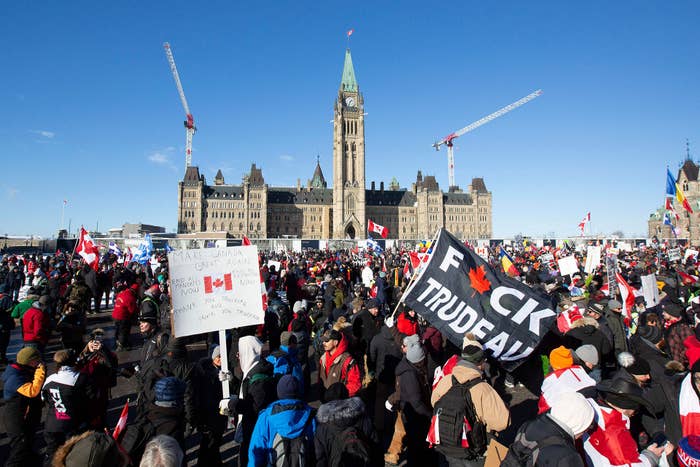 The mayor of Ottawa, the premier of Ontario, and the prime minister of Canada have all publicly asked for the "Freedom Convoy" protest that descended on Parliament Hill on Saturday to come to a close. But despite the requests from on high, or perhaps in light of them, the display isn't showing any sign of letting up as it entered its third day in the nation's capital today.
The convoy saw a group of professional truckers and supporters travel from across the nation to rally against vaccine mandates, travel bans, and other COVID-related issues. An estimated 8,000 people attended the protests on Saturday, and 3,000 again on Sunday.
The event's organizers held their first press conference on Sunday, but banned all traditional journalists and only fielded questions from "independents."
"I think it's time for them to move on," said Ottawa mayor Jim Watson in a CTV Morning Live interview. "The public are completely fed up, as am I. We would love to see them go tomorrow. We think they should have gone yesterday."
Meanwhile, Premier Doug Ford was "extremely disturbed" to see some of the protesters "desecrate our most sacred monuments and wave swastikas and other symbols of hate," adding "that has no place in Ontario or Canada. Not now. Not ever."
Police have not responded to any incidences of violence, but authorities are looking into a number of acts involving the desecration of public monuments including one statue of Terry Fox, who famously ran across the country at age 22 to raise awareness and funds for cancer research in the '80s, being affixed with an upside down Canadian flag and a sign that read "Mandate Freedom."
Others stood and danced on top of the Tomb of the Unknown Soldier and parked their vehicles, which were eventually towed, on the Cenotaph war memorial. Staff at an Ottawa soup kitchen that feeds the city's homeless were harassed by protesters demanding to be fed.
According to Ottawa police, one arrest has been made and several investigations are underway for threatening behaviour, public mischief, and dangerous operation of a vehicle.
On Monday, the third day on the protest, rocks were reportedly thrown at an Ottawa ambulance vehicle. One of the paramedics was subjected to anti-Asian racial slurs during the same incident, according to Darryl Wilton, president of the Ottawa Paramedic Association.
Prime Minister Justin Trudeau, who tested positive for COVID-19 and was working remotely from his home, addressed this weekend's protest via video conference this morning.
"Freedom of assembly of expression, assembly and association are cornerstones of democracy, but Nazi symbolism, racist imagery, and desecration of war memorial are not," he said.
"I want to be very clear. We are not intimidated by those who hurl insults, abuse small-business workers and steal food from the homeless. We won't give in to those who fly racist flags. We won't cave to those who engage in vandalism or dishonour the memory of our veterans."
Trudeau also acknowledged the trucking industry that has "continued to step up to put food on our shelves and our tables, to support us with life-saving medication and supplies."
"We have relied on you and you can rely on us to continue to stand with you and allow you to do your jobs safely."