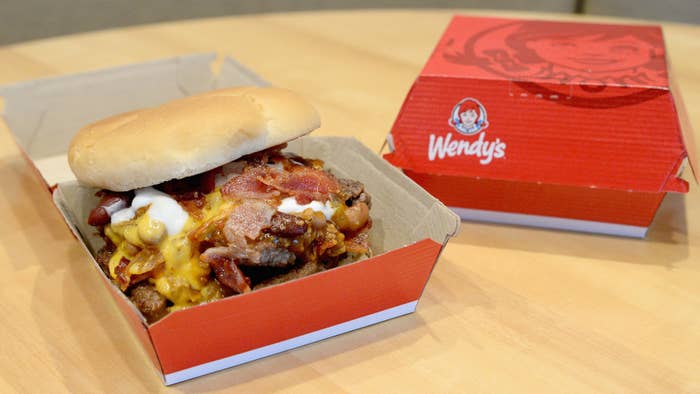 When not busy baconating for the masses, some Wendy's employees have apparently taken up the practice of filmed sink baths.
WOOD-TVgot a statement from a rep for franchise owner Team Schostak Family Restaurants regarding the TikTok'd and Facebook'd incident, which saw one employee indeed bathing it up in the sink of a Greenville, Michigan location of the fast food establishment.  
According to the rep, all involved employees were understandably canned.
"This egregious behavior is completely unacceptable and counter to our safety, training and operational standards," the rep said. "Upon learning of this situation, all employees in the video were terminated immediately and the restaurant has been completely sanitized. The health department visited the restaurant today and no violations were reported."
Though it's not clear how many employees were fired, the video suggests there's one mid-bath, another walking by and speaking with the bath-reclining individual, and yet another recording.
To hilarious effect, the WOOD-published report also includes comments from citizens practically overcome with grave concern, including one person who recalled having a first date at this particular Wendy's.
"My first date with my daughter's mother was at that Wendy's. Do you think I'd ever go back there?" the customer said, adding that those who participated in the bath production should be "held accountable."
Amazingly, this doesn't mark the first time that a report of this nature gripped the nation. Back in May 2019, a Florida-based individual conducted a prank at a Wendy's in which he too bathed in the holy fast food water.