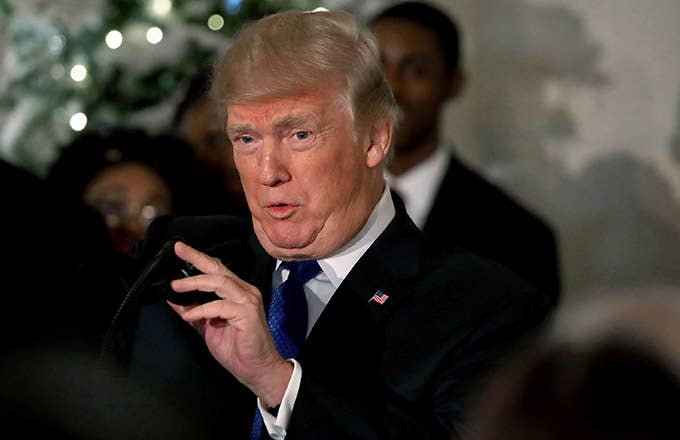 The overstuffed garbage bag-shaped person who occasionally mispronounces the name of the country he claims to govern is now reportedly trying to halt publication of a book that paints him as the dumbass he so clearly is.
A spineless lawyer presenting Trump is trying to stop publication of Michael Wolff's Fire and Fury: Inside the Trump White House, the Washington Postreported Thursday. The letter, from attorney Charles J. Harder, told publisher Henry Holt and Co. to "immediately cease and desist from any further publication, release, or dissemination of the book." Harder and Trump are also trying to secure an advance copy of the book for "investigation" purposes.

Trump, who's very likely never read a book in his life, previously had his attorneys accuse fellow alleged human Steve Bannon of breaking a confidentiality agreement after he reportedly called a Trump Tower meeting "treasonous" and "unpatriotic" in Wolff's book.
"Steve Bannon has nothing to do with me or my Presidency," Trump, presumably while marathoning Fox News and massaging his scalp with Filet-O-Fish sandwiches, said in an official statement. "When he was fired, he not only lost his job, he lost his mind."

For the book, Wolff conducted more than 200 interviews over an 18-month period with "the president, most members of his senior staff, and many people to whom they in turn spoke." Following Trump's poorly attended inauguration, New York Magazine reported, Wolff became a "constant interloper" due to the fact that no one at the time was in a position to officially approve or deny him access.
​Fire and Fury: Inside the Trump White House is set for publication Jan. 9. Buy copies for the whole family.