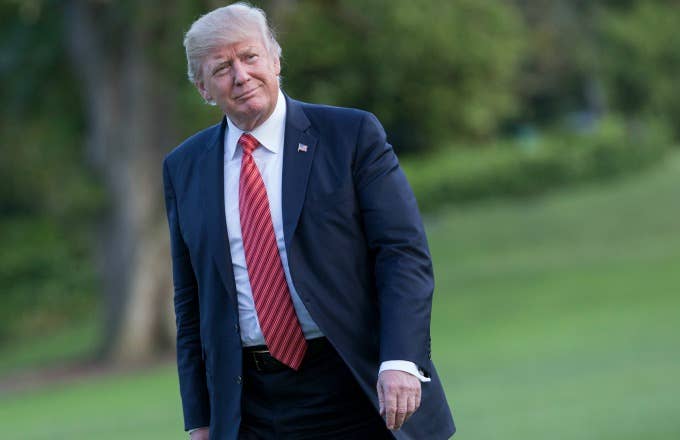 Trump wants your local police department to have easier access to military equipment. Attorney General Jeff "Make America Alabama Again" Sessions announced Monday the neo-Nazi-sympathizer-in-chief's decision to reverse Obama's executive order related to the inheritance of armored vehicles and other equipment police officers have no business using, the Hillreported.
Sessions made the announcement while speaking to the Fraternal Order of Police Monday, because of course he fucking did. "We back the blue," Sessions told the FOP crowd. Lest we forget, the FOP publicly endorsed Trump during the 2016 election.
The Obama administration banned the transfer of certain military equipment to police forces back in 2015, following the widespread publication of troubling images of police behavior in Ferguson, Missouri.
"When communities aren't vibrant, where people don't feel a sense of hope and opportunity, then a lot of times that can fuel crime and that can fuel unrest," Obama said at the time. "We've seen in places like Baltimore and Ferguson and New York, it has many causes from a basic lack of opportunity to some groups feeling unfairly targeted by their police forces." The presence of certain categories of military equipment, Obama added, can "alienate and intimidate" citizens.
Trump now plans to throw his signature on an order that would undo Obama's restrictions. Sessions said Monday that he felt Obama's limitations, which included a ban on the inheritance of grenade launchers and tracked armored vehicles, "went too far." In a statement to the Associated Pressover the weekend, the NAACP Legal Defense Fund (NAACP LDF) called Trump's reversal of the Obama-era order an "exceptionally dangerous" move.
"The President's decision to make this change in the wake of the tragedy in Charlottesville and against a backdrop of frayed relations between police and communities of color further reflects this administration's now open effort to escalate racial tensions in our country," the NAACP LDF said.