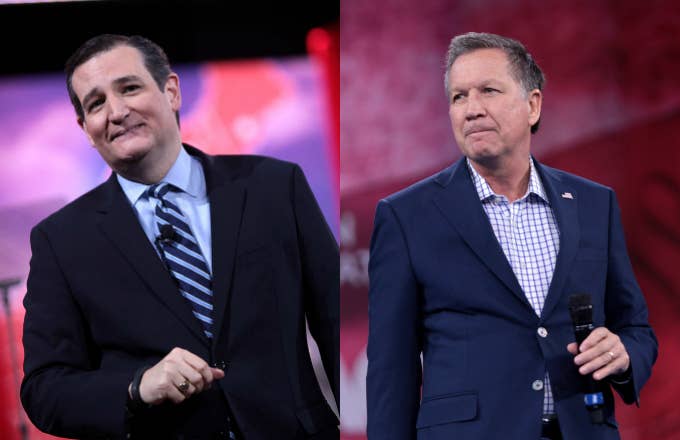 Two guys in ill-fitting suits are teaming up to take down another guy in an ill-fitting suit, a battle which may very well spell imminent doom for the global ill-fitting suit industry. Semi-rivals Ted Cruz and John Kasich, in a move that once again proves that not even Republicans are down for an Apprentice presidency, announced on Sunday a multifaceted plan to defeat resident bullshit storage facilityDonald Trump.
"To ensure that we nominate a Republican who can unify the Republican Party and win in November, our campaign will focus its time and resources in Indiana and in turn clear the path for Gov. Kasich to compete in Oregon and New Mexico," Jeff Roe, Cruz's campaign manager, said in a statement obtained byPolitico. "We would hope that allies of both campaigns would follow our lead." In a statement released within minutes of the initial Cruz announcement, Kasich's chief strategist John Weaver issued a statement to CNNconfirming the team-up: "We are very comfortable with our delegate position in Indiana already, and given the current dynamics of the primary there, we will shift our campaign's resources west and give the Cruz campaign a clear path in Indiana."
Trump, using his traditional blend of childish retorts and general playground behavior, quickly responded. "Wow, just announced that Lyin' Ted and Kasich are going to collude in order to keep me from getting the Republican nomination," the leading Republican Death Eatertweeted late Sunday night. "DESPERATION!" Trump also analyzed Cruz and Kasich's numbers game, ultimately declaring them both "mathematically dead," which kind of sounds like something a trichologist might say to someone experiencing diminishing returns in the hair growth department.
But is this makeshift alliance against a truly disturbing political figure too late in the game to make a difference? The delegate math is indeed a doozy, with some—like the Guardian's Jeb Lund—dubbing Cruz and Kasich's late-quarter rescue plan a surefire way to "wreck the Republican party" while accomplishing little else. Others, however, argue that anything is better than simply allowing the GOP half of the presidential race to continue crumbling beneath the weight of a bloated, opportunistic racist. Are Cruz and Kasich fresh-faced Republicans with a path toward reviving the party for those not into its most offensive concepts? Of course not. They do, however, share a very appealing characteristic for frustrated Republican voters: at least they're not Donald Trump.