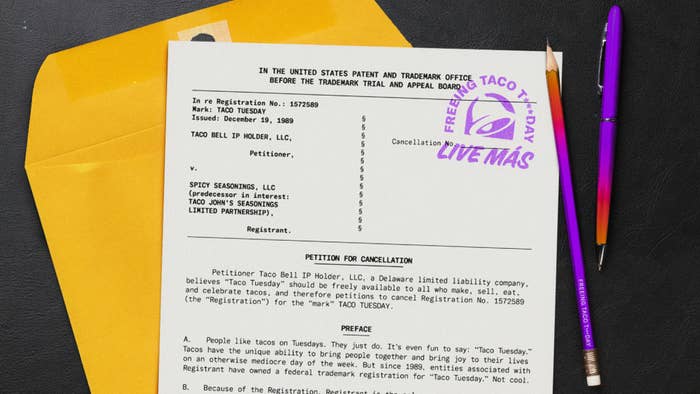 UPDATE 7/18, 2:01 p.m. ET: The trademark fight over Taco Tuesday is over.
As first reported by the Wall Street Journal, Taco John's is walking away from its trademark for the phrase, which had earlier this year been made the subject of a playful war from Taco Bell. News of the ceasefire, fittingly, was announced on Tuesday.
"We've always prided ourselves on being the home of Taco Tuesday, but paying millions of dollars to lawyers to defend our mark just doesn't feel like the right thing to do," Taco John's CEO Jim Creel said of the decision.
Taco John's has also confirmed a $40,000 donation to the Children of Restaurant Employees (CORE) nonprofit.
At the time of this writing, Taco Bell had not publicly commented on this development.
UPDATE 5/23, 11:00 a.m. ET: LeBron James has now joined Taco Bell's fight.
"Taco Tuesdays' create opportunities that bring people together in so many ways, and it's a celebration that nobody should own," James said in a press release issued this week.
The news of James' joining the battle follows roughly a week after Taco Bell's initial announcement, which saw the restaurant chain detailing its filing of legal petitions to end federal trademark registrations for the phrase.
As part of the LeBron-centered expansion of the campaign, Taco Bell has also rolled out a new ad, fittingly titled "Taco Bleep."
The ad arrives at a key time for LeBron, who is currently at the center of retirement speculation.
See original story below.
Taco Bell is pulling out all the stops in an effort to, in the company's own words, "liberate" Taco Tuesday.
On Tuesday, the brand known for its comfortingly affordable take on Mexican-inspired dining announced it had filed legal petitions to cancel trademark registrations for the "Taco Tuesday" phrase due to a belief that the idea should "belong to all who make, sell, eat, and celebrate tacos." In one such cancelation petition focused on Taco John's, Taco Bell's legal team argues that it's "not cool" that these specific entities have owned a federal trademark registration for "Taco Tuesday" since 1989.
"Nobody should have exclusive rights in a common phrase," the filing states. "Can you imagine if we weren't allowed to say 'what's up' or 'brunch'? Chaos."
In another filing focused on Gregory Hotel, Taco Bell argues that it's "not right" that this establishment "is the only restaurant in New Jersey" with the rights to use the "Taco Tuesday" phrase.
But that's not all. Taco Bell has also launched a petition, aptly dubbed Freeing Taco Tuesday, via the Change.org site. The company has also scheduled an AMA session on Reddit for May 22 during which those interested can pose questions about Taco Tuesday matters.
Regardless of how this campaign turns out, it's safe to say that it is indeed Tuesday; furthermore, tacos sound like a viable choice for lunch and/or dinner on this otherwise existentially daunting day.